USING IDIOMS 活用成語
Chinese Practice
貪小失大
covet a little, lose a lot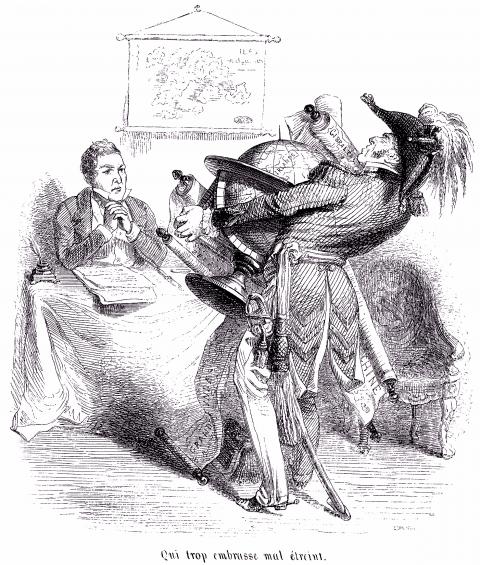 Illustration of the trait of greed in the 1845 publication Cent Proverbes. The caption reads "Qui trop embrasse mal etreint," or "He that grasps at too much loses all." 一八四五年出版的《片語一百句》插圖,圖中的法文句子Qui trop embrasse mal etreint,意為想想要一次抓住太多東西的人反而會失掉全部。
Photo: Wikimedia Commons
照片:維基共享資源
(tan1 xiao3 shi1 da4)
《劉子新論》一書相傳為北齊思想家劉晝所作—儘管該書作者身分仍有爭議。在書中,有個故事說明了石牛道的起源。石牛道位於今日的四川,在最西邊連接了古時秦國及蜀國。如故事所述,這條路對於秦國滅蜀扮演了重要的角色。歷史記載,秦國在西元前三一六年滅掉了蜀國,並在此後一百年間征服了其他諸侯國,最後統一了中國。劉晝提到這故事的用意與其說是描述歷史,不如說是著重其道德教訓。這故事是這樣的:
蜀侯一向貪婪,秦惠王聽說了,便想利用這弱點攻打蜀國。通往蜀國的道路險峻狹窄,無法行軍。秦軍便雕鑿了五座大石牛,並在牛後放置金銀財寶,號稱牛會拉出金子,說要送給蜀侯,請蜀侯自取。蜀侯貪圖這禮品,便鑿山填谷拓寬道路,派五位大力士去把這五座石牛迎接至蜀國。秦國大軍卻也隨後跟到了蜀國,蜀侯也因此難逃滅亡的命運。這故事最後說,為了得到一點點利益,蜀侯失去了他的國家和他自己的生命,變成了笑柄。這故事最後一句是「以貪小利失其大利也」,即為了貪圖小利而輸掉大局,而成語「貪小失大」便是由此而來。
這個概念也可直接轉譯為英文片語「covet a little, lose a lot」。另外,它也可以一句古諺語「penny wise and pound foolish」轉譯,儘管此句之意有些許不同,較著眼於眼前立即得到的利益,而忘記更重要、更長遠的利益。(台北時報編譯林俐凱譯)
他為了收集點數換贈品,結果買了一大堆自己用不到的東西,還刷爆信用卡,真是貪小失大。
(In order to save up loyalty points to redeem for gifts, he bought a pile of stuff he simply had no need for, and even maxed out his credit card. Talk about penny-wise and pound-foolish.)
英文練習
covet a little, lose a lot
penny-wise, pound-foolish
In the book New Discussions of Master Liu, thought to be by the Northern Qi thinker Liu Zhou — although that attribution is debated — there is a curious story about the origins of the Stone Cattle Road that led between the westernmost ancient state of Qin and Shu in modern day Sichuan. As the story suggests, this road played a major part in the former's conquest of the latter, which history assures us occurred in 316 BC, around a century before Qin went on to conquer the rest of its rival states and create a unified China. In the story, Liu Zhou is more interested in the moral than the history. It goes as follows.
The Marquis of Shu was known for his greed. King Hui of Qin, who had plans to conquer Shu, heard of this and determined to take advantage of it. There were paths leading to Shu, but they were too treacherous or narrow for getting an army through. The Qin army carved five large oxen out of stone, claimed that the oxen would excrete golden cowpats, and left the statues on the road for the marquis to take. The marquis duly ordered a wide road to be opened up, and for five strong men to go and carry the stone oxen to Shu. His fate was thus sealed, as the Qin army were able to speed to Shu. The story ends by saying that, for the sake of trivial gains, the marquis lost his state and his life, and became an object of derision. The last phrase of the story is 「以貪小利失其大利也」— "for the sake of greed for small gains he lost greatly" — and from this we get the proverb「貪小失大」.
A direct translation of this idea can be found in the English phrase "covet a little, lose a lot." It is also translated as the old proverb "penny-wise and pound-foolish," although this has the slightly different meaning of focusing on immediate gains and forgetting more important — perhaps long-term — ones.
(Paul Cooper, Taipei Times)
Closing the doors indiscriminately on all immigration is a bit penny-wise and pound-foolish, is it not?
(對所有的移民一律拒之門外,這樣難道不會貪小失大嗎?)
Publication Notes
Comments will be moderated. Keep comments relevant to the article. Remarks containing abusive and obscene language, personal attacks of any kind or promotion will be removed and the user banned. Final decision will be at the discretion of the Taipei Times.