Table Tennis chop shot players in world's longest rally 桌球: 兩名削球手打出史上最長回合
In the first round of the 2017 International Table Tennis Federation (ITTF) Qatar Open Women's Singles on Feb. 23, 32-year-old Dutch national Li Jie and Japan's 19-year-old Hitomi Sato set a world record, with the two taking the first rally of the third game to 10 minutes 13 seconds in 766 shots, making it the longest rally in a competitive table tennis match in the modern era. Their names will now be recorded in the Guinness Book of Records.
Both players lean heavily on the chop shot technique, playing a predominantly defensive game, only occasionally stepping to attack. Neither wanted to go on the offensive, choosing instead cut, drop, long push and chop shots. Ten minutes and 13 seconds into the rally, another ball bounced onto the court, and the rally had to be stopped. Li served again, but this time the expedite system was implemented for the rest of the match.
In the 11 point system of table tennis, if a point has not been awarded within 10 minutes, the expedite system is introduced for the rest of the match. With the expedite system in play, each player takes turns to serve, and the player returning serve earns the point after 13 shots. This forces the server to go onto the attack.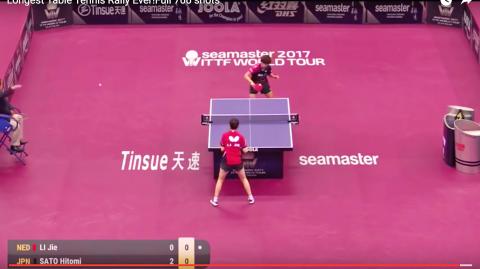 Japanese table tennis player Hitomi Sato, above, returns to Dutch opponent Li Jie during the 2017 ITTF Qatar Open Women's Singles on Feb. 23. The rally is ended as a ball bounces in from the adjoining court to the top left of this Internet screengrab. 二○一七年國際桌聯卡達公開賽於二月二十三日舉行女單第一輪比賽,日本桌球選手佐藤瞳(上)於賽中將球回擊給荷蘭選手李潔(下)。畫面左上方出現隔壁桌的球,兩人看似無止盡的回合才被迫停止。
Photo: screengrab
照片:取自影片
(Liberty Times, translated by Paul Cooper)
二月二十三日,二○一七年國際桌聯卡達公開賽,女單第一輪比賽裡,中國轉籍荷蘭的三十二歲選手李潔與日本十九歲選手佐藤瞳寫下歷史紀錄,兩人在第三局的第一回合花了十分十三秒,擊球數多達七百六十六拍,成為史上最長的一回合,這一回合也將在金氏世界紀錄上留名。
兩位選手都是削球打法,也就是防守為主、進攻為輔,雙方都不想貿然進攻,用切球擺短、劈長以及削球的方式回擊。十分十三秒過後,有另一顆球從其他桌彈進兩人的比賽場地,這回合才不得不依規則停止,由李潔重新發球,並實行促進制度。
促進制度的細節為,一局十一分制比賽裡,經過十分鐘仍未分出勝負時,之後的比賽全程實行促進制度。實行後每發一球就換邊,接發球方回擊十三拍即得分,是強迫發球方主動進攻的制度。
(自由時報)
Publication Notes
TODAY'S WORDS
今日單字
1. chop shot n. phr.
削球
(xiao1 qiu2)
2. cut shot n. phr.
切球
(qie1 qiu2)
3. drop shot n. phr.
擺短
(bai2 duan3)
4. expedite system n. phr.
促進制度
(cu4 jin4 zhi4 du4)
Comments will be moderated. Keep comments relevant to the article. Remarks containing abusive and obscene language, personal attacks of any kind or promotion will be removed and the user banned. Final decision will be at the discretion of the Taipei Times.