Pebble Beach Pro-Am: Rain disrupts first round 圓石灘配對賽 第一回合風雨攪局
The first round of the AT&T Pebble Beach Pro-Am kicked off on Feb. 10, but came a cropper due to bad weather, causing a temporary stay of play. Taiwanese professional golfer Pan Cheng-tsung, under the strong winds and downpour, only managed 13 holes, conceding two double-bogeys and one bogey, leaving him a total of five over par at the break.
The players starting early on in the first round were met with stable weather, but the winds and rains started whipping up on the third tournament course, and a temporary break was finally announced.
Starting on Hole no. 10, Pan hit the ball into the fairway bunker on the long hole in the 12th, needing four strokes to return to the green and earning himself a double-bogey with a further 3-putt. In the short hole on the 14th he knocked the ball straight into the long grass, requiring four strokes to find his way back. Back to Hole no. 1, it took three strokes to make the green, giving him another 3-putt.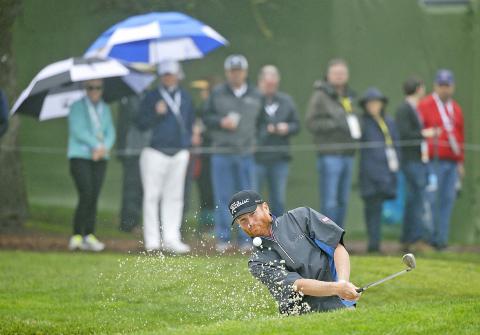 Derek Fathauer hits the ball out of a bunker during the second round of the AT&T Pebble Beach National Pro-Am golf tournament on Feb. 10 in Pebble Beach, California. 德瑞克·費紹爾在美巡賽AT&T圓石灘配對賽第二回打球出沙坑,二月十日攝於美國加州圓石灘。
Photo: AP
照片:美聯社
(Liberty Times, Translated by Paul Cooper)
美巡賽AT&T圓石灘配對賽二月十日進行第一回合,受不穩定的天氣影響,比賽被迫暫停。台灣好手潘政琮在強風大雨中只打完十三洞,吞下兩個雙柏忌和一個柏忌,休兵總計高於標準桿五桿。
第一回合較早出發的選手,遇上穩定的天氣,但三座比賽球場隨後開始颳強風、下大雨,比賽終於宣布暫停。
小潘從第十洞出發,第十二洞長洞打進球道沙坑,花了四桿上果嶺,又三推吞下雙柏忌,第十四洞短洞開球打進長草,花了四桿。回到第一洞花了三桿攻上果嶺,又出現三推。
(自由時報)
Did you know?
你知道嗎?
As with many sports, golf has spawned several idioms. On example is "par for the course," meaning "that which is normal, or to be expected, in given circumstances." Another is to "kick something into the long grass," meaning intentionally kicking a ball that has landed in the rough further out into the long grass in order to lose it. This would result in a one-stroke penalty for a lost ball, much preferable to risk wasting many strokes to get the ball back from the rough. To kick a problem into the long grass, then, means to try to get it out of the way in order to pretend it never existed.
Comments will be moderated. Keep comments relevant to the article. Remarks containing abusive and obscene language, personal attacks of any kind or promotion will be removed and the user banned. Final decision will be at the discretion of the Taipei Times.