Bitcoin plunges 20 percent 比特幣暴跌百分之二十
Bitcoin's value went through the roof on Wednesday last week as investors piled into the digital currency, which is often used as a hedge during times of uncertainty in the global economy. However, several hours later Bitcoin crashed by nearly 20 percent, with analysts attributing the fall to a sudden rise in the value of China's yuan.
Bitcoin soared in value last year, becoming 2016's strongest performing currency, with the digital currency's dizzying rise continuing over into the new year. The Bitcoin Price Index showed the currency breaking through the US$1,100 mark during early trading Wednesday, reaching a three-year high of US$1,139.89 and edging toward 2013's record high of US$1,165.89.
However, according to Reuters, Bitcoin's value suddenly plummeted on Thursday by 20 percent, slumping to US$885.41, a fall of more than US$200 in a single day's trading, once again demonstrating the volatile nature of digital currencies. Reports attributed the cause of the dramatic crash to the Chinese yuan offshore exchange rate's steep appreciation of more than 1 percent against the dollar.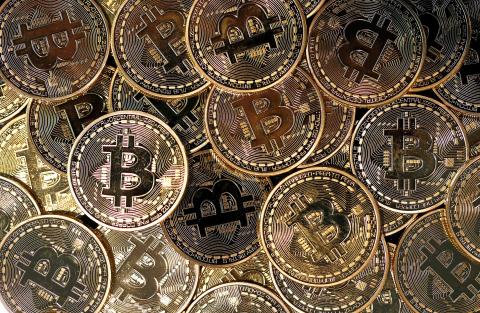 A collection of bitcoin tokens are pictured in London last week on Wednesday. 圖為一堆比特幣,上週三拍攝於倫敦。
Photo: Bloomberg
照片:彭博
(CNA, translated by Edward Jones)
世界經濟前景不定,數位貨幣比特幣被當作避險標的,上週三在投資人追逐下一度逼近歷史天價,但幾個小時後就暴跌約百分之二十,據分析主因是人民幣匯價突然飆升。
比特幣價位去年飆漲,成為二○一六年表現最強勢貨幣,這種令人頭暈目眩的漲勢今年以來仍然持續,比特幣價格指數顯示,比特幣上週三早晨突破一千一百美元價位,最高來到一千一百三十九點八九美元,是近三年最高價,逼近二○一三年所創一千一百六十五點八九美元歷史天價。
不過,路透社報導,比特幣下午突然暴跌多達百分之二十,一度下滑到八百八十五點四一美元價位,一天內重挫逾兩百美元,再次顯示這種貨幣的多變。據信比特幣回挫主因是離岸人民幣兌美元匯率大漲超過百分之一。
(中央社)
Publication Notes
TODAY'S WORDS
今日單字
1. digital currency n. phr.
數位貨幣
(shu4 wei4 huo4 bi4)
2. hedge n.
避險標的
(bi4 xian3 biao1 di4)
3. plummet v.
暴跌 (bao4 die2)
4. volatile adj.
多變 (duo1 bian4)
Comments will be moderated. Keep comments relevant to the article. Remarks containing abusive and obscene language, personal attacks of any kind or promotion will be removed and the user banned. Final decision will be at the discretion of the Taipei Times.