Shy pangolins need world spotlight to survive 拯救穿山甲 需全球共同努力
Reclusive, gentle and quick to roll up into a ball, pangolins keep a low profile. But they are also the world's most heavily trafficked mammal, and experts have been ringing alarm bells over their survival.
More than a million pangolins are believed to have been poached from the wild in the past decade. Most are used to supply demand in China, where pangolin scales are believed to cure conditions from headaches and menstrual cramps to nose bleeding and lack of virility.
There are four species of pangolin in Africa and another four in Asia. Watchdogs say those in Asia are being eaten to extinction, while populations in Africa are declining fast.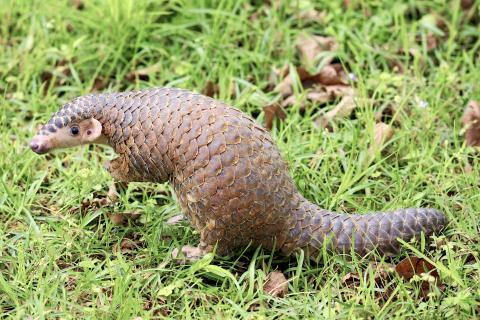 A pangolin stands on its hind legs in this undated photo. 一隻穿山甲以後腳站立,拍攝日期不明。
Photo courtesy of Taipei Zoo
照片:台北市動物園提供
In Taiwan, the Formosan pangolin, a subspecies native to the island, has been greatly reduced due to loss of habitat and poaching, despite being listed as a protected species under the Wildlife Conservation Act since 1990. Experts warn that, if the situation does not improve, the Formosan pangolin may become extinct in ten years.
(AFP, additional reporting by Tu Yu-an)
穿山甲生性溫和,隱密低調,遇到危險即捲成球狀。然而,牠們卻是全球走私問題最嚴重的哺乳動物,為此,學者專家一再提出警告。
據了解,過去十年有超過一百萬隻野生穿山甲遭到盜獵,大部分流入中國,因其鱗片據說可以治療頭痛、經痛、流鼻血、甚至壯陽。
全球共有八種穿山甲,非洲及亞洲各有四種。保育團體指出,亞洲的穿山甲已經快被吃光,而非洲的穿山甲也急遽減少。
台灣穿山甲為本土特有亞種,雖自一九九○起列入野生動物保護法下的保育類動物,數量仍因盜獵及棲地減少而遽降。專家警告,若情況未見改善,台灣穿山甲可能會在十年內絕種。
(台北時報涂宇安編譯)
Publication Notes
TODAY'S WORDS
今日單字
1. pangolin n. 穿山甲
(chuan1 shan1 jia3)
2. to ring alarm bells phr.提出警告
(ti2 chu1 jing3 gao4)
3. menstrual cramps n. phr. 經痛
(jing1 tong4)
4. subspecies n.亞種
(ya2 zhong3)
Comments will be moderated. Keep comments relevant to the article. Remarks containing abusive and obscene language, personal attacks of any kind or promotion will be removed and the user banned. Final decision will be at the discretion of the Taipei Times.