to make an example of... 殺雞儆猴
In 18th and 19th century Europe and the US, people would evade laws against begging by playing music from a portable organ, accompanied by a performing monkey. Since the busker could say he was providing a service of sorts, he couldn't technically be accused of begging. The buskers playing the organs were known as organ grinders.
There was a similar phenomenon in China, too: street performers with monkeys trained to do certain tricks. There is a story of how one performer in China was angered by his own monkey, which would not do as it was told. One day, the busker went to the market and bought a live chicken. When his monkey misbehaved during the next performance, the busker took the chicken and killed it in front of the monkey. From that point on, the monkey did as it was told.
The idiom 殺雞儆猴 means, literally, "kill a chicken to scare the monkey."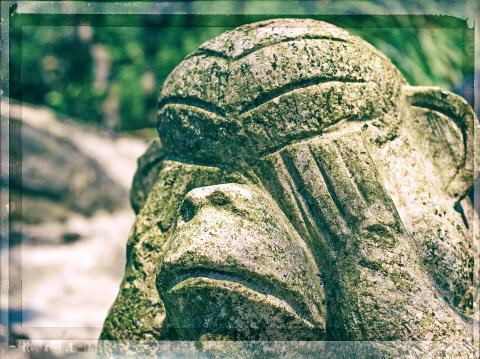 A monkey statue is pictured in Neihu on Aug 10. 一座猴子雕像,八月十日攝於內湖。
Photo: Paul Cooper, Taipei Times
照片:台北時報記者古德謙攝
In English, we can say "to make an example of" someone, usually by punishing them in a certain way to discourage others from doing the same thing.
十八、十九世紀時,乞討在歐美國家是違法的,但有些人會利用演奏手搖風琴的方式,旁邊帶著一隻戲耍的猴子,來鑽法律的漏洞攢錢。街頭藝人會說他們是在提供某種服務,因此不能告他們乞討。這類形式的街頭藝人就叫手搖風琴師。
中國古代也有類似的街頭藝人。他們會帶猴子上街表演,受過訓練的猴子會玩特定的把戲。有這麼一個故事,說:以前有一個街頭藝人被他的猴子搞得火冒三丈,因為他的猴子不愛聽他指揮。有一天,這個人就跑去市場買了一隻活生生的雞,然後猴子表演中又不乖乖聽話時,他就當著猴子的面把雞殺了。自此之後,不管他說什麼,猴子都言聽計從。
「殺雞儆猴」這個成語的意思就是,殺了雞來警告猴子。英文可以說「to make an example of」,也就是藉由懲罰某人來警告其他人不要做同樣的事情。
Comments will be moderated. Keep comments relevant to the article. Remarks containing abusive and obscene language, personal attacks of any kind or promotion will be removed and the user banned. Final decision will be at the discretion of the Taipei Times.