Fire engine half destroyed by warehouse explosion 化工廠爆炸 消防車半毀
On the evening of July 23 a big fire broke out in a warehouse rented by Zimi Chemicals on Cingtian Road in Taoyuan's Sinwu District, causing an explosion. The firefighters did not originally know that sodium dithionite and other dangerous industrial chemicals were stored in the warehouse, and they got a fright when they found out. Taoyuan Fire Department Director-General Hu Ying-da slammed the owners for not installing signs to inform firefighters that dangerous substances were stored there, and he said they would have to pay a heavy fine in accordance with the law.
When firefighters responding to a report arrived on the scene at 9.14 in the evening, they found no sign outside the burning warehouse indicating that dangerous industrial chemicals were stored there. They only found this out when a worker rushed out to escape and told them that sodium dithionite was kept in the warehouse along with 70 30-liter barrels of hydrogen peroxide, potassium nitrate and other dangerous industrial chemicals. This got the firefighters very worried, and as they sprayed water on the fire they kept reminding each other to beware of explosions.
At about 9.40, a small fire engine that was parked less than three meters away from the main door of the warehouse was engulfed by a fireball and fierce flames following an explosion. The fire engine was half destroyed by fire, but luckily there was no one in it. Using an infrared thermometer, firefighters detected that the heat of the fire was about 800 degrees Celsius, so the company commander radioed his men to pull out.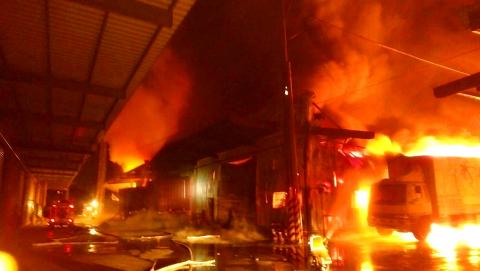 A goods truck, right, and a small fire engine, lower left, are burned in a fire that broke out at an industrial chemicals warehouse in Taoyuan's Sinwu District on July 23. 七月二十三日桃園市新屋區一所化工倉庫發生火災,圖右邊的貨車和左下方的小型消防車也跟著起火。
Photo: Lee Jung-ping, Liberty Times, from a fire department photo
照片:自由時報記者李容萍
The fire department says that sodium dithionite is widely used in the textiles industry for purposes such as vat dying and bleaching. It can autoignite at 250 degrees. When it comes into contact with water there is a chemical reaction and it burns, and as it does so it can easily release harmful gases.
(Liberty Times, translated by Julian Clegg)
桃園市新屋區青田路的協明化工外租倉庫,七月二十三日晚上大火並引發爆炸,原本消防人員不知倉庫內存放「連二亞硫酸鈉」等化工類危險物品,得知時嚇了一跳。桃園市政府消防局長胡英達怒批,業者未註明存放危險物質,表示會依法重罰。
The rear end of a fire engine that was half destroyed by a fire at a chemicals warehouse in in Taoyuan's Sinwu District on July 23 is seen after the fire was put out. 七月二十三日桃園市新屋區一所化工倉庫起火,一輛小型消防車被燒成半毀,其車尾,拍攝於火勢撲滅後。
Photo: Lee Jung-ping, Liberty Times, from a fire department photo.
照片:自由時報記者李容萍
消防局晚上九點十四分獲報到場,發現起火的倉庫外並未標示存放化工類危險物品,一名員工衝出逃生,才說裡頭存放「連二亞硫酸鈉」、七十桶三十公升裝的雙氧水、硝酸鉀等化工類的危險物品,讓消防人員捏把冷汗,一邊射水救災,也相互提醒小心爆炸。
約九點四十分,一輛小型消防車停在離倉庫正門不到三公尺處,被爆炸後的火球烈焰吞噬、燒得半毀,幸好車上沒人;消防人員以紅外線熱像儀測出,火場高溫約攝氏八百度,帶隊指揮官透過無線電喊撤退。
消防局指出,「連二亞硫酸鈉」廣泛用於紡織工業的還原性染色、漂白等用途,在高溫二百五十度就能自燃,遇水會發生化學反應並燃燒,燃燒過程中易釋放有害氣體。
(自由時報記者李容萍)
Publication Notes
TODAY'S WORDS
今日單字
1. arrive on the scene phr. 到場
(dao4 chang3)
例: When reporters arrived on the scene, three men were seen running away.
(記者到場時看到三名男子正在逃離。)
2. engulf v. 吞噬
(tun1 shi4)
例: The log cabin was engulfed in a sea of flames.
(木屋被火海吞噬了。)
3. pull out v. phr. 撤退
(che4 tui4)
例: Our forces are heavily outnumbered. We must pull out.
(我軍與敵軍兵力懸殊,必須撤退。)
Comments will be moderated. Keep comments relevant to the article. Remarks containing abusive and obscene language, personal attacks of any kind or promotion will be removed and the user banned. Final decision will be at the discretion of the Taipei Times.