USING IDIOMS 活用成語
守株待兔 (shou3 zhu1 dai4 tu4)
相傳古中國有一名農夫,因為一次僥倖的不勞而獲,從此以為只要依賴好運,人生就能一帆風順。
原本,這名農夫非常勤勞地工作,天天日出而作,日落而息。一旦收成不好,就沒有飯吃,生活非常困苦。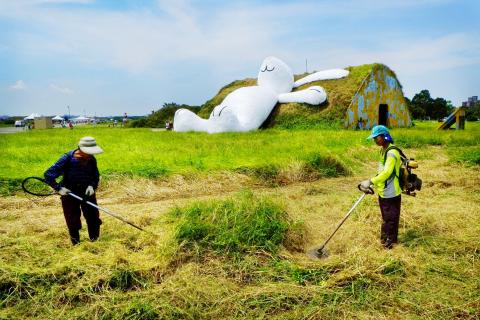 Workers cut grass in front of Dutch artist Florentijn Hofman's white rabbit in Taoyuan on Sept 2, 2014. 兩名工人在荷蘭藝術家霍夫曼的藝術品「月兔」前面割草,二○一四年九月二日攝於桃園。
Photo: AP/Wally Santana
照片: 美聯社
秋天的某一日,一隻兔子從農人背後的草叢跑了出來,穿越農田,然而因為沒注意到前面有個樹樁,一頭撞了上去,頸子當場斷裂。
對於這個天上掉下來的好運,農人又驚又喜。他把兔子撿起來帶回家,剝了皮煮來吃。比起努力工作填飽肚子,這個方法輕鬆多了。
自此之後,他就丟下農地不管。他想,這種好運既然可以發生一次,就可以再來一次。然而同樣的好運卻再也沒有發生,他因此而挨餓受苦。
這個故事是告訴我們勤奮工作的重要性,不要相信運氣可以讓你不勞而獲。
守株待兔是非常不切實際的作法,凡事要靠自己努力才對。
(It's unrealsitic to think you can just sit back and wait for things to come to you. You should rely on hard work.)
聰明的人不僅不會守株待兔,還會未雨綢繆。
(Smart people don't just hope things will turn out fine. They fix the roof while the sun shines.)
Waiting for a windfall
There is a legend that a farmer living in ancient China who thought he could just rely on luck to survive.
One day, a rabbit sprang out from behind a bush and ran across his field. It didn't notice a tree stump in its path and crashed into it, breaking its neck instantly.
The farmer picked up the rabbit, took it home, skinned it and made a rabbit stew.
From that day on, he let his fields go uncultivated. He decided if it happened once, it would happen again. It never did, and he starved.
The story is a caution about the importance of hard work, and not to rely on chance to bring you what you need. In that way, it is similar to the English idiom "waiting for a windfall."
The word windfall dates back to the 15th century, and literally means something, such as fruit on a tree, being dislodged by the wind and falling to the ground. By extension, it also means an unexpected and unearned gain, gift or advantage.
You still haven't thought about a pension? Are you counting on a windfall in later life?
你都還沒想過退休金的問題嗎?你的後半輩子要仰賴天上掉下來的好運嗎?
They're handing out 100 shares to each employee? That's a bit of a windfall.
他們要發給員工一人一百股?真是天上掉下來的好運。
Comments will be moderated. Keep comments relevant to the article. Remarks containing abusive and obscene language, personal attacks of any kind or promotion will be removed and the user banned. Final decision will be at the discretion of the Taipei Times.