Virtual reality, robots and the cloud 虛擬實境、機器人與雲端科技
The InnoVEX innovation and start-up section at this year's Computex Taipei provided a stage for start-up teams and major manufacturers from home and abroad to showcase their innovative technologies.
HTC Corp used its Vive virtual reality (VR) system to demonstrate a number of VR applications and games, some developed by its in-house innovation team and others in conjunction with international partners. As well as the shooting games that one would generally expect, other applications that had visitors gasping in amazement included Birdly VR, which lets you soar into the sky like an eagle, and the Holodia VR fitness system, on this occasion combined with a rowing machine. Besides these, visitors' eyes also lit up at the sight of mixed reality projections that transport the user's real-body image into virtual worlds.
Taiwanese start-up company NextDrive exhibited its accessibly priced Cube Plug with a set of applications for the Internet of Things (IoT) and home use. The hub unit — the Cube Plug itself — is only as big as a charger but can be connected to a wide range of USB devices, including accessories such as the Cam wide-angle night-vision camera, Motion Pixi motion detector and Thermo Pixi temperature and humidity detector. All you need to do is plug them in and the Cube instantly turns into an intelligent host unit for IoT, smart home and personal cloud solutions, allowing you to keep an eye on your home at any time.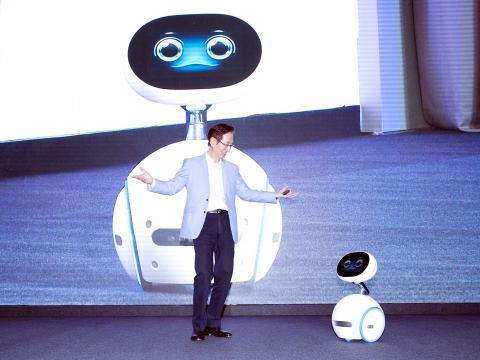 ASUS' first home service robot Zenbo is exhibited at a press conference in Taipei on June 10. 華碩第一台家庭服務型機器人Zenbo六月十日展示於台北舉行的記者會。
Photo courtesy of ASUS
照片由華碩提供
ASUS' adorable home robot Zenbo, the first such product from ASUS, also drew a lot of wows. Defined as a home service provider, Zenbo can provide functions including assistance, entertainment and company to the whole family. It can move independently, hear and obey verbal commands and provide everyday reminders on its own initiative. It also has an inbuilt camera and can connect to and control many kinds of home electric appliances and detectors.
(Liberty Times, translated by Julian Clegg)
今年台北國際電腦展中InnoVEX創新與新創專區給國內外新創團隊和大產商提供了展示創新科技的舞台。
宏達國際電子利用其研發的虛擬實境系統Vive來展出由內部新創團隊以及與國際合作夥伴共同開發的多款虛擬實境應用遊戲。除了一般人可以想到的射擊類遊戲外,可以讓你像老鷹一樣在天空飛翔的Birdly VR,以及結合划船機的Holodia虛擬實境健身都讓人嘖嘖稱奇。而將體驗者的真人影像帶入虛擬世界的混合實境畫面,也讓人眼睛一亮。
來自台灣的新創公司聯齊科技展示了價格親民的「Cube小方微管家」物聯網居家應用組合。主機Cube只有像充電器一樣大小,但可搭配多種USB裝置,包括Cam廣角夜視攝影機、Motion Pixi動作感應精靈、Thermo Pixi溫濕感應精靈等配件,只要插上插座,就能瞬間變身智能居家與私人雲的物聯網智慧主機,讓你隨時監測家中狀況。
外型超可愛討喜的華碩首款家庭機器人Zenbo亦令許多人驚豔。定位為家庭服務目的的Zenbo,能為全家人提供協助、娛樂及陪伴等功能,能獨立移動、聽取語音命令、主動提醒生活大小事。內建攝影機,還能連接並控制多種家電與感測裝置。
(自由時報記者黃筱晴)
Publication Notes
TODAY'S WORDS
今日單字
1. in-house adj.
內部 (nei4 bu4)
例:The product catalogue will be designed by our in-house design team.
(產品目錄由我們的內部設計團隊設計。)
2. cloud n.
雲;雲端 (yun2; yun2 duan1)
例: There are plenty of cloud storage services to choose from.
(有不少雲端儲存服務可以選擇。)
3. inbuilt adj.
內建 (nei4 jian4)
例: The dashboard has an inbuilt compass.
(儀表板具有內建指南針。)
Comments will be moderated. Keep comments relevant to the article. Remarks containing abusive and obscene language, personal attacks of any kind or promotion will be removed and the user banned. Final decision will be at the discretion of the Taipei Times.