Breeze Group holds Rainbow Festival, LGBT-friendly concert 微風舉辦「彩虹節」眾星開唱
Not long ago, a serious mass shooting broke out at a gay nightclub in Orlando, Florida. To pray for the victims who died or were injured, Taiwan's Breeze Group delivered a special message using LED wall lights outside Breeze Songgao department store and on the wall-mounted televisions at each of its other branch stores. The message reads: "More love, less hate! #lovewins," calling on people to have more love and less hate, and to bring hope to the world.
With the theme of "Embracing diverse love," the Breeze Group is holding an LGBT-friendly Rainbow Festival, the first of its kind in Taiwan, at the group's branch stores in Taipei. All branch stores are offering special discounts and prize draws.
The Breeze group also held a Rainbow Carnival at Breeze Xinyi department store on Sunday last week. There was a DJ show, a male dance show as well as an outdoor concert hosted by entertainer Mickey Huang, where free drinks were available.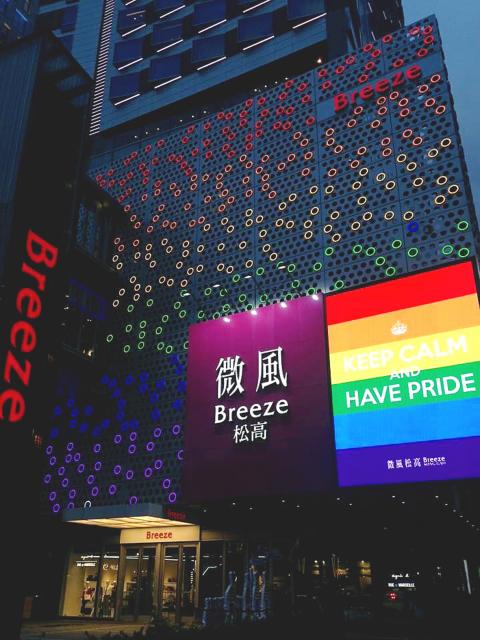 Breeze Songgao department store in Taipei is illuminated in rainbow colors on June 15. 台北微風松高LED外牆,於六月十五日亮起七彩燈光與彩虹旗。
Photo courtesy of the Breeze Group
照片:微風提供
Meanwhile, the restaurants at Breeze Xinyi are offering rainbow-colored cakes, cocktails, pancakes and various rainbow-themed dishes so that shoppers can take colorful pictures while tasting the delicacies.
(Liberty Times, Translated by Eddy Chang)
不久前,美國佛州奧蘭多市同志夜店發生慘重槍擊案,微風集團表達向遇害者及傷者祈福,在微風松高外牆LED燈,及各館內電視牆,打出「More love, less hate! #lovewins」,呼籲民眾多點愛,少些仇恨,為世界傳達希望。
微風藉由「擁抱多元的愛」為題,於各店舉辦台灣百貨首創的同志友善「彩虹節」,各館祭出優惠、抽獎活動。
微風並在六月二十六日於微風信義舉辦「彩虹嘉年華」,館內有DJ秀、猛男秀等活動,戶外廣場由黃子佼主持演唱會,並提供飲料試飲。
微風信義餐廳則是推出彩虹蛋糕、彩虹烈豔調酒、七彩鬆餅等主題式餐點,讓民眾嚐鮮、拍照捕捉繽紛的美食佳餚。
(自由時報記者涂盈如)
Publication Notes
TODAY'S WORDS
今日單字
1. mass shooting n. ph.
大型槍擊案
(da1 xing2 qiang1 ji2 an4)
2. diverse adj.
多元化的
(duo1 yuan2 hua4 de5)
3. LGBT n.
同志 (lesbian, gay, bisexual and transgender的簡稱)
(tong2 zhi4)
4. prize draw n. ph.
抽獎
(chou1 jiang3)
5. delicacy n.
美食;佳餚
(mei3 shi2; jia1 yao2)
Comments will be moderated. Keep comments relevant to the article. Remarks containing abusive and obscene language, personal attacks of any kind or promotion will be removed and the user banned. Final decision will be at the discretion of the Taipei Times.