Taiwanese band Sodagreen's album leads Golden Melody nominees 金曲獎最大贏家 蘇打綠入圍八項
Taiwanese band Sodagreen's album "Winter Endless" led this year's nominees for the Golden Melody Awards, with eight nominations, including Best Mandarin Album, Best Song and Best Band.
The rest of the nominees for Best Mandarin Album were: Peggy Hsu's "Swing, Inc.," Eli Hsieh's "Progress Reports," Chang Hui-mei's "AMIT2," Tanya Chua's "Aphasia" and PoeTek's "Infinity."
The Lifetime Achievement Award went to 64-year-old Taiwanese singer Tracy Huang, who has released more than 50 Mandarin, English and Cantonese albums since the 1970s and is known for her classic songs such as "Crying Sand," "Sending My Love Across Time and Space," and "Can't Dream of You."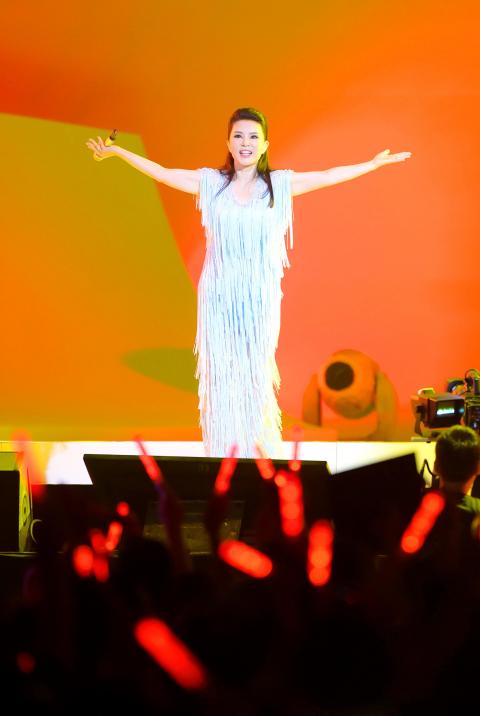 Pop diva Tracy Huang performs during her concert at Taipei Arena on May 16 last year. 流行歌后黃鶯鶯於去年五月十六日,在台北小巨蛋再度舉辦個人演唱會。
Photo: Hu Shuan-hsiang, Taipei Times
照片︰自由時報記者胡舜翔
Samuel Chou, convener of the jury, said one of the biggest highlights this year is the level of sophistication and diversity of the albums by new artists, some of whom entered the competition in the categories of Best Album and Best Singer.
This year 482 albums and 11,177 works were submitted for consideration, and 128 nominated works competed in 26 categories at the 27th Golden Melody Awards.
(CNA)
Members of Taiwanese band Sodagreen promote their album "Winter Endless" at the Ambassador Theatre in Taipei's Breeze Center on Oct. 29 last year. 流行樂團蘇打綠在台北微風國賓影城,推銷他們的專輯「冬未了」,該活動舉辦於去年十月二十九日。
Photo: Chen Yi-chuan, Taipei Times
照片︰自由時報記者陳奕全
台灣流行樂團蘇打綠以專輯「冬未了」,成為今年流行音樂金曲獎的大贏家,入圍八個獎項,包括最佳國語專輯獎、最佳年度歌曲、最佳樂團等。
其他入圍最佳國語專輯獎的還有許哲珮的「搖擺電力公司」、謝震廷的「查理Progress Reports」、張惠妹的「AMIT2」、蔡健雅的「失語者」、熊仔的「∞無限」。
特別貢獻獎(終身成就獎)則頒給六十四歲的台灣歌手黃鶯鶯,她自一九七○年代起,發行超過五十張國語、英語和粵語專輯,並以「哭砂」、「時空寄情」、「夢不到你」等經典歌曲而聞名。
這次評審團總召周建輝說,今年最大的亮點之一,是金曲新人獎入圍者專輯呈現的細膩度與多元化,不少入圍者還入圍歌王、歌后、最佳專輯等大獎。
今年總共有四百八十二張專輯、一萬一千一百七十七首音樂作品報名。最後有一百二十八首作品入圍,角逐第二十七屆流行音樂金曲獎二十六個獎項。(張聖恩翻譯)
Publication Notes
TODAY'S WORDS
今日單字
1. award n.獎
(jiang3)
2. nominee n.入圍者
(ru4 wei2 zhe3)
3. Cantonese n. 廣東話
(guang3 dong1 hua4)
4. convener n.召集人
(zhao4 ji2 ren2)
5. sophistication n.精細度、細膩度
(jing1 xi4 du4, xi4 ni4 du4)
Comments will be moderated. Keep comments relevant to the article. Remarks containing abusive and obscene language, personal attacks of any kind or promotion will be removed and the user banned. Final decision will be at the discretion of the Taipei Times.