Travel agent breaks taboo by taking tourists to Hsiao Lanyu Island 帶團到小蘭嶼登山 犯飛魚季禁忌
The flying fish season has opened in Taitung County's Hsiao Lanyu Island. According to local tradition, people should avoid visiting Hsiao Lanyu Island during this season. However, a local travel agent recently posted on a Web site pictures showing groups of tourists hiking on Hsiao Lanyu Island. The agent, who apparently organized the tour, has continued to market the tours, and has consequently drawn criticism from locals.
Noting that Hsiao Lanyu Island has been an important fishing ground for local aboriginal communities, the Lanyu Township Office says that visiting the island for sightseeing during the flying fish season shows complete disregard for local tradition. People should learn about the local cultural traditions and taboos before traveling to a place, the office says.
Hsiao Lanyu is an uninhabited islet located three nautical miles southeast of Lanyu and covers an area of 1.75 square kilometers. Su Jui-ching, a resident of the Lanyu Township, says locals rarely visit the island, adding that the elderly in the village have often warned that visiting it during the flying fish season can reduce the fish catch, cause accidents or bring about other types of bad luck. Most residents are aware of the tradition and abide by it, says Su.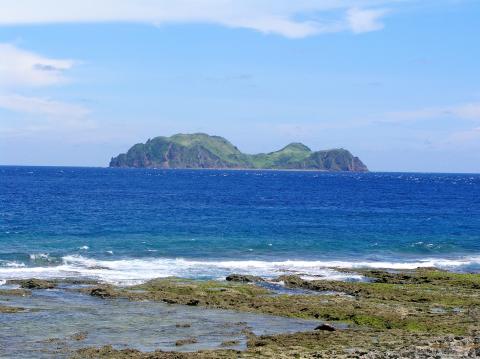 Hsiao Lanyu Island in Taitung County is pictured on April 19. Photo: Chang Tsun-wei, Liberty Times 台東縣小蘭嶼,攝於四月十九日。
Photo: Chang Tsun-wei, Liberty Times
照片:自由時報記者張存薇
Visiting Hsiao Lanyu Island also involves other risks. The waters surrounding the island are fast-moving and fraught with undercurrents. The island has no docks so visitors must swim there and climb up the shore. Moreover, the township office says that many years ago, without consent from Lanyu, the Ministry of National Defense used Hsiao Lanyu Island as a shooting range and test-fired missiles at it. As a result, there are still large amounts of unexploded ordnance and missile casings on the island.
(LIBERTY TIMES, TRANSLATED BY Yu-an Tu)
台東縣的蘭嶼目前正值飛魚季期間。根據傳統,飛魚季期間禁止造訪小蘭嶼。不過卻有一位當地旅遊業者在網上張貼帶團到「小蘭嶼登山」的照片、且持續招募遊客造訪小蘭嶼,引發鄉親撻伐。
蘭嶼鄉公所表示,小蘭嶼為族人重要的漁場,飛魚季期間登島從事旅遊活動嚴重違反傳統,從事旅遊活動前應先了解相關傳統文化禁忌。
小蘭嶼位在蘭嶼東南方三海浬、無人居住,面積約一點七五平方公里。蘭嶼鄉民蘇瑞清指出,鄉民很少登上小蘭嶼,如果在飛魚季期間登島,耆老總會告誡可能會導致漁獲減少、發生意外等不祥之事。大多數鄉民都知道此規定,也會遵守。
登上小蘭嶼也有其他風險。小蘭嶼周邊海域暗流多,海流強勁,且沒有碼頭,必須游泳上岸。此外,鄉公所指出,國防部曾在多年前未經蘭嶼同意,把小蘭嶼當試射飛彈的靶場,島上仍有不少未爆彈及彈殼。(自由時報記者張存薇)
Publication Notes
TODAY'S WORDS
今日單字
1. uninhabited adj.
無人居住的 (wu2 ren2 ju1 zhu4 de5)
例: There are many uninhabited islets on the Pacific Ocean.
(太平洋上有許多無人居住的小島。)
2. undercurrent n.
暗流 (an4 liu2)
例: We need to be aware of undercurrents when swimming in the sea.
(在海裡游泳的時後要當心暗流。)
3. unexploded ordnance n.
未爆彈 (wei4 bao4 dan4)
例: The war left a large amount of unexploded ordnance in the area.
(這個地區在戰後留下許多未爆彈)
Comments will be moderated. Keep comments relevant to the article. Remarks containing abusive and obscene language, personal attacks of any kind or promotion will be removed and the user banned. Final decision will be at the discretion of the Taipei Times.