Volunteers in New Taipei City clean up after the long weekend 連假淨鳶山 三峽新住戶融入在地
Yuanshan, the famous mountain landmark in New Taipei City's Sansia District, was full of litter following the recent long weekend. On Monday last week, the Sansia Workshop for Cultural and Environmental Sustainability called on members of the public to clean up Yuanshan. A large number of new residents from the National Taipei University residential area joined in with the whole family in tow, hoping to use the mountain clean-up to get some exercise, familiarize themselves with the local environment and help along the coming together of the old and new communities.
At the crack of dawn, more than 30 participants bent down and picked up litter while hiking and enjoying the comfortable climate of the Yuanshan mountain trail. Along the way many cherry blossom trees were in full bloom, so that when not picking up litter, the group were able to take in the beautiful scenic views. Aside from large pieces of litter found by the roadside, the young and fit members of the group entered into forested areas and came across old discarded items that had been abandoned many years ago. The collected litter was also sorted and volunteers even insisted on bringing back home with them plastic cups containing drink residues, so that they could be rinsed clean for recycling. In total the group cleaned up more than 10 bags of litter.
(Liberty Times, translated by Edward Jones)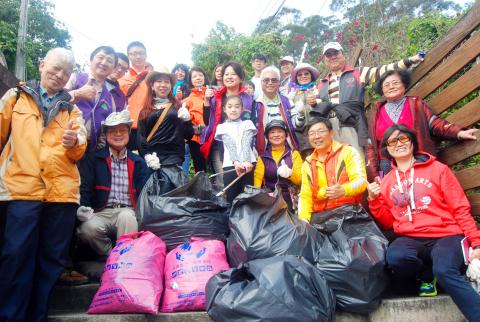 Volunteer litter pickers pose for a group photo at Yuanshan in New Taipei City's Sansia District on Monday last week. 撿垃圾的義工們上週一在新北市三峽區的鳶山合照。
Photo: Chang An-chiao, Liberty Times
照片:自由時報記者張安蕎
新北市三峽區知名地標鳶山經過連續假期,多了不少垃圾。永續三峽文化環境工作室上週一號召民眾淨山,許多來自北大特區的新住戶攜家帶眷參與,希望藉由淨山活動筋骨、認識在地環境,促進新舊社區融合。
三十多名參與者一大早在氣候舒適的鳶山步道上,一邊健走,一邊彎腰撿拾垃圾,沿途多株櫻花綻放,讓眾人在淨山之餘,還能欣賞美景。除了路旁可見的大型垃圾,年輕力壯者還深入山林裡,撿出棄置已久的陳年廢棄物,並且做好分類,就連殘留飲料的塑膠杯,也堅持帶回清洗後才能回收,最後共清出十餘包垃圾。
(自由時報記者張安蕎)
Publication Notes
TODAY'S WORDS
今日單字
1. with the whole family in tow phr.
攜家帶眷 (xi1 jia1 dai4 juan4)
例: Going abroad on holiday with the whole family in tow is no easy task.
(攜家帶眷出國度假絕非易事。)
2. help along v. phr.
促進 (cu4 jin4)
例: Many shops offer price reductions to help along sales of old stock.
(許多商店提供打折以促進舊貨銷售。)
3. at the crack of dawn phr.
一大早 (yi2 da4 zao3)
例: Emily woke up at the crack of dawn this morning to see the sunrise.
(艾蜜莉今天一大早就起床看日出。)
Comments will be moderated. Keep comments relevant to the article. Remarks containing abusive and obscene language, personal attacks of any kind or promotion will be removed and the user banned. Final decision will be at the discretion of the Taipei Times.