Jolin Tsai on Lezs cover 女同志雜誌《LEZS》封面人物:蔡依林
Lezs, which claims to be Asia's most influential lesbian magazine, has picked "influence" as its theme for October, the month in which Taiwan's gay parade takes place each year. In this issue, influential Taiwanese women from different fields are invited to talk about women's and gender topics. In particular, Asian pop queen Jolin Tsai was invited to appear in the cover photo, since her influence echoes the theme of the month.
Besides Tsai, who has just been named "Icon of The Year" in this year's Asia LGBT Milestone Awards, Jennifer Lu and Miao Po-ya, as Taiwan's first legislative candidates to reveal their lesbian identities, award-winning film director Wang Hsiao-ti and artist Kristy Chu, who has the courage to think outside the box, have all been invited to share their thoughts on gay and gender equality topics in the October issue.
This is Tsai's first appearance on Lezs' cover. With her influence across Asia, she is once again speaking out for the gay community. Since 2012, she has signed a petition to pass a bill for diverse family formation, released her 2012 album Muse, featuring Dr Jolin and Fantasy, and released her 2014 album Play, featuring We're All Different, Yet The Same and Gentlewomen, dedicated to the gay community and voicing her support for the gender equality movement. Her Play album even won the Best Mandarin Album in this year's Golden Melody Awards. Over the years, she has used her vast influence to show her support for the gay rights movement.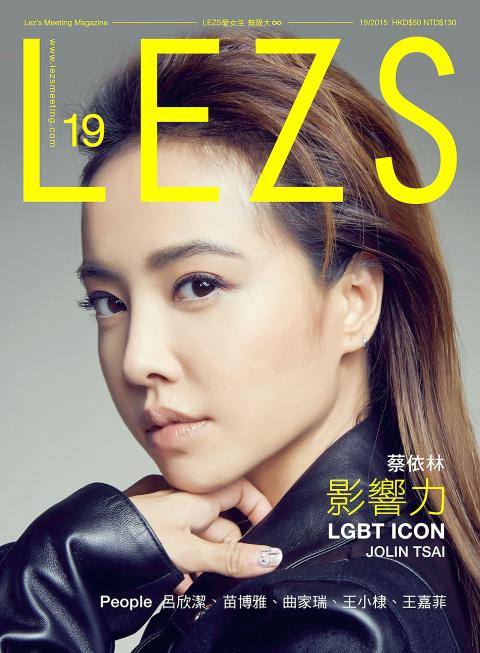 Asian pop icon Jolin Tsai appears on the cover of lesbian magazine Lezs. 亞洲天后蔡依林登上女同志雜誌《LEZS》封面人物。
Photo courtesy of Lezs
照片:《Lezs》提供
Just before this October's Taipei gay parade takes place, Tsai is featured on the cover of Lezs. Interviewed by the magazine, she says, "We have to give opponents some time to think about the matter. After all, everyone has different views about what love is." She also said that currently her idea about marriage is to let nature take its course. When asked how she would feel if her child were gay, she responded with an open mind, "I would be a mother who is open to all kinds of possibilities." In the interview, she used many of her personal experiences to encourage all girls to be themselves as much as they can, go beyond society's mindframe of what beauty is, and live life to the prettiest in their own ways.
(Liberty Times, translated by Ethan Zhan)
號稱全亞洲最具影響力的女同志雜誌《Lezs》,在同志遊行的十月,特別以「影響力」為主題,邀請來自不同領域深具影響力的台灣女性,暢談女性與多元性別議題;其中還特別邀請亞洲天后蔡依林,拍攝封面,呼應雜誌主題「影響力」。
而除了今年獲得「亞洲同志里程碑獎」中〈同志偶像獎〉的流行天后蔡依林外,台灣政壇首次公開出櫃的女同志立委候選人呂欣潔與苗博雅、獲獎無數的導演王小棣、勇於突破框架的藝術家曲家瑞等,都在本期《Lezs》的專訪中深談各樣的同志平權議題。
蔡依林首度登上同志雜誌《Lezs》封面,以她跨足全亞洲的影響力,再次為同志族群發聲。從2012年簽署多元成家連署,到2012《Muse》專輯中的〈Dr. Jolin〉、〈迷幻〉,及2014《呸》專輯中的〈不一樣又怎樣〉與〈第二性〉等獻給同志們的作品,傳達對多元性別運動的支持。今年蔡依林更以新專輯《呸》勇奪金曲獎「最佳國語專輯」,歷年來多次以強大影響力挺身支持同志運動。
而今年十月台北同志大遊行前夕,蔡依林擔任《Lezs》封面人物,專訪中她表示:「我們要給一點時間讓反對者思考,畢竟每個人對愛的想法都不同。」也透露她現階段對婚姻「隨緣」的態度。但被問到如果自己的孩子也是同志,她開明表示:「我是個可以接受各種可能性的母親。」訪問中蔡依林不斷以自身經驗提醒所有女孩盡情活出自己,跳脫社會審美觀的框架,活出屬於自己的美麗。
(記者陳炳宏/台北報導)
Publication Notes
TODAY'S WORDS
今日單字
1. lesbian n.
女同志 (nu3 tong2 zhi4)
例: I know my best friend is a lesbian, but that does not affect our friendship one bit.
(我知道我最要好的朋友是名女同志,但那絲毫不會影響我們的友情。)
2. icon n.
偶像 (ou3 xiang4)
例: My mother never forbids me to worship icons, because she has more icons to worship than I do.
(我媽從不禁止我崇拜偶像,因為她自己的偶像比我的還多。)
3. gay community phr.
同志族群 (tong2 zhi4 zu2 qun2)
例: Although he is not gay, he is a human rights activist for the gay community.
(雖然他自己不是同志,但他是一名捍衛同志族群的人權人士。)
Comments will be moderated. Keep comments relevant to the article. Remarks containing abusive and obscene language, personal attacks of any kind or promotion will be removed and the user banned. Final decision will be at the discretion of the Taipei Times.