He has the size but she practices taekwondo 壯碩通緝犯公園拒捕 女警四招制伏
When officers Yen Shih-che and Yu Meng-yang of Sanchong Precinct's Houde Police Station in New Taipei City performed their patrol duty around 7pm on Sept. 3, they saw a bulky man and three other men speaking in loud voices in a park, occasionally making big body movements. Fearing that a conflict might take place, they approached the men to find out what was going on.
The bulky man was surnamed Wu, aged 30, and did not have any identification documents with him. However, after he gave his full name, the officers found out he was wanted by the police. The officers told him directly that, "You are wanted." They then took out their handcuffs to arrest Wu, who shouted, "Not a chance!" He refused to cooperate and waved his arms around several times to avoid being handcuffed as if he were performing taichi with the officers, a scene that caused a lot of passers-by to stop and watch.
Wu had the physical advantage of being 180cm tall and weighing 120kg, but he was confronted with Yu, an award winner in the taekwondo category in the National High School Games and the Presidents Cup and a third-degree black belt taekwondo practitioner. Wu was no match for Yu, who effortlessly had him handcuffed in just four moves. The two officers then took him back to the police station, and after questioning, Wu was transported to New Taipei District Prosecutors Office.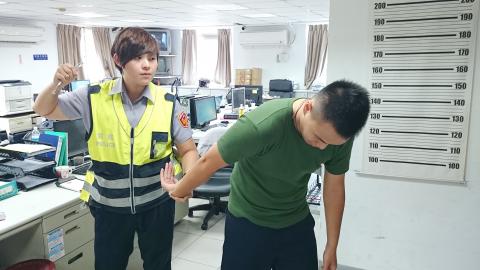 Police officer Yu Meng-yang, left, demonstrates how she uses taekwondo to capture wanted criminals in Taipei on September 5. 女警游孟洋(左)九月五日於台北示範如何利用跆拳道逮捕通緝犯。
Photo: Huang Chieh, Liberty Times
照片:自由時報記者黃捷
(Liberty Times, translated by Ethan Zhan)
三重警分局厚德派出所員警顏士哲、游孟洋九月三日晚執行巡邏勤務,七時許見一名壯碩男子與另三名男子在公園內大聲交談,時有較大的肢體動作,擔心發生衝突,隨即上前盤查。
該名壯碩男子姓吳,三十歲,身上未帶任何證件,但一報上姓名,即被查出遭到通緝。員警直接表明「你已被通緝了」,並拿出手銬準備逮人。吳男見狀大喊「敢有可能!」拒絕配合,數度伸手撥開手銬,貌似與員警打起太極拳,引來不少路過民眾駐足觀看。
吳男雖有一百八十公分、一百二十公斤的體型優勢,但遇上曾在全中運及總統盃得名、跆拳道三段的游孟洋,幾乎無招架之力,四招之內就被銬上手銬。二員再合力將他押回警所,訊後解送新北地檢署歸案。
(自由時報記者黃捷)
Publication Notes
TODAY'S WORDS
今日單字
1. bulky adj. 壯碩 (zhuang4 shuo4)
例: We need some bulky men to move these sofas.
(我們需要幾名壯碩的男丁來搬運這些沙發。)
2. cooperate v. 配合 (pei4 he2)
例: Their engineers cooperated with the city of Munich in installing a safer and faster operating system on the computers.
(他們的工程師與慕尼黑市配合,將更安全、更快捷的作業系統安裝在電腦中。)
3. passer-by n. 路過民眾;路人 (lu4 guo4 min2 zhong4, lu4 ren2)
例: We are not here to demonstrate; we are just passers-by.
(我們不是來抗議的;我們只是路過民眾。)
Comments will be moderated. Keep comments relevant to the article. Remarks containing abusive and obscene language, personal attacks of any kind or promotion will be removed and the user banned. Final decision will be at the discretion of the Taipei Times.