Taiwanese scouts' airport jamboree
台灣童軍嬉鬧福岡機場
As Typhoon Soudelor lashed Taiwan on Aug. 7 and 8, Taoyuan International Airport had to cancel some flights, and this led to a large group of travelers being caught at Fukuoka Airport in Japan. There were media reports that members of the public had complained that the Taiwanese scouts who represented Taiwan at the World Scout Jamboree were loud and playing around noisily and their disorderly conduct caused some Japanese people to shake their heads and complain, and Taiwanese travelers said that "they were simply embarrassing Taiwan in front of the whole world."
According to a report in the Apple Daily, a Taiwanese traveler surnamed Yu complained to the newspaper that the scouts, who represented Taiwan at the World Jamboree in Yamaguchi Prefecture, were running around in the gate area at Fukuoka Airport, playing loudly and causing a disturbance. She added that they sang loudly on the plane and recorded videos. Not only that, but the teacher leading them did not stop all this impolite behavior, which caused the Japanese in the area to shake their heads and complain and wonder why Taiwanese were so noisy, Yu said, and some who were unable to tolerate all the noise told them to stop.
The international department of the General Association of the Scouts of China said that the impact of the typhoon caused the flight to be delayed by one day, and that the waiting hall was in a chaos. According to the organization, the students were playing around to kill time and that was what caused the behavior that disturbed the other passengers. The reason why the accompanying adults did not stop them, the organization said, was that they understood and forgave the children's mood, but they also said that that there was indeed some inappropriate behavior that had made a bad impression on other passengers. The organization added that scouts wearing uniforms representing Taiwan had left a negative impression of the country abroad and that in future it would improve its briefings on related points for attention.
(Liberty Times, translated by Perry Svensson)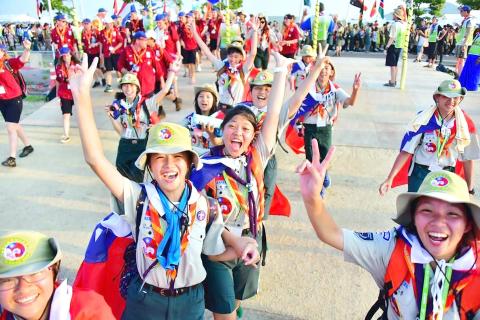 Scout group members from Mingdao High School in Taichung attend the World Scout Jamboree in Yamaguchi, Japan at the end of last month. 台中明道中學童軍團於七月底,在日本山口參加世界童軍大露營。
Photo courtesy of Mingdao High School
照片由明道中學提供
八月七、八日蘇迪勒颱風狂掃,桃機因此停飛,導致大批旅客滯留日本福岡機場。媒體報導有民眾投訴指代表參加日本童軍活動的台灣小童軍在候機時,大聲嬉鬧、喧嘩,脫序行為讓日人搖頭、抱怨,台灣遊客表示:「簡直是丟臉丟到國外!」。
據《蘋果日報》報導,一名台灣旅客余姓女子向他們投訴,這群代表台灣到日本參加山口縣所舉辦的世界大露營童軍活動的小童軍,於福岡機場候機時,在登機處奔跑嬉鬧、大聲喧嘩,甚至在機場大合唱,錄製紀念影片,不但如此,帶隊的老師甚至沒有制止學生種種有失禮儀的行為,讓日本人在一旁不斷搖頭,抱怨台灣人怎麼會這麼吵,甚至難忍吵鬧,出聲制止。
對此,中華民國童軍總會國際組表示,由於颱風影響,班機延誤一晚,候機現場又較為混亂,學生們在機場苦中作樂度過等候時間,才會造成影響其他旅客的行為,而同行的成人是出於體諒小朋友的心情,才未加以制止,但此有失禮儀的行為確實造成現場其他旅客觀感不佳,身穿代表台灣形象的制服卻在外留下不良印象,未來會加強宣導相關注意事項。
(自由時報)
Publication Notes
TODAY'S WORDS
今日單字
1. disorderly conduct n. phr.
脫序行為 (tuo1 xu4 xing2 wei2)
例: They were thrown out of the movie theater because of their disorderly conduct.
(他們因為脫序行為被趕出戲院。)
2. impolite adj.
失禮 (shi1 li3)
例: It was very impolite to start eating before the host arrived.
(主人還沒到就開始吃飯很失禮。)
3. kill time phr.
打發時間 (da3 fa1 shi2 jian1)
例: They were really bored so they had to find a way to kill time.
(他們因為非常無聊而要找方法打發時間。)
Comments will be moderated. Keep comments relevant to the article. Remarks containing abusive and obscene language, personal attacks of any kind or promotion will be removed and the user banned. Final decision will be at the discretion of the Taipei Times.