Woman student saved from crushed car 貨櫃壓扁小轎車 女研究生奇蹟走出殘骸
On Friday last week, a 38-year-old man was driving a tractor-trailer with a 40-foot container on the flatbed trailer, heading northward from Taoyuan and planning to unload it at Keelung Harbor. At around 6pm, when he was just one kilometer from his destination and for no apparent reason, the tractor-trailer overturned to the left-hand side and the container crushed a green car that was waiting at a red light next to the truck.
A woman surnamed Huang who is a research student at National Taiwan Normal University had been going to Taipei to give a lesson as a home tutor, and she had asked her father to drive her to Keelung Station to catch a train. Only shortly after the father and daughter set out, however, they were struck by an unexpected calamity.
When the container tipped over, it first hit a lamppost on the median divider island, then fell onto the roof of the car. The truck driver climbed out of his cab on his own, without suffering any external injuries, but the car was crushed so badly that only its headlights were visible. The rest of it was obscured by the crumpled steel side panel of the container, and the car's horn was pressed so that it was blaring continuously.
A firefighter examines a car crushed beneath a toppled container in Keelung City on Friday last week. 一名消防員上週五在基隆,檢查一輛被傾倒的貨櫃壓到的汽車。
Photos: Wu Cheng-feng, Liberty Times
照片:自由時報記者吳政峰
When firefighters arrived on the scene and saw how serious it was, they expected the worst. First of all, they radioed for two big cranes and a tow truck to come and support the operation. They then went to the car and called out, "Is anyone in there?" A few seconds later, they heard a voice calling "Help!" — one little word that gave them some confidence.
When the firefighters found that Miss Huang, who was sitting in the front passenger seat, was still alive, they hurriedly comforted her, saying, "The cranes are coming — hold on there!" Next, the cranes lifted the side of the container up to an angle of about 45 degrees, upon which they used the tow truck to pull the car out. When the firefighters saw how everything above the car's hood had been crushed flat, they wondered for a moment whether they had been mistaken when they heard a cry for help. However, when they cut open the wreckage over the front passenger seat with a hydraulic cutter, the scene that emerged shocked everyone present.
Somebody's left hand, clenched into a fist, stretched out of the car, proving that somebody was alive. Thereupon, the firefighters sped up their rescue efforts, and a minute later Miss Huang crawled out of the wreckage. Only her hands and feet were slightly grazed, so she managed to step out of the car by herself. While walking toward the stretcher, she kept looking back to see how her father was. When she caught sight of her anxious mother, Miss Huang broke down in tears, crying that she wanted to wait for her father to come out, but her mother hugged her and said, "Better go to the hospital — Your daddy wants you to be OK."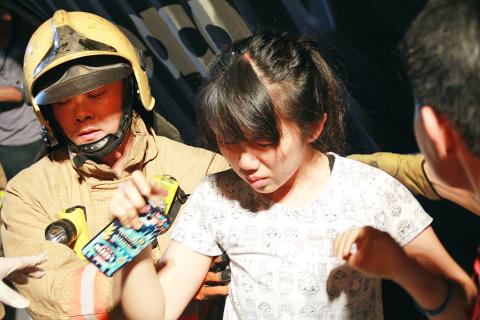 Firefighters work to extract a young woman from inside a crushed car in Keelung City on Friday last week, after she reached out her fist to show that she was alive. 一個女子上週五在基隆,從壓壞的汽車裡面伸出手證明她還活著,消防員努力把她救出來。
Photos: Wu Cheng-feng, Liberty Times
照片:自由時報記者吳政峰
Feeling encouraged, the firefighters then pulled Mr Huang out from the driver's seat, but, heartbreakingly, he showed no signs of life. After rushing him to hospital, doctors tried to revive him for an hour, but no more could be done for him.
(Liberty Times, translated by Julian Clegg)
一名三十八歲男子上週五從桃園開著曳引車北上,後方板架裝著一只滿載的四十呎貨櫃,欲前往基隆港卸貨。下午六時許,在離目的地僅一公里處,不知何故突然朝左翻覆,整個貨櫃強壓一旁等紅燈的綠色小客車。
就讀師大研究所的黃女當時欲前往台北當家教,請父親幫忙載至基隆火車站搭車。未料父女倆才出家門沒多久,竟遭天外橫禍。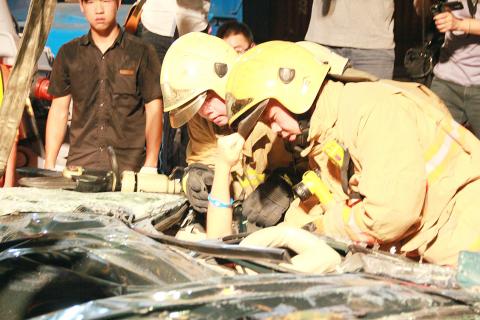 A firefighter guides a young woman away from a wrecked car in Keelung on Friday last week. 消防員上週五在基隆引導一名女子離開被壓壞的汽車。
Photos: Wu Cheng-feng, Liberty Times
照片:自由時報記者吳政峰
貨櫃傾倒時,先撞擊分隔島的路燈,再墜至小客車車頂。卡車司機自行爬出,沒有外傷,但小客車被壓到只見車頭燈,其餘部分均被貨櫃扭曲鐵皮蓋住,喇叭則被壓住,不停鳴響。
消防員到場見事態嚴重,心都涼了;先電召兩輛大型吊車與一輛拖吊車來支援,再朝著車體大喊「有沒有人?」數秒後,一句「救命!」燃起了他們的信心。
消防員得知坐在副駕駛座的黃女還活著,連忙安撫她說「吊車要來了,再加油一下!」接著吊車拉起貨櫃單側約四十五度,再用拖吊車將小客車拉出。消防員見引擎蓋以上全部被壓平,一度懷疑是否聽錯呼救聲,但持破壞器材剪開副駕駛座上方的殘骸後,出現了一幅震撼所有人的景象。
一隻握緊拳頭的左手臂從車內伸出,證明「我還活著!」消防員加快救援速度,一分鐘後,黃女從殘骸中爬出,僅手腳受了一點輕微擦傷,自行步出車外;走向擔架的途中,頻回頭觀看老父情況。一見到焦急的母親,黃女崩潰痛哭,大喊要等爸爸出來,黃母則紅著眼眶摟著她說「去醫院吧,妳爸希望妳沒事」。
受到鼓舞的消防員隨後從駕駛座拉出黃男,但令眾人心碎的是,他已無生命跡象,送醫急救一小時仍不治。
(自由時報記者吳政峰)
Comments will be moderated. Keep comments relevant to the article. Remarks containing abusive and obscene language, personal attacks of any kind or promotion will be removed and the user banned. Final decision will be at the discretion of the Taipei Times.