Trainee cop nets gun carrying drug addict 警專女實習生眼尖 助破槍毒案
Police sergeant Pan Fu-ming, officer Ku Hsien-sheng and trainee Hsu Chien-chin of Litan police station were recently carrying out night patrol duties in Nantou County's Puli Township when they spotted a suspicious-looking hatchback car at a car park on Jhongshan Road, Section 1. A male, surnamed Chen, standing by the car, returned to hide inside the car on seeing the police. There seemed to be something unusual about his eyes, which attracted the attention of the police and led them to question him.
"Sergeant, there appears to be a syringe next to the driver's seat." The sharp-eyed Hsu realized something was not right and immediately issued a warning. The two police officers at once prevented Chen from driving off. First they found two syringes next to the driver's seat, used for injecting drugs. Next, from Chen's bag below the driver's seat they found heroin and amphetamines — totalling six bags altogether — a bong, a modified pistol, three bullets and two unassembled gun barrels. Chen and his possessions were taken to the police station for investigation and interrogation.
Chen was brought to justice under the Controlling Guns, Ammunition Act and the Firearms and Narcotics Hazard Prevention Act, while further investigation was carried out to establish the origin of the firearm and whether it was involved in another case.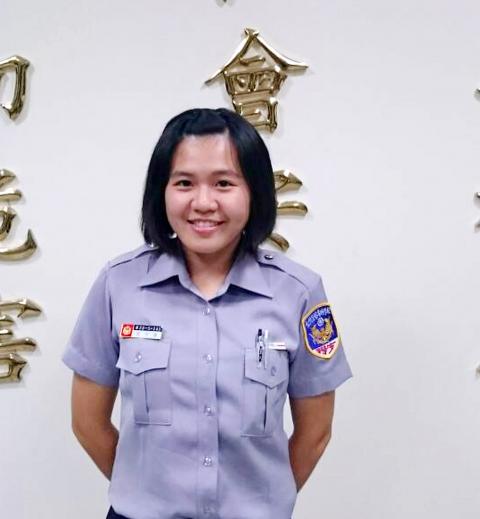 Trainee policewoman at Litan police station, Hsu Chien-chin, poses for a photo in Nantou County's Puli Township on August 2. 鯉潭派出所警專女實習生許千謹,在八月二日於南投縣埔里鎮參加記者會。
Photo: Tung Chen-kuo, Liberty Times
照片:自由時報記者佟振國
Police sergeant Pan Fu-ming singled out Hsu for praise, saying that — just as her name implies — she is extremely prudent and careful. Hsu, smiling, said it was her first firearm and narcotics case and that she was both nervous and excited. Hsu also thanked her senior officer and officer Ku for their guidance and advice.
(Liberty Times, Translated By Edward Jones)
南投縣埔里分局鯉潭派出所巡佐潘福明、警員賈憲生與警專實習生許千謹,日前執行夜間巡邏勤務,在埔里鎮中山路一段的某個停車場發現一部自小客車形跡可疑,一旁的陳姓男子見到警察即躲回車內,眼神怪異,引起員警注意進行盤查。
「學長,駕駛座旁好像有針筒喔」眼尖的許千謹發現不對勁,立即出聲示警,二名員警立即制止想開車逃逸的陳嫌,先在駕駛座旁找到兩支毒品注射針筒,又在駕駛座下方陳嫌的手提包內查獲海洛因、安非他命毒品合計六小包、吸食器,還有一把改造手槍、子彈三發及槍管半成品兩支,當場人贓俱獲,帶回派出所偵訊,依違反槍砲彈藥刀械管制條例、毒品危害防制條例移送法辦,並進一步追查槍枝來源及是否涉及其他案件。
巡佐潘福明特別稱讚小學妹人如其名,非常謹慎小心;許千謹則開心表示,第一次查到槍毒案,既緊張又興奮,也感謝實習期間學長、姊的指導。
(自由時報記者佟振國)
Publication Notes
TODAY'S WORDS
今日單字
1. suspicious-looking adj. phr.
形跡可疑 (xing2 ji1 ke3 yi2)
例: The suspicious-looking man appeared to be concealing an object underneath his coat.
(那位形跡可疑的男子,在大衣裡看起來隱藏著某種事物。)
2. modify v.
改造 (gai3 zao4)
例: Peter's modified scooter has blue lights and colored stripes.
(彼得的改造摩托車加了藍燈與彩色線條。)
3. origin n.
來源 (lai2 yuan2)
例: The origin of the Japanese language is still a mystery to this day.
(日文的來源至今仍是不解之謎。)
Comments will be moderated. Keep comments relevant to the article. Remarks containing abusive and obscene language, personal attacks of any kind or promotion will be removed and the user banned. Final decision will be at the discretion of the Taipei Times.