Travel must-haves 支付卡、手機、藥品 出國旅遊必備
The busy season for overseas travel is just around the corner. According to the latest survey from Visa International, the three most important items for Taiwanese people to take overseas, besides their passports and foreign currency, are payment cards, cell phones or tablet computers, and medicine for personal use.
To understand the needs of Taiwanese traveling abroad, Visa International recently conducted the Visa Global Travel Intentions Study and discovered that, aside from their passports and foreign currency, 86.1 percent of respondents believe the most important item for Taiwanese to take on overseas vacations is a credit card or other payment card. Secondly, 72.1 percent of respondents ranked cell phones or tablets as the most important, while 69.9 percent picked medicine for personal use. This shows that payment cards have become a customary method of payment for Taiwanese people.
Visa indicated that smartphones are growing in popularity and have become a daily necessity for Taiwanese, and overseas travel is no exception. The survey shows that over 90 percent of Taiwanese believe that wireless Internet access is important when traveling abroad, with 47.1 percent of respondents saying that it is extremely important.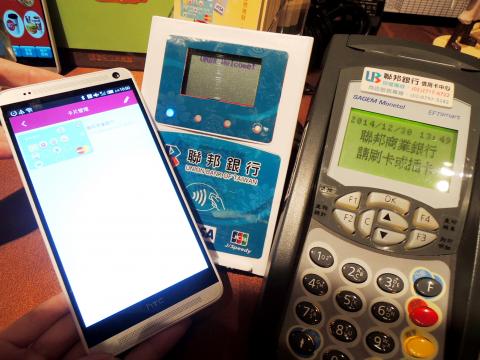 Credit card readers and a smartphone that is compatible with digital payment systems are displayed on Tuesday last week in Taipei. 與電子付費系統相容之信用卡讀卡機及智慧型手機上週二在台北展示。
Photo: Lee Ching-hui, Liberty Times
照片:自由時報記者李靚慧
(Liberty Times, translated by Zane Kheir)
出國旅遊旺季即將到來,根據Visa國際組織的最新調查,國人出國三大類必帶物品,除了必備的護照及當地貨幣外,當屬「支付卡」、「手機或平板電腦」及「個人藥品」。
為了解國人出國旅遊的需求,Visa國際組織日前進行「Visa旅遊意向調查」,發現國人出國除了非帶不可的護照以及當地貨幣外,高達86.1%的受訪者認為,出國旅遊最重要的必備物品是信用卡等支付卡,其次是手機或平板電腦(72.1%),個人藥品(69.9%)則排名第三,顯示使用支付卡付款已經成為台灣民眾習慣的支付方式之一。
Visa指出,智慧型手機日益普及,國人平日已人手一機,即使出國也不例外。調查顯示,有超過九成的台灣民眾認為海外旅遊時有行動上網的服務是重要的,其中更有47.1%的人表示非常重要。
(自由時報記者李靚慧)
Publication Notes
TODAY'S WORDS
今日單字
1. discover v.
發現 (fa1 xian4)
例: Vacations are great opportunities to discover new things in the world.
(度假是發現世界新奇事物的大好機會。)
2. respondent n.
受訪者 (shou4 fang2 zhe3)
例: When conducting a survey, it is sometimes difficult to find respondents.
(做調查的時候,有時很難找到受訪者。)
3. exception n.
例外 (li4 wai4)
例: All application forms must be submitted by the end of the week without exception.
(所有的申請表格皆須在本週末前交件,沒有例外。)
Comments will be moderated. Keep comments relevant to the article. Remarks containing abusive and obscene language, personal attacks of any kind or promotion will be removed and the user banned. Final decision will be at the discretion of the Taipei Times.