A diploma from a past era 日治年代的偏鄉教育
The Hengchun Peninsula was settled and developed rather early, but because many of its historical materials were left unattended, most of them have disappeared. Last month Nien Chi-cheng, a historical researcher who has been collecting the peninsula's historical documents for a long time, came across some diplomas issued by the Kenting branch of the Hengchun public school during the Japanese colonial era. For a school for which there does not seem to be any historical record, it is now possible to catch a glimpse of what it was like. The stories told by its alumni also reveal the emphasis that the Japanese places on education in remote areas.
Lee Chin-shun, who is now 85, is an alumnus of Hengchun Junior High School's class of 1941. Holding a well-preserved diploma from the school's Kenting branch, he recalls how unforgettable his school years were. In those days the Japanese decided to set up a four-year branch school in the remote Kenting area, and students would then continue their fifth- and sixth-year education at the Hengchun school's main campus. The branch school enjoyed the same resources as the main school. This practice, which placed emphasis on education in remote areas, prompts Lee to heave a sigh as he says, "Compare that with the difficulty that education in remote areas is facing today. The government should really reflect on itself."
Nien observes that the materials preserved by Lee show that the Kenting branch was founded in 1930. Although it was established to expedite governance and assimilation, subjects like science, music and physical education were not neglected. A diploma was given upon completion of the four-year education in the branch school. As Lee recalls, many of his classmates, as well as his brother Lee Shun-szu, were able to pass tests and enter good schools and government agencies after receiving an education in Hengchun. They were not seen as inferior just because they received their education in a remote area.
(Liberty Times, translated by Ethan Zhan)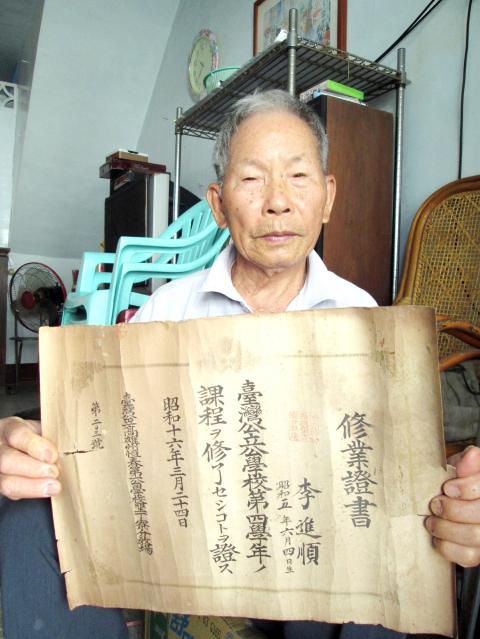 85-year-old Lee Chin-shun holds his Japanese-era diploma on May 15 in Pingtung. 八十五歲的李進順持著他日治時代取得的畢業證書。攝於五月十五日,屏東。
Photo: Tsai Tsung-hsien, Liberty Times
照片:自由時報記者蔡宗憲
恆春半島開發甚早,但許多史料因為乏人整理,大多消失在歷史洪流中。長期蒐集半島歷史文獻的文史工作者念吉成,上月意外尋得日治時期恆春公學校「墾丁寮分教場」的修業證書,讓這所過去史料闕如的學校,透過史料能一窺當年風貌,更從畢業生口中,了解日治時代對偏鄉教育的重視。
八十五歲的李進順是恆春國小第四十一屆畢業生,拿著保留完整的「墾丁寮分教場」修業證書,難忘小時讀書的種種。日本人當年在偏遠的墾丁地區,特別設置四年制的「分教場」,第五、六年在返回恆春母校就讀,分校教師及資源配置與本校相當,對於這種關注偏鄉教育的作法,李進順大嘆「對比如今偏鄉教育的困境,政府實在應該好好檢討!」
念吉成表示,從李進順保存的資料中發現,「墾丁寮分教場」在一九三○年間就設立,雖然有便於統治及同化目的,但科學、音樂、體育等項目都未忽略;四年的分校教育還特別頒發證書。據李進 順回憶,不少同學及兄長李順四都在恆春受教育後,都能考取優秀的學校及公職,不會因為偏遠地區的教育就矮人一截。
(自由時報記者蔡宗憲)
Publication Notes
TODAY'S WORDS
今日單字
1. diploma n.
修業證書,畢業證書 (xiu1 ye4 zheng4 shu1, bi4 ye4 zheng4 shu1)
例: I have a diploma in medicine.
(我有醫學系的畢業證書。)
2. alumnus n. (plural alumni)
畢業生;校友 (bi4 ye4 sheng1; xiao4 you3)
例: They will invite the alumni to share their experience with the students.
(他們將邀請校友返校與學生分享經驗。)
3. inferior adj.
矮人一截 (ai3 ren2 yi4 jie2)
例: Our teachers are very encouraging and never make us feel inferior to anybody.
(我們的老師對我們鼓勵有加,從不讓我們覺得自己矮人一截。)
Comments will be moderated. Keep comments relevant to the article. Remarks containing abusive and obscene language, personal attacks of any kind or promotion will be removed and the user banned. Final decision will be at the discretion of the Taipei Times.