Let's get pregnant with the golden spade, baby! 金鏟子助孕?
N ew Taipei City's Department of Civil Affairs is trying to encourage childbirth and gives out 500 golden spades each year to boost people's pregnancy rates. However, Dr. Liu Yuchih submitted a letter to the media, pointing out that pregnancy requires sperms and eggs, not shovels. If a couple's sex life is vibrant, the natural pregnancy rate within a six-month period can be around 60 to 70 percent, he said. New Taipei City government claims that the 333 new couples who tied the knot in a joint wedding ceremony in New Taipei City and took the golden shovels home have a pregnancy rate as high as 60 percent. That the government would intentionally use statistics like this to make its performance look good and stress the golden shovels' effect in boosting pregnancy is ridiculous, says Dr. Liu.
He pointed out that any person with their head screwed on knows that pregnancy requires sperms and eggs and has nothing to do with shovels. It should be seen as nothing more than harmless superstition, so why waste government money on activities like this that promote sheer pseudoscience? Furthermore, that the government would put instructions for using the golden shovels on its official website, explaining that displaying the front side of the shovel will give birth to boys and displaying the rear side will help bear girls, is unbelievably absurd, says Dr. Liu.
Huang Ching-i, Chief Secretary of New Taipei City's Department of Civil Affairs, responded, saying, "'Golden spade' sounds similar to 'getting a new baby soon' in Taiwanese. The practice of giving golden shovels is a traditional custom for the purpose of encouraging childbirth and also to help people who are anxious to have a baby find peace of mind. The public strongly supports it, and many other cities and counties have followed suit. So people should look at the bright side of it. There is no need to be so harsh and critical."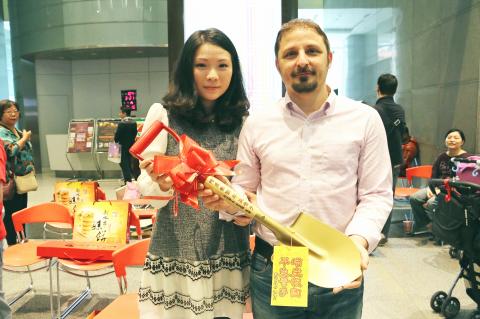 A Taiwanese woman and her Caucasian husband hold their golden spade on Monday last week in New Taipei City. 一名台灣女郎與白人先生上週一於新北市一起拿著他們的金鏟子。
Photo: Lai Hsiao-tung, Liberty Times
記者賴筱桐攝
(Liberty times, translated by Ethan Zhan)
新北市民政局提倡生育,每年發放五百支金鏟子推廣助孕效果,但醫師劉育志投書媒體批評,懷孕需要精子和卵子,與鏟子無關。一對夫婦如果性生活活躍,半年內自然懷孕機率有六至七成;市府宣稱贈送參加聯合婚禮的三百卅三對新人金鏟子,已懷孕新人高達六成。官方刻意用數據包裝充當政績,強調金鏟助孕功效,貽笑大方。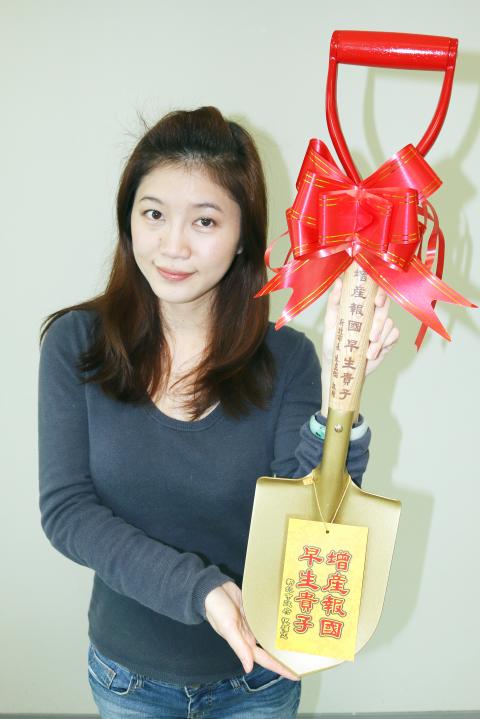 A woman holds her golden spade in New Taipei City on Monday last week. 一名女士上週一於新北市握著她的金鏟子。
Photo: Lai Hsiao-tung, Liberty Times
記者賴筱桐攝
他指出,任何腦筋清楚的人都曉得懷孕需要精子和卵子,跟鏟子沒有關係。當成無傷大雅的迷信就罷了,為何耗費公帑舉辦活動,宣傳不折不扣的「偽科學」,竟然在官網介紹金鏟子「正面求子、反面求女」的使用方法,實在荒謬離譜。
民政局主任秘書黃靜怡表示,金鏟子諧音「緊產子」的助孕涵義,是依循我國悠久的民俗文化,以此鼓勵生育,給求子急切的民眾心靈寄託。外界多持高度肯定,許多縣市紛紛跟進,美意應正面看待,不需如此嚴苛批評。
(自由時報記者游蓓茹)
Publication Notes
TODAY'S WORDS
今日單字
1. give out v. phr.
發放 (fa1 fang4)
例: I think that the government should give out free condoms before Valentine's Day every year.
(我認為政府應在每年情人節前發放免費保險套。)
2. tie the knot v. phr.
結婚 (jie2 hun1)
例: Please consider tying the knot with me, Juliet.
(朱麗葉,請考慮跟我結婚吧。)
3. custom n.
民俗,風俗 (min2 su2, feng1 su2)
例: Indigenous customs and legends are so intriguing.
(原住民的風俗與傳說真是令人著迷。)
Comments will be moderated. Keep comments relevant to the article. Remarks containing abusive and obscene language, personal attacks of any kind or promotion will be removed and the user banned. Final decision will be at the discretion of the Taipei Times.