Why do pop tunes sound so similar? 流行樂聽起來很像?29首歌告訴你為什麼
If you often listen to pop music, do you sometimes wonder why so many songs sound so much alike? Pianist Wiwi Kuan tracked down a particular chord sequence that is used all over the place in pop music and made a medley out of 29 familiar pop songs that use it. Kuan hopes that people will think long and hard about whether our pop music could do with some new chords.
Kuan posted a video titled "Why do pop songs all sound so much alike?" on YouTube. The video makes the point that the reason why Taiwanese pop songs often sound very familiar is that so many of them use the same chord progression — C G/B Am (A minor) Em/G F C/E Dm G, which is known as a descending bass line. Because this sequence is very easy on the ear, it has been used repeatedly in many pop songs.
In Kuan's opinion there is nothing wrong with this chord progression except that it has been used over and over again. That is what prompted him to find 29 pop songs from the Chinese-language music charts, set them in the same key and make a medley out of them. The series of tunes includes Jay Chou's Faraway, Sky Wu's Share, David Tao's The Moment, Fish Leong's Happy Break-up, A-Lin's Breaking Up Takes Practice, Claire Kuo's I Don't Want to Forget You and other hits that on first hearing sound like the same song.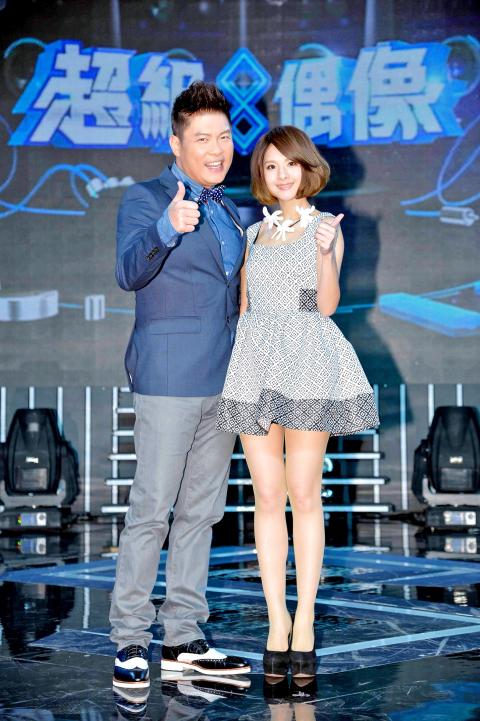 Singer Claire Kuo, right, poses with show host Sam Tseng on the set of SET TV's Super Idol series. 「超級偶像Super idol 8」主持人曾國城與來賓歌手郭靜。
Photo courtesy of SET TV
照片:三立提供
The video got 4,000 views in the first day after it was uploaded. One viewer commented, "Many songwriters choose to use this chord progression not because they are lacking in creativity, but to meet the demands of the popular music market." Another viewer said, "When you have heard a lot of Western and Japanese music and you go back to listening to Chinese-language music this becomes all the more obvious. All I can say is there is no going back for me now. Taiwanese music really needs more diversity.
(LIBERTY TIMES, TRANSLATED BY JULIAN CLEGG)
常聽流行音樂,是不是總會有「為什麼好多首歌聽起來那麼像」的感覺?鋼琴家官大為找出了一組流行樂中被使用氾濫的和弦,並以二十九首耳熟能詳的流行歌串在一起,最後希望大家深思,「我們的流行音樂,是不是需要一些新的和弦了呢?」
官大為在YouTube上傳了名為「為什麼流行歌聽起來都這麼像?」影片,指出台灣流行樂聽起來常常感覺耳熟能詳,是因為都使用了相同的和弦「C G/B Am Em/G F C/E Dm G」進行,也就是「下行低音」,即低音會一直往下走,讓大家聽起來感覺很順,導致許多流行歌都會重複使用。
官大為認為,並非這組和弦進行不好,只是因為被重複使用了太多太多次,之後更隨機找了二十九首華語排行榜裡的流行歌,以同一個調串在一起,如周杰倫「千里之外」、伍思凱「分享」、陶喆;「一念之間」、梁靜茹「分手快樂」、黃麗玲「分手需要練習的」、郭靜「我不想忘記你」......等歌曲,乍聽之下感覺就像同一首歌似的。
影片上傳後一天就有四千多人觀看,有網友認為「很多創作人之所以選用這組和弦來創作並不是因為能力不足,而是為了迎合通俗音樂的市場需求」,也有網友指出「西洋音樂以及日本音樂聽多了以後回來聽華語音樂更明顯,只能說真的回不去了,台灣的音樂真的要多元化啊!」。
(自由時報記者王駿杰)
Publication Notes
TODAY'S WORDS
今日單字
1. medley n.
混合曲 (hun4 he2 qu3)
例: If the tunes in a medley are not well matched it will sound terrible.
(如果組曲中的旋律彼此不協調,聽起來會很糟糕。)
2. think long and hard v. phr.
深思 (shen1 si1)
例: You should think long and hard before choosing your college major.
(選擇大學主修前,你應該要好好深思一下。)
3. could do with phr.
需要 (xu1 yao4)
例: Your bicycle chain sounds like it could do with a spot of oil.
(你的單車鎖鏈聽起來是需要上一點油了。)
Comments will be moderated. Keep comments relevant to the article. Remarks containing abusive and obscene language, personal attacks of any kind or promotion will be removed and the user banned. Final decision will be at the discretion of the Taipei Times.