Gay singers test country music's appeal 鄉村歌手出櫃 測試樂壇對同志的包容
Church, pickup trucks and dive bars — the imagery of classic country songs evokes "traditional" small-town American life. Now a rising number of openly gay crooners are testing just how inclusive that vision can be.
Two prominent singers came out of the closet within hours of each other on Nov. 20. Ty Herndon, who rose to stardom in the 1990s with both love ballads and Christian songs, declared himself to be an "out, proud and happy gay man."
Herndon, who at 52 has been married twice to women, said that he had struggled since his childhood to come to terms with his sexuality.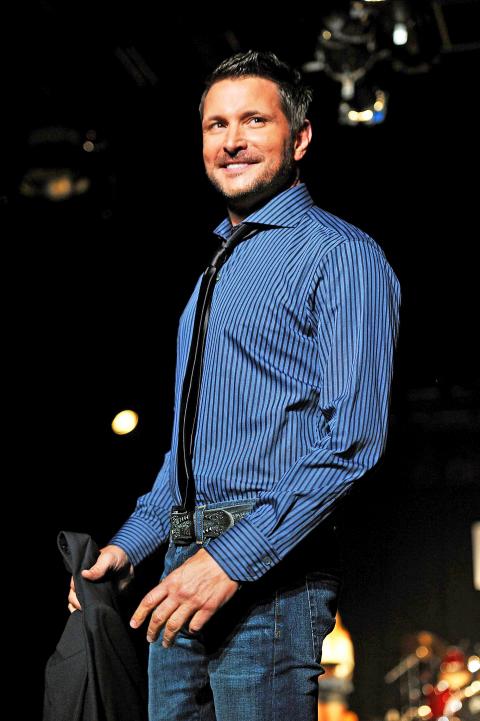 Ty Herndon performs in Nashville, Tennessee on June 7, 2011. 泰‧赫恩登二0一一年六月七日在田納西州納許維爾演出。
Photo: AFP
照片:法新社
He said he was now in a relationship with a man and has reconciled his Christianity and sexual orientation.
"I sit on the tailgate of my pickup truck, and I meditate, and I talk to God," he told celebrity magazine People.
Soon after the article appeared, another major name in country music said he was inspired by Herndon to come out — Billy Gilman, who first entered the country charts in 2000 at age 11.
Compared with Herndon's choreographed coming out, Gilman's was rawly personal. He released an emotional video on YouTube, saying he was "scared to death" to go public but had been hurt by gossip about his life.
"Being a gay male country artist is not the best thing," Gilman said of the Nashville-based industry.
"If people don't like your music, that's one thing. But after having sold over five million records, having a wonderful life in the music industry, I knew something was wrong when no major label wanted to sit down and have a meeting and listen to the new stuff," he said.
The former child star said he was not ashamed to be gay but voiced dismay that he was "in a genre and in an industry that is ashamed of me for being me."
(AFP)
教堂、敞篷小貨車,與廉價酒吧—這些經典鄉村音樂景象喚起「傳統」美國小鎮的生活樣貌。如今,有越來越多鄉村歌手出櫃,考驗著鄉村音樂對同志的包容力。十一月二十日,兩位著名歌手在短短幾小時內相繼出櫃。泰‧赫恩登宣布自己是位「出櫃、驕傲且快樂的同志」。赫恩登在九零年代以流行抒情歌曲與基督教歌曲成名。
現年五十二歲、經歷兩度異性結婚的赫恩登表示,他自童年即對接受自身性傾向掙扎不已。
他表示現在正與另一名男性交往中,並且已安住於基督教信仰與坦然面對其性傾向。
他向《人物》雜誌透露:「我坐在我敞篷小貨車擋板上冥想,並且與神對話。」
在這篇文章刊登後,另一名鄉村音樂大咖比利‧吉爾曼表示,他受到赫恩登的激勵,也宣布出櫃。在二000年才十一歲的吉爾曼,首次登上鄉村音樂排行榜。
相較於赫恩登經深思熟慮過的出櫃方式,吉爾曼則是不加裝飾的坦露心聲。他在YouTube上發表一支動人影片,表示他對公開出櫃「怕得要死」,但他因流言蜚語攻擊其生活感到受傷。
吉爾曼意指納許維爾為主的鄉村樂壇表示:「身為同志且是男性的鄉村歌手,不是什麼好事。」
他表示:「若民眾不喜歡他的音樂,那是一回事。但對已有五百萬張唱片銷售紀錄且在樂壇平步青雲的歌手而言,我知道若沒有大唱片公司願意坐下來討論並聆聽新的東西,那一定是有什麼事不對勁。」
這位前童星表示,他對身為同志不覺得羞恥,但讓他感到沮喪的是身處在「對於我做自己而感到羞恥的音樂領域與產業」。
(法新社/翻譯:林亞蒂)
Publication Notes
TODAY'S WORDS
今日單字
1. evoke v.
喚起 (huan4 qi3)
例: That old movie evoked memories of my childhood.
(那部舊電影喚起了我童年的記憶。)
2. come to terms with v. phr.
使自己順從某事物; 設法忍受某事物 (shi3 zi4 ji3 shun4 cong2 mo3 shi4 wu4; she4 fa3 ren3 shou4 mo3 shi4 wu4)
例: You'll just have to come to terms with the fact that she no longer loves you.
(你不得不接受她不再愛你的現實情況。)
3. ashamed adj.
恥於…的 (chi3 yu2 ... de5)
例: She was ashamed to tell anyone that she had fallen in love with him.
(她羞於告訴任何人自己愛上了他。)
Comments will be moderated. Keep comments relevant to the article. Remarks containing abusive and obscene language, personal attacks of any kind or promotion will be removed and the user banned. Final decision will be at the discretion of the Taipei Times.