French magazine fined for comparing minister to monkey 把部長比成猴 法國雜誌被罰錢
A Paris court handed down the fine to Jean-Marie Molitor, boss of the Minute weekly for making insulting racist statements in public. In November, the weekly featured on its front cover a picture of Justice Minister Christiane Taubira with headlines that read: "Crafty as a monkey" and "Taubira gets her banana back." The text was deliberately ambiguous: the term "crafty as a monkey" in French can be used as praise while getting your banana back is roughly the equivalent of recovering the spring in your step.
Taubira herself described the newspaper's words as "extremely violent" and "denying she belonged to the human race." The provocative cover page was an obvious reference to two other cases of Taubira being publicly likened to a monkey, incidents which sparked outrage in France amid a perceived surge in intolerance. Judges ruled that in this context, the magazine must have been aware that they were "reviving the argument rather than calming it" and that "reiterating these allusions to a primate could even been seen as an additional provocation."
(Courtesy of Liberty Times)
巴黎一處法院以公開陳述污辱性的種族主義言論為由,宣佈判處《實錄週刊》老闆尚—馬里‧摩利特罰金。十一月時,週刊封面特寫為司法部長克里斯蒂安‧陶比哈的照片,搭配標題寫著:「狡猾得像隻猴子」及「陶比哈拿回她的香蕉」。原文故意模稜兩可:「狡猾得像隻猴子」此詞在法文可用於讚美,而拿回你的香蕉則約等同於重新雀躍邁步之意。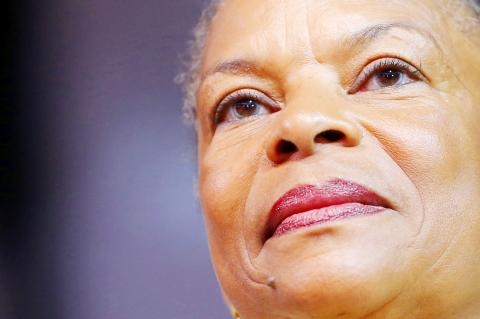 French justice minister Christiane Taubira is pictured in La Rochelle, western France on Aug. 31. 法國司法部長克里斯蒂安‧陶比哈八月三十一日在法國西部拉羅歇爾留影。
Photo: Reuters
照片:路透
陶比哈本人表示,報紙文字「極端暴力」且「否定她屬於人類」。具煽動性的封面明顯指涉陶比哈另兩起被公開比喻為猴子的案件,這些事件彰顯出一股褊狹氣氛正在高漲,因而在法國引發眾怒。法官在這樣的背景下做出判決,雜誌早應意識到他們「正讓爭論復活,而非使之平息」,且「一再暗喻靈長類動物甚至可被視為一種額外的挑釁。」
(自由時報提供/翻譯:自由時報記者周虹汶)
Publication Notes
TODAY'S WORDS
今日單字
1. hand down v.
正式宣佈 (zheng4 shi4 xuan1 bu4)
例: The judge handed down a sentence of 25 years.
(法官正式宣布刑期為二十五年。)
2. (walk with/have) a spring in your step phr.
雀躍邁步 (que4 yue4 mai4 bu4)
例: He had a spring in his step as he walked into the office. (他以雀躍步伐走進辦公室。)
3. reference n.
提及;參考 (ti2 ji2; can1 kao3)
例: I made a reference to you in my speech last night.
(我在昨晚的演說中提到了你。)
Comments will be moderated. Keep comments relevant to the article. Remarks containing abusive and obscene language, personal attacks of any kind or promotion will be removed and the user banned. Final decision will be at the discretion of the Taipei Times.