Jimmy Carter: Obama dropped the ball on ISIS threat 吉米.卡特:歐巴馬在伊斯蘭國威脅上搞砸了
Former president Jimmy Carter has criticized the Obama administration's handling of the crisis in the Middle East and the growing threat of the Islamic State, joining a growing list of the president's allies who are scrutinizing his strategy in Syria and Iraq.
In an interview with the Fort Worth, Texas Star-Telegram published on Oct. 7, Carter said the US had waited too long to respond to the growing power of the Islamic State in Iraq and Greater Syria (ISIS) extremist group, which also goes by the name Islamic State.
"We let the Islamic State build up its money, capability and strength and weapons while it was still in Syria," Carter said. "Then when [ISIS] moved into Iraq, the Sunni Muslims didn't object to their being there and about a third of the territory in Iraq was abandoned."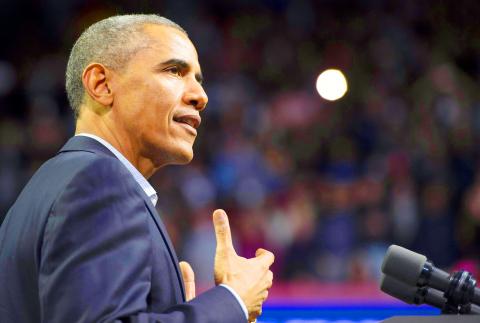 US President Barack Obama speaks at a campaign rally in Philadelphia, Pennsylvania on Nov. 2. 美國總統巴拉克‧歐巴馬十一月二日在賓州費城一場助選場合發表演說。
Photo: AFP
照片:法新社
Carter added that the use of ground troops in addition to the current air campaign could ensure the US succeeds in Iraq. "If we keep on working in Iraq and have some ground troops to follow up when we do our bombing, there is a possibility of success," he said.
President Barack Obama acknowledged last month that US intelligence did not anticipate the threat that ISIS posed in Iraq but has maintained that arming Syrian rebels would have been untenable, and might have led to militants obtaining arms.
(Courtesy of Liberty Times)
越來越多歐巴馬總統的盟友仔細檢視他的敘利亞和伊拉克策略,前總統卡特也加入,批評歐巴馬政府對中東危機和伊斯蘭國威脅日增的因應之道。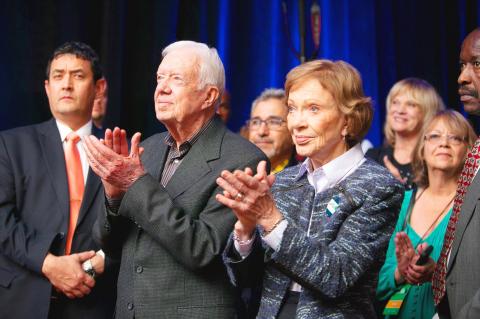 Former president Jimmy Carter and his wife Rosalynn Carter applaud during an event in downtown Atlanta, Georgia on Nov. 4. 前美國總統吉米‧卡特與其夫人羅莎琳十一月四日於喬治亞州亞特蘭大一場活動上鼓掌。
Photo: AFP
照片:法新社
卡特在德州沃斯堡《星電報》十月七日刊登的訪問中說,美國等太久才對「伊拉克與大敘利亞伊斯蘭國」極端團體日漸壯大的勢力有所回應;該組織又名「伊斯蘭國」。
「我們在伊斯蘭國還在敘利亞活動時,任由他們累積資金、能力和勢力」,卡特說,「然後等(伊斯蘭國)進入伊拉克,遜尼派穆斯林並不反對他們在那裡建立據點,而且伊拉克約三分之一的領土被棄之不顧。」
卡特還說到,在現階段空襲行動之外加入地面部隊,能確保美國在伊拉克取得成功,「若我們繼續在伊拉克的任務,並在轟炸後有地面部隊跟進行動,就有可能成功。」
歐巴馬總統上月坦承,美國情報並未預期到伊斯蘭國在伊拉克構成的威脅,但他堅稱武裝敘國反抗軍將難以防範好戰份子取得武器。
(自由時報提供/翻譯:管淑平)
Publication Notes
TODAY'S WORDS
今日單字
1. drop the ball idiom.
失職;搞砸 (shi1 zhi2; gao3 za2)
例: Don't drop the ball on this project.
(別搞砸這案子。)
2. follow up v. phr.
跟進;追蹤 (gen1 jin4; zhui1 zong1)
例: I'll follow up on it and make sure everything is done right.
(我會追蹤進度,確保萬無一失。)
3. anticipate v.
預期 (hyu4 qi2)
例: It is impossible to anticipate when it will happen.
(不可能預料這事何時發生。)
Comments will be moderated. Keep comments relevant to the article. Remarks containing abusive and obscene language, personal attacks of any kind or promotion will be removed and the user banned. Final decision will be at the discretion of the Taipei Times.