Pope ditches Latin as official language of Vatican synod 教宗棄拉丁文 改義大利文為主教會議官方語言
In a break with the past, Pope Francis has decided that Latin will not be the official language of a worldwide gathering of bishops at the Vatican.
A cardinal made the announcement at the start of the first working day of the two-week assembly, known as a synod, where about 200 Roman Catholic bishops from around the world are discussing themes related to the family.
Italian, the lingua franca of the Vatican, would become the synod's official language, he said.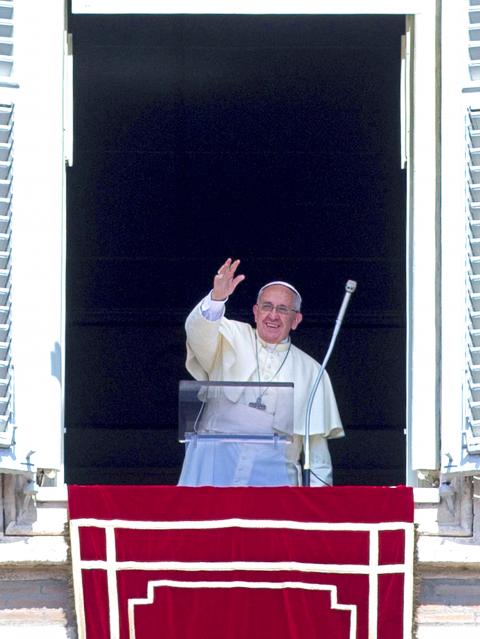 Pope Francis waves to pilgrims gathered below in Saint Peter's Square as he delivers the traditional Sunday Angelus from the window of his office in Vatican City, the Vatican on Aug. 31. 教宗方濟各八月三十一日從梵蒂岡辦公室向窗外聖伯多祿大殿下的朝聖者誦念傳統的周日三鐘經,並揮手致意。
Photo: EPA
照片:歐新社
In past synods, Latin was the official language of documents for the meetings and some of the participants chose to speak in Latin. The pope decided to make the break in order to streamline the proceedings, officials said.
The move was a break with Francis's predecessor, Pope Benedict XVI, who two years ago started a new Vatican department to promote the study and use of Latin in the Roman Catholic Church and beyond.
When Benedict announced on Feb. 11 last year that he was stepping down, the first pope to do so in 600 years, he read a statement in Latin. Only one reporter listening to a live audio feed in the Vatican press room understood what he was saying.
The use of Latin in the Church has greatly diminished since the old-style Latin Mass was phased out more than 40 years ago in favor of local languages.
Latin remains the official language of the universal Church. It is used as the language of reference for translating major documents into modern language.
(Reuters)
教宗方濟各作出一反前任教宗的理念,拉丁文將不再是梵蒂岡世界主教會議上的官方語言。
一名樞機主教在為期兩週的世界主教會議的第一個工作日,宣布此消息。約兩百名來自世界各地羅馬天主教的主教們齊聚一堂,這次是討論與家庭相關的主題。
該名樞機表示,現為梵蒂岡通用語的義大利文將取而代之,成為世界主教會議上的官方語言。
在以往世界主教會議上,拉丁文是會議文件的官方語言,而且部分與會者選擇以拉丁文發表談話。教宗決定做出這項有別於過去的舉動,以讓會議進行更符合時宜。
此舉一反前任教宗本篤十六世的理念,本篤兩年前才在梵蒂岡成立新部門—教廷拉丁研究學院,以提倡拉丁文在羅馬天主教會以及更多場合上的應用。
當本篤去年二月十一日宣布退位時,他即以拉丁文宣讀其去職聲明。當時在梵蒂岡新聞媒體中心聆聽現場廣播的記者們,僅一位聽懂教宗所言為何。本篤是六百年來首位非因逝世而去職的教宗。
自從舊禮的拉丁文彌撒在四十多年前逐漸被淘汰、並以當地語言取代後,拉丁文在教會的使用就大幅減少。
拉丁文在普世教會仍保有其官方語言的地位。它是翻譯重要文獻典籍至現代語言的參考文獻。
(路透/翻譯:林亞蒂)
Publication Notes
TODAY'S WORDS
今日單字
1. lingua franca n. phr.
通用語 (tong1 yong4 yu3)
例: American writer Gore Vidal once said, "movies are the lingua franca of the twentieth century."
(美國作家戈爾‧維達爾曾說:「電影是二十世紀的無國界語言。」)
2. make a break v. phr.
做出有別於過去的舉動 (zuo4 chu1 you3 bie2 yu2 guo4 qu4 de5 ju3 dong4)
例: Let's try something new. I want to make a break from the past.
(試些新嘗試吧。我想要做出有別於過去的事。)
3. phase out v. phr.
逐步淘汰 (zhu2 bu4 tao2 tai4)
例: The analog signal has been completely phased out in Taiwan.
(台灣類比訊號已完全被淘汰。)
Comments will be moderated. Keep comments relevant to the article. Remarks containing abusive and obscene language, personal attacks of any kind or promotion will be removed and the user banned. Final decision will be at the discretion of the Taipei Times.