FSC initiating control measures as real estate market shrinks 不動產交易萎縮 金管會啟動控管
Falling real-estate prices and diminishing trade volumes are now a definite trend. The Financial Supervisory Commission has told financial companies to start paying more attention to the risk of slumping prices in the real-estate market. Banks say that in recent years they have been approving bank loans cautiously and that the growth rate for real-estate credit has slowed. Insurance companies say that high real-estate prices have recently kept most companies from buying empty land and that very few are planning construction projects. Financial companies, for their part, say that since the end of last year the volume of trade in the real-estate market has shrunk and prices are slack. Whether these trends will cause prices to plummet, however, requires further observation.
The Financial Examination Bureau says that real-estate pricing indices, including those of Cathay Real Estate Development Co and the Ministry of the Interior, all show a dwindling trade volume and slumping prices. At the same time, the proportion of real-estate assets held by local banks and insurance companies is still on the high side.
According to statistics from the commission up to June this year, house loans, civil engineering project financing, loans for repairs and renovations, and all mortgage credit loans for real estate and factories amounted to NT$9.6 trillion (US$300 billion), or 39 percent of total loans granted, which is still relatively high. Insurance companies also hold real-estate investments and house loans, which are worth around NT$1.9 trillion. The assets and earnings of financial institutions will probably be affected as soon as real-estate price fluctuations appear.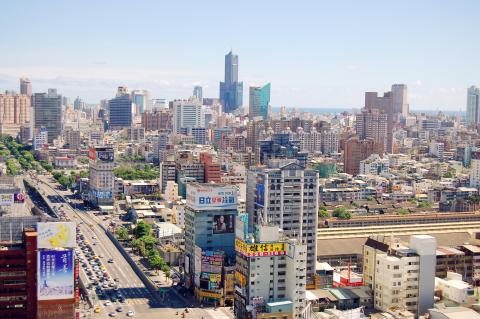 This picture shows part of downtown Greater Kaohsiung on Sept. 10, 2012. 這張是二0一二年九月十日高雄市市區的照片。
Photo: Hou Cheng-hsu, Liberty Times
照片:自由時報記者侯承旭
A wave of slumped housing prices hit in 2001, severely hurting several banks. The commission says that the quality of assets and earnings in the banking industry are the best they have ever been. However, since real-estate credit is up to NT$9.6 trillion, banks must be punctilious so as not to threaten earnings and banking operations.
Most banks and life insurance companies say that they have gotten stricter regarding price appraisals and have reduced the number of credit lines and raised interest rates on loans to decrease the potential risk of loss. Insurance companies, however, say that with high real-estate prices, companies like Cathay Life Insurance Co, which were once enthusiastic about buying buildings, have now shifted most of their investments to foreign real estate. Shin Kong Life Insurance Co and Fubon Life Insurance Co have recently purchased a lot of superficies land rights, while other life insurance companies' desire to buy land is also not as strong as it was several years ago.
(Liberty Times, Translated by Kyle Jeffcoat)
不動產「價跌量縮」趨勢確定,金管會提醒金融業者開始注意不動產跌價風險。銀行業者表示,近年核貸謹慎,不動產授信成長速度已緩;保險業者表示,由於不動產價格已高,近期各公司已鮮少買素地,也很少再規劃建案;金融業者則表示,去年底起,不動產市場交易量萎縮、價格鬆動,但是否會大幅的跌價,仍需觀察。
檢查局方面提出,近期國泰不動產指標、內政部房屋交易指標等,都顯現交易量萎縮、價格下滑趨勢,同時銀行及保險不動產相關資產比重仍有偏高情況。
據金管會相關統計,至今年六月,國內銀行的房貸、土建融、修繕貸款及所有與不動產、廠房等相關的抵押授信餘額達九點六兆元,占整體放款的百分之三十九,仍相對偏高;保險部分也有不動產投資、房貸等,近一點九兆元,一旦不動產價格波動,金融機構相關資產及獲利可能受到影響。
二00一年曾有一波不動產跌價,造成部分銀行重傷,金管會表示,銀行目前資產及獲利品質都算史上最佳狀態,但由於不動產相關授信達九點六兆元,必須小心謹慎,以免衝擊獲利及銀行營運。
大部分銀行及壽險公司都表示,在鑑價上都已轉為相對嚴格,且會降低授信成數、提高貸款利率,以減少未來可能的損失風險;保險業者則表示,不動產價格高,先前積極買樓的國泰人壽,目前投資重心已轉往海外不動產,新光人壽、富邦人壽近期則是多買地上權,其他壽險公司的獵地速度也不如前幾年。
(自由時報)
Publication Notes
TODAY'S WORDS
今日單字
1. trend n.
趨勢 (qu1 shi4)
例: She's never been interested in the latest fashion trends.
(她從未對時尚趨勢感興趣。)
2. dwindle v.
漸漸減少;變小
(jian4 jian4 jian2 shao3; bian4 xiao3)
例: Our funds are dwindling.
(我們資金越來越少。)
3. punctilious adj.
精密細心的;拘謹的
(jing1 mi4 xi4 xiao3 de5; ju1 jin3 de5)
例: Jack's punctilious character kept him from ever taking any risks in life.
(傑克拘謹的性格導致他一輩子從未冒險過。)
Comments will be moderated. Keep comments relevant to the article. Remarks containing abusive and obscene language, personal attacks of any kind or promotion will be removed and the user banned. Final decision will be at the discretion of the Taipei Times.