Tainan historian publishes new illustrated history of Taiwan's deity statues 謝奇峰彙編《圖解台灣神明圖鑑》
Tainan, the original capital of Taiwan when it was first settled by the Han Chinese, has more temples than any other city in the country and has developed a rich temple culture. Having grown up living next to a temple, Hsieh Chi-feng was always mesmerized by the artistry that goes into making deity statues. A decade ago he started keeping detailed records of all the different styles and designs of the statues he encounters. Some of the more than 100 such statues recorded date as far back as the Ming Dynasty. After spending two years compiling his data, Hsieh has finally released a new book in Chinese, titled "An illustrated history of Taiwan's deities." The book is a useful reference tool for people interested in the religions of Taiwan, and it also provides a diagram explaining the origins and connections between the different deities, bringing humanity a little closer to religious belief.
Hsieh grew up in the old "five ports area" of Greater Tainan's Central West District. His family's house was surrounded by temples, so he constantly heard gongs, drums and firecrackers as a child, which fueled his curiosity for temples and religions. Although he majored in engineering at university, Hsieh has always enjoyed recording anything to do with temples. In 1988, when the Chihkan Culture and History Workshop opened along Greater Tainan's Shennong St, it awakened a passion for local culture inside of Hsieh. Conducting fieldwork, Hsieh began documenting the history of cultural relics at temples and eventually started writing his own blog. Pragmatic, reliable and filled with an abundance of information, the blog has attracted over a million visits.
A decade ago, Hsieh started trying to mimic the writing style of Taiwanese academic Hsu Ping-ting's "Little gods," a book that uses vernacular stories to tell anecdotes about deities. Hsieh has managed to make an even more detailed and accurate record of individual deity statues.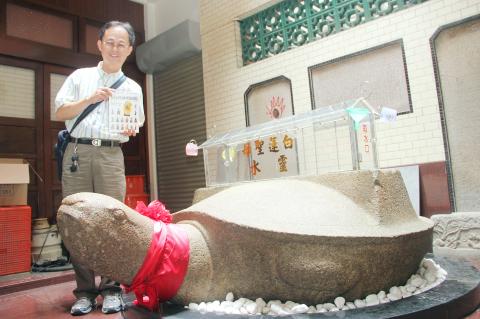 Historian Hsieh Chi-feng holds his new book "An illustrated history of Taiwan's deities" next to a statue of a sea turtle deity in Greater Tainan on July 24. 歷史家謝奇峰七月二十四日在台南海龜神像旁拿著新出版的《圖解台灣神明圖鑑》一書留影。
Photo: Huang Wen-huang, Liberty Times
照片:自由時報記者黃文鍠
Worshippers typically place embroidered holy garments on the statues out of respect, which Hsieh says makes it hard to photograph how the statue actually looks underneath. It is regrettable that the average person is not allowed to the see the entirety of these works because the original artisans who made the statues were very meticulous about many of the details found on them, Hsieh says. Whenever a statue is being renovated or having its clothes changed, Hsieh always tries to procure a picture in order to capture those rawest aspects of each individual statue.
(Liberty Times, Translated by Kyle Jeffcoat)
台南是開台首府,廟宇密度居全台之冠,也發展出豐富的寺廟文化。廟邊長大的謝奇峰受神像工藝吸引,從十年前開始記錄各種不同造型的神明塑像,累積超過百尊從明代以來的神像;經過兩年時間彙整資料,編成《圖解台灣神明圖鑑》一書,不但成為對台灣宗教有興趣者的工具書,甚至還獨創「神仙演義圖」,讓信仰更貼近人性。
謝奇峰出生在五條港區,住家附近廟宇林立,從小就在「鑼聲、鼓聲、鞭炮聲」中長大,開啟對廟宇宗教的興趣,雖然讀的是工科,但就是喜歡記錄寺廟點滴。一九八八年,赤崁文史工作室進駐神農街後,開啟他對在地文化的覺醒,透過田調方式,記錄寺廟文物歷史,並成立部落格;由於務實求證、資料豐富,點閱人次超過百萬。
十年前,他開始效法早年台灣文學家許丙丁寫作《小封神》的方式,以神明掌故構思成通俗文章,也更強化對神像的調查記錄。
他表示,信徒為表示對神明的敬意,一般都會在神像外穿上刺繡精美的「神衣」,也因此不易拍攝到神像原本的造型;但早年工匠打造神像時,不少細節都相當用心,一般人無法看到原貌,相當可惜。因此,只要神像整修或更換神衣時,他總會設法去拍攝留影,展現最原始的一面。
(自由時報記者黃文鍠)
Publication Notes
TODAY'S WORDS
今日單字
1. garment n.
衣服;服裝 (yi1 fu2; fu2 zhuang1)
例: Over a 1,000 people died in a garment-factory accident in Bangladesh last year.
(去年孟加拉成衣工廠事故造成一千多人死亡。)
2. renovate v.
整修;更新 (zheng3 xiu1; geng1 xin1)
例: The building is currently being renovated and will reopen
in the winter.
(大樓正在整修,將於冬天重新開業。)
3. procure v.
取得;獲得 (qu3 de2; huo4 de2)
例: Were you able to procure those items
you bid on at the auction?
(你最後有標到那些你要的拍賣品嗎?)
Comments will be moderated. Keep comments relevant to the article. Remarks containing abusive and obscene language, personal attacks of any kind or promotion will be removed and the user banned. Final decision will be at the discretion of the Taipei Times.