Germany beefs up inquiry into Nazi-looted art in Munich haul 德國加強釐清慕尼黑公寓裡的納粹掠奪藝術品
Germany will boost efforts to examine the ownership history of 1,406 artworks found in a Munich apartment and will publish details of art looted by the Nazis from Jews, Chancellor Angela Merkel's spokesman said.
Authorities seized Cornelius Gurlitt's cache as part of an investigation on suspicion of tax evasion in a three-day operation in March 2012.
Prosecutors revealed on Nov. 5 last year, the hoard includes works by Max Beckmann, Pablo Picasso, Oskar Kokoschka, Franz Marc, Pierre-Auguste Renoir and Max Liebermann.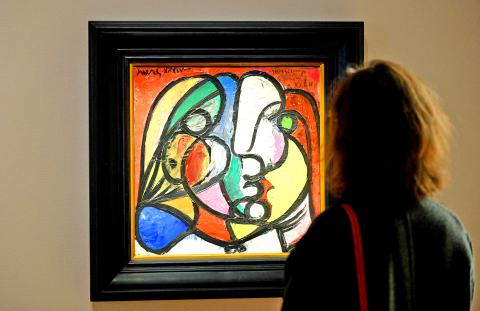 A woman looks at Pablo Picasso's Tete de Marie-Therese on display during a preview of Sotheby's impressionist and modern art evening sale in New York on May 2. 一位女士於五月二日蘇富比在紐約舉辦的印象派及現代派藝術晚拍預展活動看巴勃羅‧畢加索的《瑪麗‧泰雷茲頭部》。
Photo: AFP
照片: 法新社
Jewish groups and representatives of heirs seeking lost art voiced outrage last week after the prosecutor said publishing a list would be counterproductive.
The Culture Ministry, Finance Ministry, Bavarian government and investigators met on Nov. 8 last year to discuss steps to speed up provenance research and publish a list of the artworks in question.
(AFP)
德國將進一步查核慕尼黑一間公寓發現的一千四百0六幅藝術品的擁有者紀錄,並將公開這些納粹從猶太人手中掠奪的藝術品的相關細節,總理梅克爾的發言人說。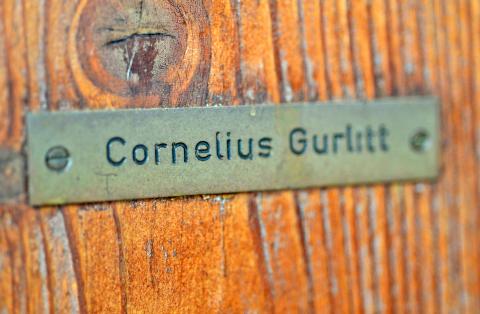 The name plate of Cornelius Gurlitt, a German recluse who died on May 5 and had hidden hundreds of paintings believed to have been looted by the Nazis, is shown at his estate in Salzburg, Austria on Nov. 19 last year. 這張去年十一月十九日攝的照片是,五月五日死亡的德國隱居者科爾乃略斯‧葛利特在奧地利薩爾斯堡莊園的姓名牌。葛利特隱藏數百幅納粹黨掠奪的畫作。
Photo: AFP
照片:法新社
當局是在二0一二年三月為期三天的逃漏稅調查行動中,發現科爾乃略斯‧葛利特收藏的這些畫作。
檢方在去年十一月五日披露,這些收藏品包括貝克曼、畢卡索、柯克西卡、瑪克、雷諾瓦與李柏曼等人的作品。
在檢察官說公開清單將造成反效果後,尋找失蹤畫作的猶太團體與繼承人代表上週發出怒吼。
文化部、經濟部、巴伐利亞邦政府及調查人員於去年十一月八日會面,討論加速出處的研究及列出有問題的藝品清單等步驟。
(自由時報/翻譯:詹立群)
Publication Notes
TODAY'S WORDS
今日單字
1. beef up v. phr.
加強;改良 (jia1 qiang2; gai3 liang2)
例: The authorities launched three defense lines to beef up safety checking on vehicle.
(當局啟動三道防線以加強車輛安檢。)
2. loot v.
掠奪;(不正當地)佔為己有 (lue4 duo2; (bu2 zheng4 dang4 de5) zhan4 wei2 ji2 you3)
例: The mob looted many shops in the area.
(暴徒在該地區搶劫許多商店。)
3. outrage n.
義憤;憤慨 (yi4 fen4; fen4 kai3)
例: The crowd expressed outrage at the court's decision.
(群眾對法院的判決表達憤怒。)
Comments will be moderated. Keep comments relevant to the article. Remarks containing abusive and obscene language, personal attacks of any kind or promotion will be removed and the user banned. Final decision will be at the discretion of the Taipei Times.