Branding playing major role in Taiwan's NT$50 billion funeral industry 殯葬業年商機五百億 品牌效應強
Nearly all ethnic Chinese (huaren) regard death as a taboo subject. Nevertheless, death is a solemn fact that everyone must face eventually. According to statistics from the Ministry of the Interior, people 65 and older make up more than 11 percent of Taiwan's total population, and last year 156,000 people died within the span of a single year. It is estimated that 50 years from now that number will have doubled, with upwards of 340,000 people dying in Taiwan every year, which means that the funeral sector is rife with opportunities to make a killing.
According to Lung Yen Life Service Corp's statistics, if 156,000 people die every year and an average of NT$330,000 must be spent for each person's funeral service, Taiwan's funeral service market provides at least NT$50 billion (US$1.66 billion) in business opportunities annually. Lung Yen is Taiwan's leading enterprise in the funeral services sector. With a total annual revenue of around NT$4 billion, however, the company only has 8 percent of total market share. It is becoming apparent that the big fish keep getting bigger and that branding is gradually catching on.
However, we often hear our friends say that they have already bought a columbarium niche, or even several columbaria. The impression is that columbaria supply is therefore greater than demand. According to the ministry's statistics, however, there are a total of 458 ossuaries in Taiwan, which consist of 8.01 million columbarium niches — 3 million of which are already being used, meaning that 5 million niches are currently empty.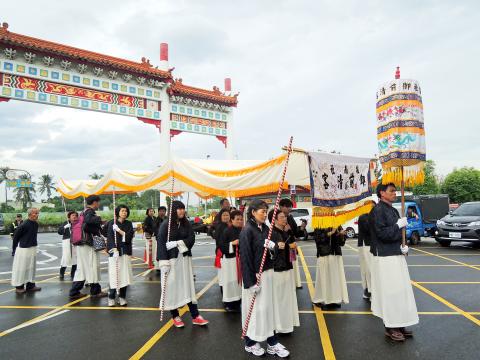 People participate in a traditional funeral rite for nanguan musician Chang Hung-ming in Greater Tainan on Sept. 21 last year. 民眾去年九月二十一日在台南市參與南管大師張鴻明的葬禮儀式。
Photo: Tsai Wen-chu, Liberty Times
照片:自由時報記者蔡文居
Among these 5 million columbaria, however, many are public ossuaries or ones built illegally by temples. Even though these have been legalized, the law stipulates that such facilities cannot be rebuilt once they have fallen into disrepair. This, along with the poor quality and management of public ossuaries, tends to discourage the general public from placing any lasting confidence in public ossuaries, which has led brand-name companies to believe that people will favor brand names they can trust when purchasing columbarium niches. Lun Yen and the Chinpaosan Group are the only two companies at present targeting the high-end market.
(Liberty Times, Translated by Kyle Jeffcoat)
講到「死」,華人幾乎都有禁忌,但卻是每個人都會面對的嚴肅問題,尤其台灣邁入老年化社會,根據內政部統計,六十五歲以上人口已經超過百分之十一,而去年一年死亡人數為十五萬六千人,估計未來五十年,每年死亡人數可能高達三十四萬人,是目前的一倍以上,而這也孕育了殯葬業者商機。
根據龍巖集團統計,如果以每年死亡人數十五萬六千人、每人禮儀服務約需花費三十三萬元計算,台灣殯葬業市場至少有五百億元商機,而龍巖是國內殯葬業龍頭,一年營收約四十億元,市佔率僅百分之八,只是殯葬業大者恆大越來越明顯,品牌效應逐漸發酵。
不過,常聽到周遭朋友說,塔位都已買好,甚至一人買了數個,塔位有供過於求的印象,而根據內政部統計,全台納骨塔共四百五十八處,有八百0一萬個塔位,其中三百萬個已經使用,卻還有五百萬個閒置。
只是這五百萬個塔位中,很多都是公塔,或是以前廟宇非法興建的塔位,現在雖然就地合法,但法規也規定,以後就算年久失修,也不得重建,加上公塔的品質及管理一般民眾信心不足,所以品牌業者認為,未來買塔位的民眾,都將向有口碑的品牌業者靠攏,而現在走高端市場的,就僅有龍巖及金寶山兩家。
(自由時報記者陳永吉)
Publication Notes
TODAY'S WORDS
今日單字
1. solemn adj. 嚴肅的;莊重的 (yan2 su4 de5; zhuang1 zhong4 de5)
例: The vigil for the dead miners was a solemn occasion. (為死亡礦工的守夜活動是一個嚴肅的場合。)
2. rife adj. 充滿的;充斥的 (chong1 man3 de5; chong1 chi4 chi5)
例: Last year was rife with political infighting. (去年政黨充斥內鬥。)
3. disrepair n. 失修 (shi1 xiu1)
例: After years of neglect, the building fell into disrepair. (多年的疏忽造成這棟大樓失修。)
Comments will be moderated. Keep comments relevant to the article. Remarks containing abusive and obscene language, personal attacks of any kind or promotion will be removed and the user banned. Final decision will be at the discretion of the Taipei Times.