Our English is not so great say Italians, Germans, French 義大利、德國、法國人都說我們的英文不太好
Italians, Germans and the French are the most insecure in Europe about their English ability, with Swedes among the most confident, data showed recently.
In celebration of European Language Day, the Eurostat statistics agency said 66 percent of working age adults claim to know at least one foreign language, with English overwhelmingly the most popular except in the Baltic states, Luxembourg and Slovakia.
But asked if their level of English was "proficient," "good," or just "fair," 64 percent of Italians said only fair, followed by 50 percent in Germany and 49 percent in France.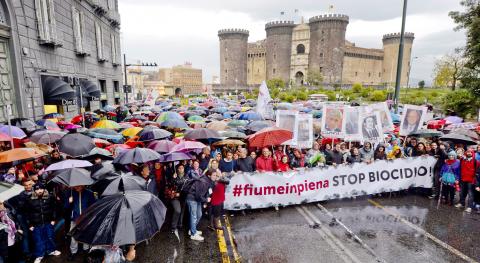 Italians participate in a protest against illegal waste dumps in Naples, Italy on Nov. 16. 義大利民眾十一月十六日在義大利那不勒斯參加一場抗議有關興建非法垃圾場的行動。
Photo: EPA
照片:歐新社
In Malta, Britain's one-time Mediterranean outpost, 53 percent of respondents judged themselves proficient in English, followed by Sweden at 43 percent and Denmark at 36 percent.
The data showed a whopping 94 percent of upper secondary school students in the European Union choosing English as their second language, with French a distant second at 23 percent, and German at 21 percent.
The crushing preponderance of English as the foreign tongue of choice is a sore subject for many European countries, especially the French, who long for a continent where the language of Shakespeare is not the lingua franca.
(Liberty Times)
根據最近一項資料顯示,在歐洲國家當中,義大利人、德國人和法國人對他們的英文程度最沒有把握,瑞典人則最有自信。
為慶祝歐洲語言日,歐盟統計局最近公布,有百分之六十六的工作年齡成人聲稱至少懂得一種外國語,其中又以英語最為普遍,但波羅的海國家、盧森堡與斯洛伐克除外。
但在被問到其英語程度屬「精通」、「良好」或只是「普通」時,有百分之六十四的義大利人回答普通,德國的比率為百分之五十,法國的比率則為百分之四十九。
在曾為英國在地中海前哨的馬爾他,有百分之五十三的受訪者認為自己精通英文,瑞典為百分之四十三,丹麥則為百分之三十六。
這份資料也顯示,有高達百分之九十四的歐盟國家高中生選擇英語為第二語言,法語以百分之二十三的比率遙遙落後,德語更只有百分之二十一。
英語在歐洲外語選擇中佔了壓倒性優勢,是讓許多歐洲國家心痛的話題,尤其是在法國,法國人最不樂見莎翁的語言變成歐陸的共通語言。
(自由時報/翻譯:俞智敏)
Publication Notes
TODAY'S WORDS 今日單字
1. proficient adj.
精通的 (jing1 tong1 de5)
例: She is proficient in two foreign languages.
(她精通兩種外國語言。)
2. outpost n.
前哨;邊遠地區 (qian2 shao4; bian1 yuan3 di4 qu1)
例: The community is the last outpost of civilization in the far north.
(這個社區是極北地區最後的文明哨站。)
3. preponderance n.
佔大多數;居於優勢 (zhan4 da4 duo1 shu4; ju1 yu2 you1 shi4)
例: The preponderance of visitors to the museum is from outside the country.
(博物館的大多數訪客都來自外國。)
Comments will be moderated. Keep comments relevant to the article. Remarks containing abusive and obscene language, personal attacks of any kind or promotion will be removed and the user banned. Final decision will be at the discretion of the Taipei Times.