Tchaikovsky was gay but Russians love him anyway: Putin 普廷:柴可夫斯基是同志 但俄羅斯人還是愛他
Russia's pride in Russian composer Pyotr Ilyich Tchaikovsky, even though he was gay, is proof that the country does not discriminate against homosexuals, President Vladimir Putin said.
Putin was apparently seeking to ease concerns that a new law banning "gay propaganda" will be used to clamp down on gay rights.
"Tchaikovsky was gay — although it's true that we don't love him because of that — but he was a great musician and we all love his music. So what?," Putin said in an interview with Russian state Channel 1 television.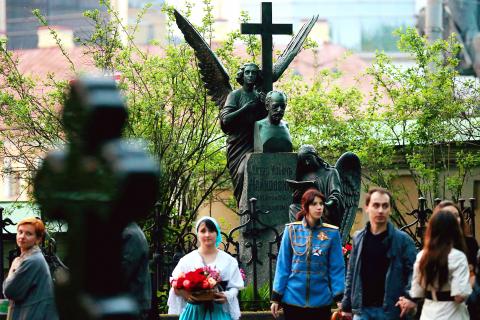 People visit the grave of the Russian composer Pyotr Ilyich Tchaikovsky in St. Petersburg, Russia on May 18. 民眾五月十八日在俄羅斯聖彼得堡,造訪俄羅斯作曲家彼得‧伊里奇‧柴可夫斯基的墓地。
Photo: EPA
照片:歐新社
"There is no cause to make a mountain out of a molehill, nothing scary or terrible is happening here in our country."
Asked whether he would meet members of the gay and lesbian community, Putin said, "I assure you that I work with these people, I sometimes award them with state prizes."
(Reuters)
俄羅斯總統弗拉吉米爾‧普廷說,即便俄羅斯作曲家彼得‧伊里奇‧柴可夫斯基是同志,但從俄羅斯以他為榮這點來看,證明俄羅斯並未歧視同性戀者。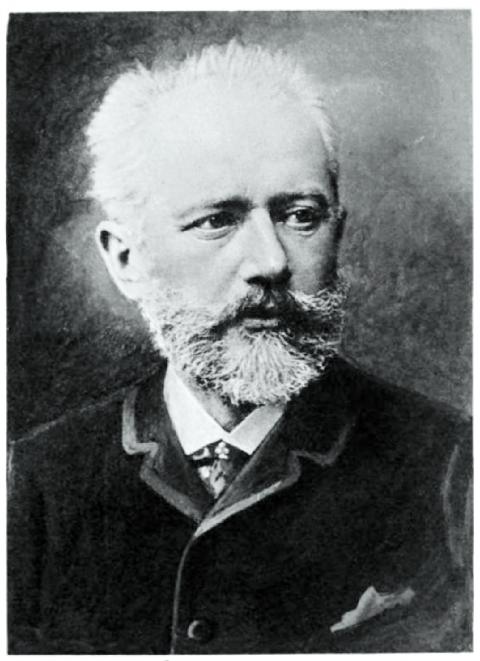 A portrait of Pyotr Ilyich Tchaikovsky (1840-1893) taken by Edwin Evans and published by J.M. Dent & Co in London and E.P. Dutton & Co in New York in 1906. 這張照片是由倫敦J.M. Dent & Co與紐約E.P. Dutton & Co一九0六年出版之彼得‧伊里奇‧柴可夫斯基(一八四0年至一八九三年)的肖像。
Photo courtesy of The Wikimedia Commons
照片由維基共享資源提供
普廷此言顯然是要舒緩(外界對於)一條禁止「同志宣傳」的新法律會被用來打壓同志權益的憂慮。
普廷在接受俄羅斯國營一號頻道電視專訪時如是說:「柴可夫斯基是同志—雖然老實說我們愛他不是因為這一點—但他是偉大的音樂家,我們都愛他的音樂。(他是同志)又怎樣?」
「沒有理由為此小題大作,我們國家裡沒發生什麼可怕或令人恐懼的事。」
在被問到是否會和男女同志界的成員見面時,普廷說:「我向你保證,我跟這些人合作,我有時還頒發國家級獎給他們。」
(路透/翻譯:張沛元)
Publication Notes
TODAY'S WORDS 今日單字
1. discriminate v.
歧視 (qi2 shi4)
例: This rule discriminates against single people.
(這條規定歧視單身者。)
2. clamp down v. phr.
鎮壓;取締 (zhen4 ya1; qu3 di4)
例: The government clamped down on rioters on the streets last night.
(政府昨晚在街頭鎮壓暴民。)
3. make a mountain out of a molehill idiom
小題大作 (xiao3 ti2 da4 zuo4)
例: Don't make a mountain out of a molehill.
(別小題大作。)
Comments will be moderated. Keep comments relevant to the article. Remarks containing abusive and obscene language, personal attacks of any kind or promotion will be removed and the user banned. Final decision will be at the discretion of the Taipei Times.