Bradley Manning's mother: My son is 'Superman' 布拉德利.曼寧之母︰我兒是「超人」
In a rare interview, the British mother of US soldier Brad- ley Manning has urged her son not to give up hope, even as he faces up to 136 years in prison for disclosing hundreds of thousands of secret US documents.
In comments published by the Mail last week, Susan Manning said he should know she considered him her "Superman." "Never give up hope, son," she was quoted as saying. "I know I may never see you again, but I know you will be free one day. I pray it is soon."
Susan Manning, a 59-year-old from Wales, had not given an interview in years. She is divorced from her son's father, Brian, and the Mail said she suffered from unspecified health problems.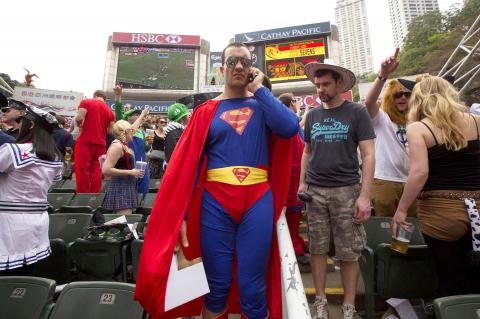 A rugby fan dressed as the comic character Superman speaks on a mobile phone during the last day of a rugby tournament in Hong Kong on March 24. 打扮漫畫腳色超人的英式橄欖球球迷三月二十四日於香港舉辦的英式橄欖球球賽的最後一天講手機。
Photo: Reuters
照片:路透社
Manning's parents have largely stayed out of the spotlight since transparency group WikiLeaks began publishing the documents leaked to it by the 25-year-old army private.
The soldier was convicted last month on a slew of charges, including Espionage Act violations, but was acquitted of the most serious charge, aiding the enemy.
(AP)
在一次罕有的專訪中,美國士兵布拉德利.曼寧的英籍母親敦促兒子別放棄希望,即使他因洩漏數十萬件美國機密檔案而面臨最高達一百三十六年的徒刑。
在英國上週郵報刊出的談話中,蘇珊.曼寧表示,他應該知道她把他看做是她的「超人」。「絕不要放棄希望,兒子」報導引述她的話說,「我知道我也許再也看不到你,但我知道有一天你將獲釋,我祈禱這一天不久就會到來。」
五十九歲、來自威爾斯的蘇珊.曼寧數年來不接受訪問。她與兒子的爸爸布萊恩仳離,而週日郵報指出,她飽受不明健康問題之苦。
自從透明化組織「維基解密」開始公布這位二十五歲陸軍大兵洩漏給它的文件後,曼寧的父母大多避開聚光燈。
這名士兵上月在許多指控中被判有罪,包括觸犯「間諜法」,但最嚴重的「資敵」控罪則獲判無罪。
(美聯社/翻譯:魏國金)
Publication Notes
TODAY'S WORDS 今日單字
1. spotlight n.
聚光燈;公眾焦點 (ju4 guang1 deng1; gong1 zhong4 jiao1 dian3)
例: She really stole the spotlight last night.
(她昨晚實在大出鋒頭。)
2. slew n.
許多 (xu3 duo1)
例: He already has a slew of friends.
(他已有一大票朋友了。)
3. acquit v.
宣告…無罪 (xuan1 gao4...wu2 zui4)
例: He was acquitted on two of the charges.
(他被控的兩項罪名皆判無罪。)
Comments will be moderated. Keep comments relevant to the article. Remarks containing abusive and obscene language, personal attacks of any kind or promotion will be removed and the user banned. Final decision will be at the discretion of the Taipei Times.