Thousands in need of 'immediate' food assistance in Niger 數以千計尼日人需「立即」糧食救援
The United Nations said on May 12 that 800,000 people in Niger face food insecurity and that some 84,000 are in immediate need of assistance as the humanitarian crisis worsens in the impoverished landlocked African nation.
Struck by droughts and shortages of crops, the United Nations Office for the Coordination of Humanitarian Affairs (OCHA) warned in a bulletin that the hunger season, from June through August, poses a significant danger. The harvest generally comes in September.
OCHA said that of the 800,000 people facing food shortages among Niger's population of 17 million, 84,000 have no more food reserves and are in need of immediate assistance.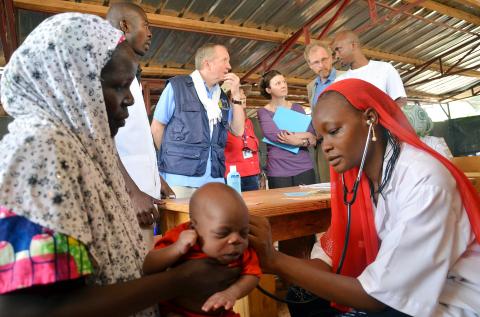 A malnurished child is pictured in Tibiri, southeastern Niger on April 18. 四月十八日,一位營養不良的孩童在尼日東南部提貝里留影。
Photo: AFP
照片:法新社
The crisis has forced some to live on leaves and wild berries, or to sell their cattle or agricultural equipment.
Niger, one of the world's poorest countries, is regularly hit by food crises. According to the European Union, 10.3 million people face food shortages this year in the Sahel region, which includes Niger.
(AFP)
聯合國五月十二日表示,尼日八十萬人面臨糧食不足問題,約八萬四千人有立即救援之需。這個貧窮的非洲內陸國的人道危機惡化。
在乾旱與穀糧短缺衝擊下,聯合國人道事務協調辦公室(OCHA)在公報中警告,從六月到八月的饑荒季將引發重大危險。收成通常九月來臨。
OCHA表示,在尼日一千七百萬人口中,有八十萬正面臨糧食短缺,八萬四千人沒有存糧,必須立即援助。
該危機已迫使一些人以樹葉與野生漿果為食,或出售他們的牛與耕作器具。
尼日,全球最窮的國家之一,經常遭糧食危機衝擊。根據歐盟資料,包括尼日在內的撒赫勒地區今年有一千零三十萬人面臨食物短缺之苦。
(法新社/翻譯:魏國金)
Publication Notes
TODAY'S WORDS 今日單字
1. in need of phr.
有…需要;有…必要 (you3 … xu1 yao4; you3 … bi4 yao4)
例: The educational system was in need of reform.
(教育制度有改革必要。)
2. pose v.
造成;引起 (zao4 cheng2; yin2 qi3)
例: Genetic research poses many ethical questions.
(基因研究引發許多倫理上的問題。)
3. live on v. phr.
靠…生活;以…為食 (kao4 … sheng1 huo2; yi3 … wei2 shi2)
例: Sheep live on grass.
(羊以吃青草維生。)
Comments will be moderated. Keep comments relevant to the article. Remarks containing abusive and obscene language, personal attacks of any kind or promotion will be removed and the user banned. Final decision will be at the discretion of the Taipei Times.