Test tube babies celebrate Mother's Day at hospital 試管嬰兒回娘家 媽媽分享幸福
Nearly 100 test tube babies and 140 parents attended the "Welcome Back Home Test Tube Babies" event held by Taipei Medical University Hospital's Center for Reproductive Medicine and Sciences on May 11 to celebrate Mother's Day, allowing the mothers to share the emotional adversities faced while trying to have children.
"Being a mother is my greatest source of happiness in life," said one mother at the event, who had traveled to Thailand to search in vain for a surrogate mother. Another mother at the event had tried artificial insemination and in-vitro fertilization (IVF) 14 times before finally getting pregnant.
According to the center's director Tseng Chi-jui, once a woman reaches 40 the quality of her eggs goes down, significantly decreasing her chances of getting pregnant and raising the risk of miscarriage.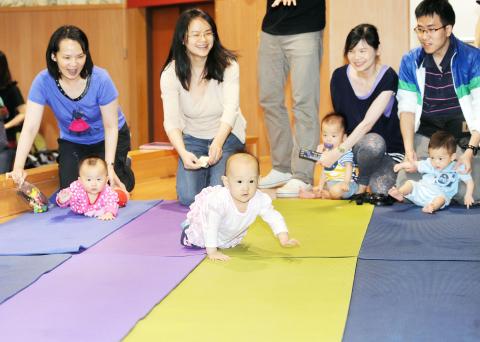 Babies crawl on the floor while their parents look on at Taipei Medical University Hospital on May 11. 爸爸媽媽五月十一日在台北醫學大學附設醫院看嬰兒在地上爬。
Photo: Fang Pin-chao, Liberty Times
照片:自由時報記者方賓照
According to the center's statistics for IVF babies born at the hospital, women under the age of 40 have nearly a 40 percent chance of becoming pregnant, while women under 30 have between a 50 and 60 percent chance of getting pregnant. For infertile couples that would like to have children, it is best for the woman to see a doctor before the age of 40.
(Liberty Times, Translated by Kyle Jeffcoat)
台北醫學大學附設醫院生殖醫學研究中心五月十一日舉辦「試管嬰兒回娘家」活動,邀請近百位試管嬰兒、七十對父母齊聚一堂,歡度母親節,並分享艱辛求子的心路歷程。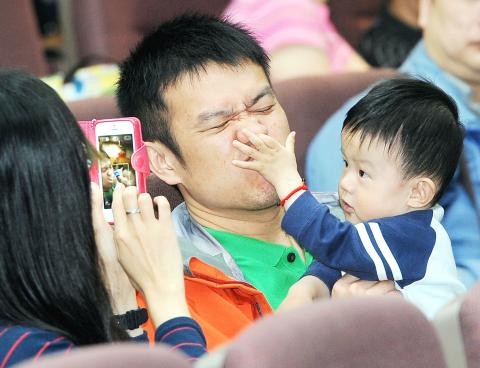 A boy plays with his father's nose while his mother takes a picture using her cellphone at Taipei Medical University Hospital on May 11. 一位媽媽五月十一日於台北醫學大學附設醫院用手機拍攝兒子玩爸爸鼻子的照片。
Photo: Fang Pin-chao, Liberty Times
照片:自由時報記者方賓照
有人曾遠赴泰國尋找代理孕母,最後失敗收場,還有人做了十四次的人工受孕與試管嬰兒,才生下孩子,但她們都說:「當媽媽是人生最開心、最幸福的事!」
北醫生殖醫學中心主任曾啟瑞表示,女性若超過四十歲,卵子品質降低,懷孕率相對降低很多,流產率也提高許多。
以該院的生殖醫學中心試管嬰兒,女性年齡四十歲以下懷孕機率接近四成,三十歲以下有五到六成,想生小孩的不孕夫婦最好在女性四十歲以前求診。
(自由時報記者鍾麗華)
Publication Notes
TODAY'S WORDS 今日單字
1. adversity n.
逆境;厄運 (ni4 jing4; e4 yun4)
例: We must stand united in facing this adversity. (我們必須團結面對這個逆境。)
2. miscarriage n.
流產 (liu2 chan3)
例: Mismatched chromosomes are one of the main causes of miscarriages. (染色體異常是導致流產最普遍的原因之一。)
3. couple n.
情侶;夫婦 (qing2 lu3; fu1 fu4)
例: The couple sat on the park bench while they shared a sandwich. (情侶坐在公園長凳一起吃三明治。)
Comments will be moderated. Keep comments relevant to the article. Remarks containing abusive and obscene language, personal attacks of any kind or promotion will be removed and the user banned. Final decision will be at the discretion of the Taipei Times.