Detroit named most miserable US city in Forbes ranking 底特律名列《富比世》排名全美最悲慘城市
With its violent crimes, high unemployment, dwindling population and financial crisis, Detroit was named as the most miserable city in the US.
It toppled Miami, which held the title last year, and surpassed Flint, Michigan, Rockford and Chicago in Illinois and Modesto, California, which rounded out the five most unhappy urban areas.
"Detroit's problems are hardly news. It has been in a four-decade decline paralleling the slide in the US auto industry," according to Forbes.com, which compiles the yearly ranking.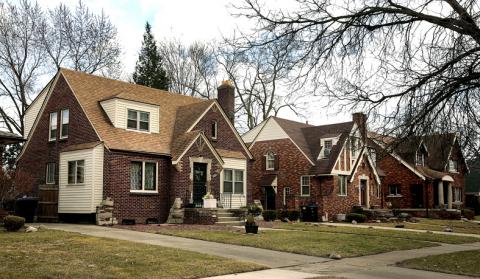 Homes on Ashton Street in Detroit, Michigan on April 1. 這張四月一日攝於密西根州底特律的照片,是一棟棟在雅敘頓街的房子。
Photo: Bloomberg
照片:彭博社
Earlier, a panel of experts said the automotive city was facing a fiscal emergency and potential bankruptcy, as well as a possible financial takeover by the state.
Flint, which is being run by an emergency manager appointed by the state governor more than a year ago, faces similar problems, according to Forbes.com.
Violent crime, high foreclosure rates and declining home prices pushed Chicago into the fourth spot, along with the high expense of living there.(Reuters)
由於其暴力犯罪、高失業率、人口縮減與金融危機,底特律被點名為全美國最悲慘的城市。
該市超越去年拿下此一頭銜的邁阿密,也超越密西根州的弗林特,伊利諾州的洛克福德與芝加哥,以及加州的摩德斯托,這些城市組成(全美國)前五大最不快樂都會區。
彙整這份年度排名的《富比世》網站表示:「底特律的問題幾乎不是新聞了。隨著美國汽車業走下坡,該市近四十年持續衰退。」
稍早,一個專家小組表示,汽車城(底特律)正面臨預算緊急狀態,可能會破產,該市財政可能會被密西根州政府接管。
《富比世》網站指出,弗林特也面臨類似問題,該市市政目前由一名在一年多前被州長指派的緊急事務經理人負責。
暴力犯罪、高房屋止贖率與房價下跌,把芝加哥推上第四名,遑論當地生活支出也高。(路透/翻譯:張沛元)
Publication Notes
TODAY'S WORDS 今日單字
1. round out v. phr.
完成 (wan2 cheng2)
例: The visit to the new tower in Tokyo was the perfect thing to round out our vacation.
(造訪東京的這座新塔,為我們的度假劃下完美句點。)
2. hardly adv.
幾乎不 (ji1 hu1 bu4)
例: Louder, please. I can hardly hear you.
(請大聲一點。我幾乎聽不見你說什麼。)
3. bankruptcy n.
破產 (po4 chan3)
例: The home-supply store chain files for bankruptcy protection today.
(這間居家用品連鎖店今天申請破產保護。)
Comments will be moderated. Keep comments relevant to the article. Remarks containing abusive and obscene language, personal attacks of any kind or promotion will be removed and the user banned. Final decision will be at the discretion of the Taipei Times.