Dennis Rodman: North Korea leader wants Obama to call 丹尼斯.羅德曼︰北韓領導人要歐巴馬來電
Ex-professional basketball star Dennis Rodman says North Korean leader Kim Jong Un does not want war with the US. He just wants President Barack Obama to call him.
Rodman, the highest-profile American to meet the new North Korean leader since Kim took power in December 2011 after his father's death, says Obama and Kim share a love of basketball, so "let's start there."
Rodman is just back from a visit to North Korea with the Harlem Globetrotters basketball team and spent two days with Kim.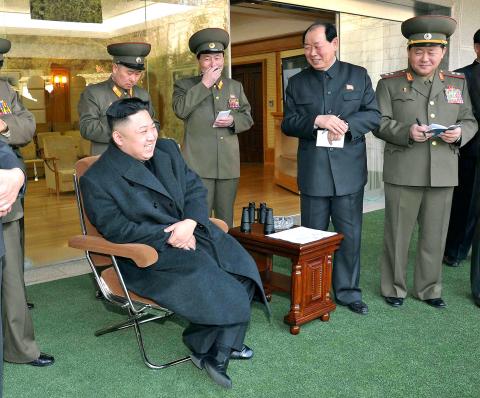 North Korean leader Kim Jong-Un, bottom left, watches an archery game in Pyongyang, North Korea on March 10. 北韓領導人金正恩(左下方)三月十日在北韓平壤看一場射箭賽。
Photo: AFP
照片:法新社
The State Department on March 1 distanced itself from Rodman's visit.
The trip took place amid strained ties between the US and North Korea over the North's recent underground nuclear test. Rodman spoke on ABC television's "This Week."
(AP)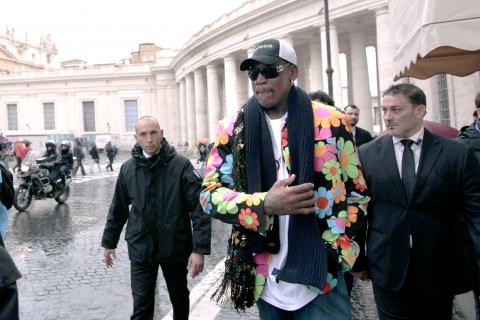 Former basketball star Dennis Rodman is pictured outside Saint Peter's Square at the Vatican on March 13. 前籃球明星丹尼斯.羅德曼三月十三日現身梵諦岡聖彼得廣場外。
Photo: Reuters
照片:路透
前職籃明星丹尼斯.羅德曼說,北韓領導人金正恩不想與美國開戰。他只想要總統巴拉克.歐巴馬打電話給他。
羅德曼說,歐巴馬與金正恩都喜愛籃球,所以「讓我們從那裡開始。」羅德曼是金正恩在二○一一年十二月其父過世後接掌政權以來,與北韓新領袖會面最高調的美國人。
羅德曼與哈林世界巡迴籃球隊剛從北韓回來,他與金正恩共處兩天。
美國國務院三月一日對羅德曼的訪問劃清界線。
這趟旅程發生在美國與北韓因北韓最近的地下核試爆而關係緊張之際。羅德曼是在美國廣播公司電視節目「本週」上做此陳述。
(美聯社/翻譯:魏國金)
Publication Notes
TODAY'S WORDS 今日單字
1. high-profile adj.
高知名度的;備受矚目的 (kao1 zhi1 ming2 du4 de5; bei4 shou4 zhu3 mu4 de5)
例: The country has broken out a series of high-profile corruption cases.
(這個國家爆發一連串眾所矚目的貪污案件。)
2. distance from v. phr.
疏遠 (shu1 yuan3)
例: It is always good for you to distance yourself from negative people.
(與負面的人保持距離總是對你有好處。)
3. take place v. phr.
發生;舉行 (fa1 sheng1; ju3 xing2)
例: The match takes place on Monday.
(比賽訂於週一舉行。)
Comments will be moderated. Keep comments relevant to the article. Remarks containing abusive and obscene language, personal attacks of any kind or promotion will be removed and the user banned. Final decision will be at the discretion of the Taipei Times.