Chinese medicine footbaths can help circulation and sleep 中藥泡腳 促進循環好入眠
As temperatures drop, many people are now enjoying hot footbaths to help them sleep better. Doctors of Chinese medicine suggest taking footbaths with Chinese medicine to promote blood circulation, but they remind people with high blood pressure, diabetes or nerve damage to be careful not to scald or inflame their skin by bathing too long.
Juan Ying-hsu, a doctor of Chinese medicine at Buddhist Tzu Chi General Hospital's Dalin Branch in Chiayi County, says that the feet are sometimes considered to be a "second heart." He also says that taking a warm footbath can help circulate blood in the body, improve the endocrine system, enhance organ function and decrease the risk of high blood pressure and stroke.
Juan says that it takes a long time for blood to get back to the heart from our feet, which, as anatomical extremities, are farthest from the heart. It is also fairly difficult to retain heat in the feet because they have only a relatively thin layer of fat around them, so the temperature of the extremities is usually lower than the rest of the body. When the weather turns cold, our hands and feet are typically colder than the rest of the body due to energy and blood stagnation, and muscles getting sore from the cold, as well as poor circulation, he says.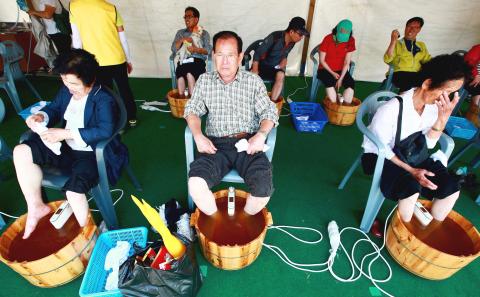 Tourists experience red ginseng footbaths during the 2012 Ginseng Festival in Geumsan County, Chungcheongnam-do Province, South Korea on Sept. 18. 觀光客九月十八日於南韓忠清南道錦山郡舉辦的人參節用紅參泡腳。
Photo: EPA
照片:歐新社
Juan suggests that when taking a footbath you should sit in a comfortable chair, use a bucket that goes above your lower leg, use water between 30°C and 40°C, keep your feet flat at the bottom of the bucket, and allow the heat of the water to relax the joints in your feet and lower leg. Doing this will increase blood circulation back to the heart and improve blood flow to organs such as the heart and brain, and get rid of the body's stagnant energy and waste, he says. Juan also suggests that 30 minutes is the optimal amount of time to spend taking a footbath.
(Liberty Times, Translated by Kyle Jeffcoat)
氣溫降低,許多人喜歡在睡前用熱水泡腳助眠。中醫師建議可使用中藥材幫助血液循環,但也提醒,有高血壓、糖尿病等疾病者要小心,以免因末梢神經遲鈍泡太久,造成燙傷或皮膚潰爛。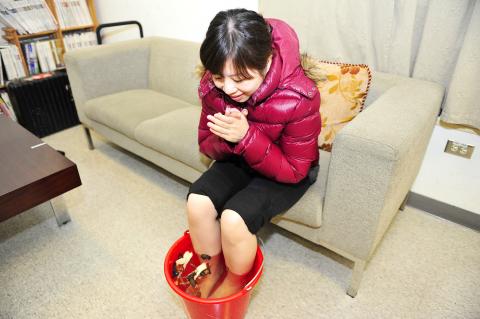 A woman takes a footbath with Chinese medicine in it in Chiayi County on Monday. 一位女士週一於嘉義縣用中藥材泡腳。
Photo: Lin Yi-chang, Liberty Times
照片:自由時報記者林宜樟
大林慈濟醫院中醫科醫師阮膺旭說,腳被稱作人體的第二心臟,用溫水泡腳時能促進人體血液循環、調理內分泌系統、增強人體器官機能,並可減少血壓升高和中風機率。
阮膺旭說,由於腳位於人體末端,距離心臟較遠,使得血液回流較慢,而且腳的表面脂肪層很薄,保溫力較差,所以指尖的溫度比身體其他地方低。天氣寒冷時,人體容易出現氣血瘀滯、寒性肌肉酸痛、循環不良所導致的手腳冰冷。
阮膺旭建議,泡腳時選擇舒適的椅子,桶子高過小腿,水溫約三十至四十度,足底完全平貼在水桶,讓水溫通過熱力來放鬆腳上及小腿處的經絡,加快血液回流,改善心腦等器官供血,排出體內的寒氣和廢物,時間以三十分鐘最佳。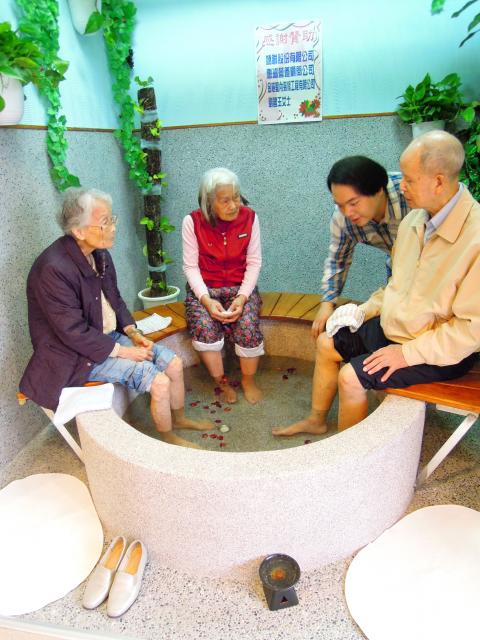 Elderly people take a footbath together at the Yonghe Daycare Center for the Elderly during opening day in New Taipei City on Monday. 老人們週一於新北市永和日間老人照顧中心開幕日泡腳。
Photo: Huang Pang-ping, Liberty Times
照片:自由時報記者黃邦平
(自由時報記者林宜樟)
Publication Notes
TODAY'S WORDS 今日單字
1. retain v.
保留;保持 (bao3 liu2; bao3 chi2)
例: I found it hard to concentrate during class, so I wasn't able to retain much of what the teacher was saying.
(我上課時很難專心,故無法記住老師講的話。)
2. circulation n.
循環 (xun2 huan2)
例: We will be observing the circulation of blood in the rabbits after administering the vaccine to them.
(我們將觀察兔子施打疫苗後的血液循環。)
3. optimal adj.
最佳的;最理想的 (zui4 jia1 de5; zui4 li2 xiang3 de5)
例: Although these are not the most optimal circumstances, we have to get on with the surgery.
(雖然不是最理想的情形,但手術還是得繼續進行。)
Comments will be moderated. Keep comments relevant to the article. Remarks containing abusive and obscene language, personal attacks of any kind or promotion will be removed and the user banned. Final decision will be at the discretion of the Taipei Times.