Genetically modified cows make low allergy milk 基因改造牛製造低過敏牛奶
A genetically modified cow that produces milk less likely to cause allergic reactions has been engineered by New Zealand scientists. Up to three percent of infants are allergic to cows' milk in their first year of life.
The modified cow produced milk without beta-lactoglobulin — a whey protein to which some people are allergic. The study has been labeled a "milestone" by one scientist, but some campaign groups say it raises ethical concerns.
The instructions for making the beta-lactoglobulin protein are contained in genes in the cow's DNA. The scientists added extra genetic material to disrupt the manufacturing process using a technique called RNA interference.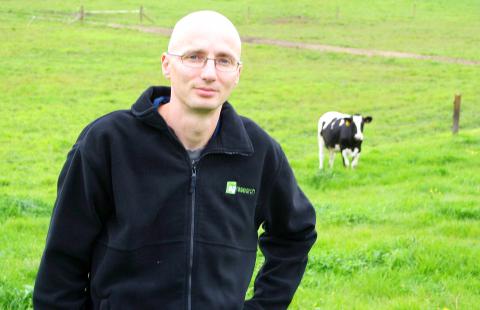 Stefan Wagner, a member of the team at the AgResearch Institute, poses with genetically modified cow Daisy in New Zealand on Oct. 1. AgResearch研究團隊成員史蒂芬‧瓦格納十月一日於紐西蘭與一頭基因改造牛「黛西」合影。
照片:法新社
Photo: AFP
Writing in the journal Proceedings of the National Academy of Sciences, the researchers said, "All milk samples from the transgenic calf were devoid of any detectable beta-lactoglobulin."
(Liberty Times)
一種乳汁比較不會造成過敏反應的基因改造乳牛,已經被紐西蘭科學家以基因工程技術製造出來。多達百分之三的嬰兒在出生第一年會對牛乳過敏。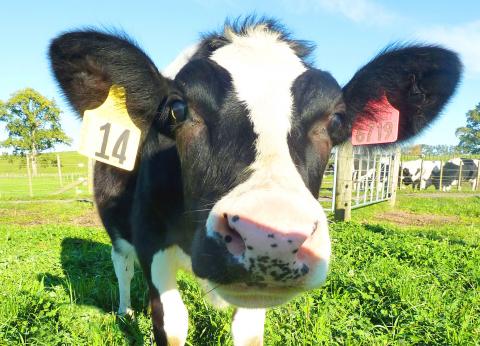 Genetically modified cow Daisy. 基因改造牛「黛西」。
Photo: AFP
照片:法新社
這種基改牛的牛乳沒有β乳球蛋白,一種會讓一些人過敏的乳清蛋白質。一名科學家認為這是「里程碑」的研究,但部份倡議團體認為,此項研究會引發道德關切。
製造β乳球蛋白的指令包含在乳牛DNA的基因裡。科學家利用核醣核酸(RNA)干擾技術添加額外的基因材料干擾製造過程。
研究人員在《國家科學院院刊》撰文指出:「改造基因的小牛所有乳汁樣本都缺少偵測得到的β乳球蛋白。」
(自由時報/翻譯:自由時報國際新聞中心)
Publication Notes
TODAY'S WORDS 今日單字
1. allergy n.
過敏 (guo4 min3)
例: An allergy is an immune system response.
(過敏是免疫系統的反應。)
2. likely adj.
可能的 (ke3 neng2 de5)
例: Do remind me because I'm likely to forget.
(記得提醒我,因為我很有可能忘記。)
3. devoid adj.
缺少 (que1 shao3)
例: He seems to be devoid of compassion.
(他似乎缺少同情心。)
Comments will be moderated. Keep comments relevant to the article. Remarks containing abusive and obscene language, personal attacks of any kind or promotion will be removed and the user banned. Final decision will be at the discretion of the Taipei Times.