Hundreds of racing pigeons vanish in 'Bermuda triangle' of birds 數以百計賽鴿消失在鳥類「百慕達三角洲」
Pigeon racers were mystified after hundreds birds disappeared in an area they have now dubbed the Bermuda Triangle.
Only 13 out of 232 birds released in Thirsk, North Yorkshire on Aug. 18 by a Scottish pigeon racing club made it back to Galashiels, Selkirkshire. It follows a summer in which a hundred more have vanished in the same area.
Keith Simpson, of the East Cleveland Federation, said pigeon racers across the region had all suffered massive losses since the season started in April — with many losing more than half of their birds.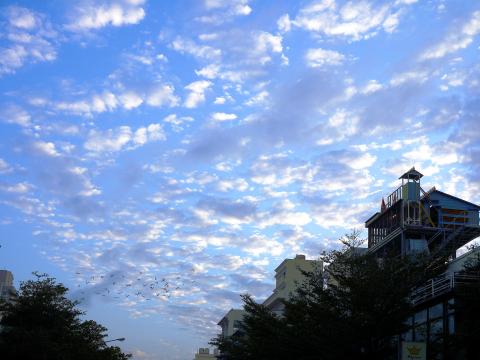 A flock of pigeons fly free as part of their racing training in Jhubei City, Hsinchu County on Feb. 5. 一群賽鴿二月五日在新竹縣竹北市的天空,恣意飛翔。
Photos: Lin Ya-ti, Taipei Times
照片:台北時報記者林亞蒂
Some fanciers are considering stopping flying the birds until they establish why so many have failed to return.
The loss of homing pigeons, which can be worth up to 200,000 pounds (US$320,000), has baffled experts, but the most popular theory is the abnormal number of summer showers, sending birds off course as they attempt to fly around the downpours.
Unusually high levels of solar activity distorting magnetic fields and even signals from Menwith Hill spy base, near Harrogate, an electronic monitoring station, have also been blamed.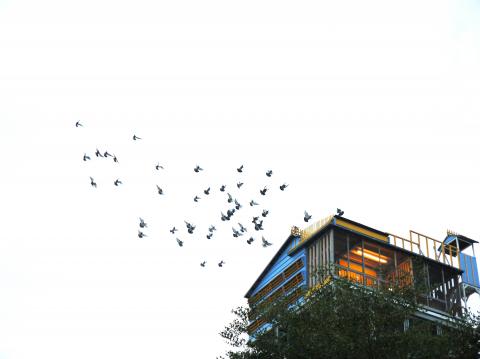 A flock of pigeons are pictured on their way back to their pigeon loft in Jhubei City, Hsinchu County on Feb. 5. 一群賽鴿二月五日正準備飛回位於新竹縣竹北市的鴿舍。
Photos: Lin Ya-ti, Taipei Times
照片:台北時報記者林亞蒂
(Liberty Times)
數百隻賽鴿(在英國上空)神秘失蹤,賽鴿手大惑不解,他們如今稱這個區域為「百慕達三角洲」。
一個蘇格蘭賽鴿俱樂部八月十八日舉行比賽,兩百三十二隻在北約克郡瑟斯克鎮放飛的賽鴿中,只有十三隻按計畫抵達塞爾寇克郡的加拉希爾斯。在此之前,就在今年夏天,該地區就有上百隻賽鴿失蹤。
東克里夫蘭聯盟的凱斯.辛普森說,今年四月賽季開鑼以來,該地區各處的賽鴿手都蒙受重大損失,很多人的賽鴿損失過半。
一些參賽者正考慮,在他們弄清楚為何這麼多賽鴿未能回來之前,不再帶鴿子來參賽。
遺失總價值高達二十萬英鎊(三十二萬美元)的賽鴿,讓專家們感到困惑,但最流行的說法是,異常數量的夏季驟雨,讓賽鴿為了躲避暴雨而偏離了航向。
太陽活動異常升高使地球磁場發生扭曲,甚至是哈羅蓋特附近的一處電子監控站—曼威斯山情報基地—發出的信號,也被認為與賽鴿失蹤有關。
(自由時報/翻譯:陳成良)
Publication Notes
TODAY'S WORDS 今日單字
1. mystified adj.
困惑的 (kun4 huo4 de5)
例: She had a mystified look on her face.
(她的臉上有困惑的表情。)
2. off course adj.
偏離航線 (pian1 li2 hang2 xian4)
例: Strong cross-winds blew the aircraft off course.
(強勁的側風把飛機吹得偏離了航線。)
3. baffle v.
使困惑;阻撓 (shi3 kun4 huo4; zu3 nao2)
例: We fully expect him to do everything in his power to baffle us.
(我們早就料到他會使盡全力阻撓我們。)
Comments will be moderated. Keep comments relevant to the article. Remarks containing abusive and obscene language, personal attacks of any kind or promotion will be removed and the user banned. Final decision will be at the discretion of the Taipei Times.