See doctor within 48 hours when flu symptoms appear 出現流感症狀 最好四十八小時內就醫
Influenza, commonly known as the flu, exists year-round but is especially virulent in the fall and winter. Besides getting flu vaccines, doctors recommend that people see a doctor for a proper diagnosis within 48 hours of noticing flu-like symptoms, which include high fever, headaches and muscle soreness. If a doctor has confirmed that you have the flu, the medicine they administer will be the most effective treatment available.
Wu Wei-han, a doctor in the Department of Family Medicine at St Martin De Porres Hospital in Chiayi City, says that the flu is an infectious respiratory disease, which is divided into three types — influenzavirus A, B, and C. The type A viruses are the most virulent human pathogens, with the H1N1 and H3N2 strains being the most common.
Wu says the main things that distinguish the flu from the common cold are the headaches, fatigue and high fevers that usually persist for several days with the flu. The incubation period for the flu is typically one to three days.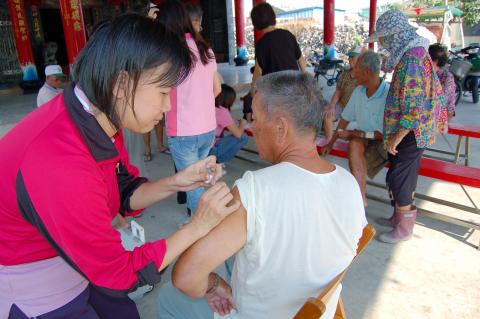 A woman gives an elderly man a flu vaccine in Greater Tainan on Oct. 2. 一位女士十月二日於台南市幫一位老先生施打流感疫苗。
Photo: Yang Chin-cheng, Liberty Times
照片:自由時報記者楊金城
Wu suggests frequently washing your hands, reducing time spent in public places, and getting a flu vaccine. She says that the three available vaccine jabs, which are made by Adimmune Corp, Novartis AG and Sanofi-Aventis SA respectively, currently being offered by the government are all equally effective.
However, Wu says people who are protein intolerant and infants less than six months old should not get vaccinated. People who do get vaccine jabs may experience some soreness and swelling in the vaccinated area and feel tired, but drinking plenty of water and waiting for the drug to be metabolized will ease the side effects.
(Liberty Times, Translated by Kyle Jeffcoat)
流感病毒四季都存在,但在秋、冬兩季特別活躍,除了接種流感疫苗預防外,醫師建議,民眾若有高燒、頭痛、肌肉痠痛等疑似流感症狀時,應盡早在四十八小時內就醫,讓醫師診斷後,若確認感染流感病毒,接受藥物治療效果較好。
嘉義市聖馬爾定醫院家庭醫學科醫師吳偉涵表示,流感是由流感病毒引起的急性呼吸道傳染病,又分為A、B、C型三種,主要感染人體的A型流感病毒便是常聽到的H1N1、H3N2。
吳偉涵指出,流感與一般感冒不同的是,感染流感病毒容易出現頭痛、倦怠感,且高燒持續三到四日,並且有一到三日的潛伏期。主要因為咳嗽、打噴嚏等飛沫感染,具高傳染性,還容易導致器官衰竭、敗血症等嚴重併發症,致死率高,其中六十五歲以上、兩歲以下幼童,或患有慢性疾病、心肺肝功能疾病跟腎衰竭民眾為危險群,要更加注意。
吳偉涵建議,除了勤洗手、減少出入公共場所外,還可注射流感疫苗預防,目前政府提供的國光、諾華、賽諾菲安萬特三種流感疫苗廠牌的效果都一樣。
不過他提醒,對蛋白質過敏的民眾,以及不足六個月的嬰孩就不適合施打,其餘民眾施打後,患部會痠痛、腫或者有疲憊感,可以多喝水等代謝,緩解不適。
(自由時報記者王善嬿)
Publication Notes
TODAY'S WORDS 今日單字
1. year-round adj.
全年的 (quan2 nian2 de5)
例: Students attending year-round schools have shorter vacations than students at regular schools.
(上全年學校的學生其假期比一般學校的學生短。)
2. virulent adj.
劇毒的;致病力強的 (ju4 du2 de5; zhi4 bing4 li4 qiang2 de5)
例: A virulent tree disease wiped out most of the forest.
(劇毒的樹病徹底摧毀了森林。)
3. side effect n. phr.
副作用 (fu4 zuo4 yong4)
例: Chills and dry mouth are the most common side effects for this drug.
(寒顫與口乾是這個藥最普遍的副作用。)
Comments will be moderated. Keep comments relevant to the article. Remarks containing abusive and obscene language, personal attacks of any kind or promotion will be removed and the user banned. Final decision will be at the discretion of the Taipei Times.