Taiwanese watercolor painter Lee Quan-pui dies at 80 資深水彩畫家李焜培逝世 享壽八十
Renowned watercolor painter Lee Quan-pui died at the age of 80 years old on Feb. 25 having fallen ill. His family is set to hold a funeral service on March 26 at the Huai En Hall of the Mortuary Services Office's Taipei Second Funeral Parlor, and a service open to the public will be held at 11am.
After graduating from National Taiwan Normal University's Department of Fine Arts, Lee taught in the department, teaching and painting for 50 years. He made a great contribution to the fine arts in Taiwan. Excelling in watercolors, Lee studied early on how to combine Western painting with the calligraphic painting styles of the East, creating a style very much his own. He was inspired by depictions of natural landscapes and the bright, fast pace of modern cities. The way Lee's brush rapidly and lightly touched the canvas created overlapping patches of color, and his brush strokes were lithe and ebullient. The blending of representational lines with translucent watercolors displays the importance the painter placed on creativity and vitality.
(LIBERTY TIMES, TRANSLATED BY KYLE JEFFCOAT)
資深水彩畫家李焜培因病於二月二十五日過世,享壽八十歲。家屬預訂於三月二十六日在台北市第二殯儀館懷恩廳舉行告別式,當天上午十一時公祭。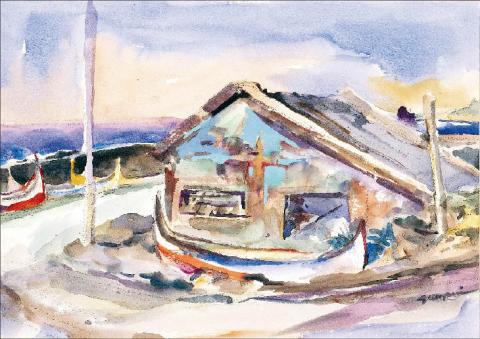 Lee Quan-pui's painting A Corner of Orchid Island's Hongtou Village. 李焜培作品《蘭嶼紅頭村一角》。
Photo courtesy of the Annan Art Center
照片由安南藝文中心提供
李焜培畢業於國立台灣師範大學美術系,後任教於師大美術系暨研究所。創作教學五十年,對台灣美術卓有貢獻。擅長水彩畫,早期深入研究西洋畫作融合東方書畫之筆意,畫風獨樹一格。創作靈感來自於大自然風景、現代都市閃亮節奏的描繪。飛白的筆觸引出色塊交疊,筆法輕盈奔放,象徵性的線條與透明水彩的交融,展現畫家重視的創造力、生命力。
(自由時報記者凌美雪)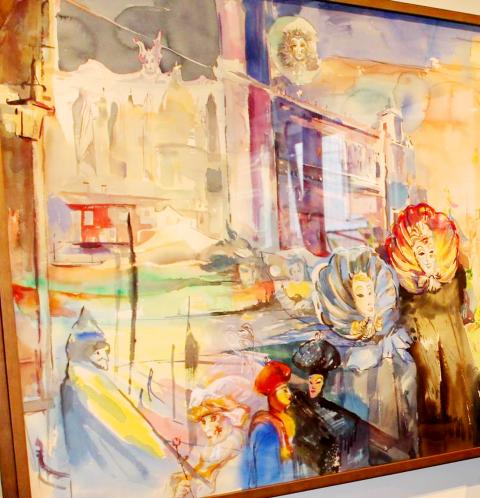 A Lee Quan-pui painting at his solo exhibition on Nov. 28 last year. 李焜培水彩藝術展。
Photo: Cheng Hsu-kai, Liberty Times
照片:自由時報記者鄭旭凱
Publication Notes
TODAY'S WORDS 今日單字
1. depiction n.
描繪 (miao2 hui4)
例: The biography is supposed to be the most accurate depiction of the composer's life ever written.
(這應該是描繪該作曲家生活寫照最精準的傳記。)
2. modern adj.
現代的 (xian4 dai4 de5)
例: The building looks very modern for something built several centuries ago.
(對一個幾世紀前的建築來說,此大廈看起來相當現代。)
3. ebullient adj.
興高采烈的 (xing4 kao1 cai3 lie4 de5)
例: He's always up and down. One minute he's ebullient, the next he's depressed.
(他情緒總是起起伏伏。一會兒興高采烈,一會兒又變得沮喪。)
Comments will be moderated. Keep comments relevant to the article. Remarks containing abusive and obscene language, personal attacks of any kind or promotion will be removed and the user banned. Final decision will be at the discretion of the Taipei Times.