Look at the immune system on that 女人渴望布萊德彼特或許只是中意其免疫系統
Women who lust over handsome stars such as Brad Pitt may really be craving their immune systems. Their chiselled faces and toned bodies are a sign that they have more antibodies to fight off diseases, and women who fancy them want to pass these genes on to their own children, according to research by Abertay University in Scotland.
The findings suggest that women might be more attracted to men with high levels of the sex hormone testosterone because they have a healthier immune system.
Sexual characteristics in male faces are testosterone-dependent, but how the sex hormone affects immune function is unclear.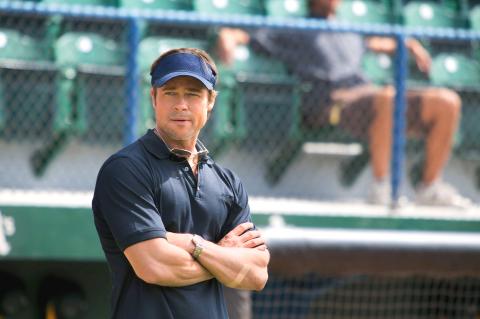 An undated photo shows US actor Brad Pitt, center, in a scene from Moneyball. 這張未標示日期的照片,是美國演員布萊德‧彼特在電影《魔球》內的一景。
Photo: EPA
照片:歐新社
The researchers measured the immune responses of 74 Latvian men in their early twenties to a hepatitis vaccine, and determined the blood concentrations of testosterone and cortisol. They then asked Latvian women of a similar age to rank the participants by facial attractiveness on a 10 point scale.
The team found that men with a strong immune response had high levels of testosterone and were perceived as more attractive. Men with low levels of testosterone tended to have higher concentrations of cortisol, suggesting that their immune responses might have been inhibited by the stress hormone.
(LIBERTY TIMES)
女人垂涎像布萊德彼特這種帥哥明星,或許只是渴望他們的免疫系統。根據蘇格蘭亞伯泰大學的研究,這種男人臉部輪廓鮮明、身體結實強健,顯示他們擁有更多抗體以抵抗疾病,而女人想把這種基因傳給孩子。
這些發現意味著,女人或許是因為性荷爾蒙睪酮素較高的男性免疫系統較健康,而對他們比較著迷。
男人臉上的性別特質取決於睪酮素,但是還不清楚這種性荷爾蒙如何影響免疫功能。
研究人員測量七十四名年紀二十歲出頭的拉脫維亞男人對一種肝炎疫苗的免疫反應,並判定他們血液中睪酮素和皮質醇的濃度。然後,請類似年紀的拉脫維亞女人,根據臉部吸引力,以最高十分評比參與試驗的男性。
研究團隊發現,有強烈免疫反應的男人,睪酮素較高,也被認為較有吸引力。睪酮素低的男人通常皮質醇濃度較高,意味著這種壓力荷爾蒙或許抑制了他們的免疫系統反應。
(自由時報/翻譯:管淑平)
Comments will be moderated. Keep comments relevant to the article. Remarks containing abusive and obscene language, personal attacks of any kind or promotion will be removed and the user banned. Final decision will be at the discretion of the Taipei Times.