Penghu wind turbines potential power source for Taiwan 澎湖風電潛力佳 還可供電台灣
Commissioned by the National Science Council, National Penghu University of Science and Technology has found that Penghu is one of the richest sources of wind power in the world, and a perfect place to build wind farms. If the underwater cable for transmitting electricity to Taiwan proper is finished by the expected completion date of 2016, the excess electricity generated during fall and winter months in Penghu can be transmitted to Taiwan and significantly reduce carbon emissions.
Ou Chih-cheng, assistant director at Taiwan Power Co's Chienshan power factory, said Penghu currently has two power generators, one at Chungtun and one at Huhsi, and that from December last year until now they have generated 11 percent of Penghu's total electricity, producing 18 million and 24 million watts of electricity respectively.
Ou also said the transient electric current consumed in Penghu is 40,000 watts, while the transient electric current generated during the winter is 10,000 watts, adding that in the future when all of the wind power generators on Taiwan proper and its surrounding islands have been installed, it is expected that the transient electric current generated will skyrocket to 100,000 watts.
(LIBERTY TIMES, TRANSLATED BY KYLE JEFFCOAT)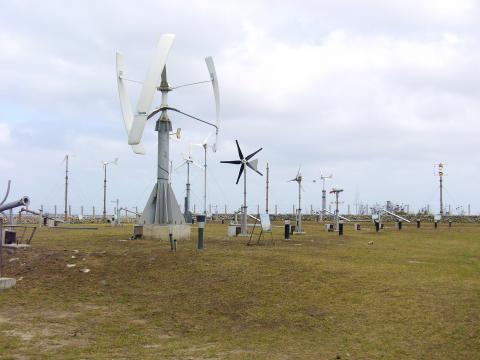 National Penghu University of Science and Technology's Windmill Park on Dec. 19. 十二月十九日於澎湖科技大學內的風車公園。
Photo: Tang Chia-ling, Taipei Times
照片: 自由時報記者湯佳玲
國科會委託澎湖科技大學研究發現,澎湖豐富的風能全球數一數二,是絕佳的風力發電場域,如果民國一○五年海底輸電電纜如期鋪設完成,澎湖秋冬風力發電剩餘的電力,就可以輸配回台灣,達到減碳效益。
台電尖山發電廠副廠長歐致誠指出,澎湖目前有中屯與湖西兩處風力發電站,去年十二月至今各發電將近一千八百萬瓦與兩千四百萬瓦,已經占澎湖供電量的百分之十一。
歐致誠說,澎湖瞬間用電量約四萬瓦,冬季風力發電瞬間電量約一萬瓦,未來陸地及離岸風力發電機組全數完成後,秋冬季風力發電的瞬間電量可望攀升到十萬瓦。
(自由時報記者湯佳玲)
Publication Notes
TODAY'S WORDS 今日單字
1. wind power n. phr.
風能 (feng1 neng2)
例: Around 85 countries now use wind power on a commercial basis.
(大約八十五個國家目前已將風能商業化了。)
2. excess adj.
剩餘的 (sheng4 yu2 de5)
例: Excess coffee grounds and tea are quite suitable for composting.
(剩餘的咖啡渣和茶葉很適合堆肥。)
3. skyrocket v.
攀升 (pan1 sheng1)
例: World food prices skyrocketed in 2007.
(全球食物價格於二00七年攀升。)
Comments will be moderated. Keep comments relevant to the article. Remarks containing abusive and obscene language, personal attacks of any kind or promotion will be removed and the user banned. Final decision will be at the discretion of the Taipei Times.