Wood-burning stoves all the rage in austerity Greece 希臘勒緊褲帶 木炭爐大風行
Once a symbol of poverty, the lowly wood burning stove is becoming all the rage among cash-strapped Greeks horrified by the soaring costs of central heating as winter begins.
Even the wealthiest Greeks are turning to the kind of basic heating methods that most people have not used in decades as an economic crisis deepens, taxes rise and temperatures drop.
Costas Mitsionis, who sells wood-burning stoves at the central Athens Monastiraki market, rubs his hands with glee as he talks about the doubled demand for his product. His tiny shop is bursting at the seams with stoves in all colors and shapes piled on top of one another almost to the ceiling.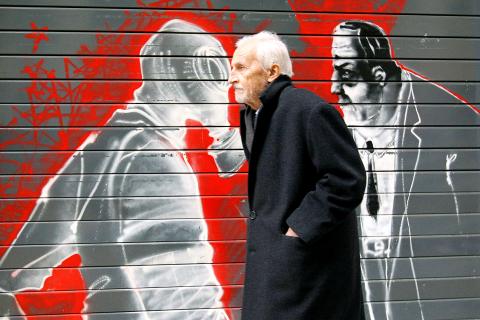 A man walks by a graffiti-filled wall in the center of Athens, Greece on Nov. 14. 一位男子十一月十四日在希臘雅典市中心行經一個佈滿塗鴉的牆壁。
Photo: EPA
照片:歐新社
"Business is up 100 percent," said Mitsionis, 42, constantly interrupted by phone calls from clients. "Everybody is flocking to buy, poor and rich alike — this crisis has put the fear of God into everyone."
In a desperate move to plug its fiscal holes and meet its budget targets under an EU/IMF bailout, the government has hiked energy taxes, driving heating oil costs up to 40 percent higher.
(Reuters)
曾經是貧窮象徵、出身卑微的木炭爐現在卻在希臘重新開始流行起來,因為隨著冬天腳步到來,手頭拮据的希臘人都被節節高漲的中央系統暖氣開銷嚇壞了。
隨著經濟危機加深,稅金上升和氣溫下降,就連最富有的希臘人都開始改用這種多數人已經幾十年沒用過的最基本暖氣設備。
在雅典市中心蒙納斯提拉奇市場販售木炭爐的米西歐尼斯在提到這款商品的需求量加倍時,高興地直搓手。他的小店鋪裡現在擺滿了各種顏色和形狀的木炭爐,這些爐子一層層地幾乎堆疊到天花板那麼高。
四十二歲的米西歐尼斯說:「生意上漲了百分之百,」一面還得不斷接聽客人打來的電話。「大家都跑來搶著買,不管窮人或有錢人都一樣—這場危機讓所有人都開始畏懼上帝。」
為了填補財政黑洞,並達成歐盟與國際貨幣基金所提出紓困方案規定的預算目標,希臘政府不惜大幅提高能源稅金,導致取暖用油的價格上漲了百分之四十。
(路透/翻譯:國際新聞中心)
Publication Notes
TODAY'S WORDS 今日單字
1. all the rage adv. phr.
風行一時地 (feng1 xing2 yi4 shi2 de5)
例: Long hair for men was all the rage in the seventies.
(男性留長髮在一九七○年代曾經蔚為風潮。)
2. rub one's hands v. phr.
搓手 (cuo1 shou3) (*表示期待的動作)
例: The owner rubbed his hands as the customer picked out item after item.
(看著顧客一樣一樣選購貨品時,店老闆高興得直搓手。)
3. burst at the seams v. phr.
擠爆 (ji3 bao4)
例: When all the family come home the house is bursting at the seams.
(當全家族成員都到齊時,這房子快被擠爆。)
Comments will be moderated. Keep comments relevant to the article. Remarks containing abusive and obscene language, personal attacks of any kind or promotion will be removed and the user banned. Final decision will be at the discretion of the Taipei Times.