Spouse gets NT$50,000 after regretting polygamy 三人行不行 元配反悔獲賠五萬
A woman in Kaohsiung agreed to allow her husband's mistress to move in with them as part of a polygamous arrangement, but later regretted the decision and sued the woman for compensation. The Kaohsiung District Court reviewed the case and found that the husband and the woman only had slept together once, and that the wife had previously signed a written agreement saying that they would all live together under one roof. The court eventually decided that the woman needed to pay NT$50,000 compensation to the wife. She has refused to give a response on the matter.
It is known the woman, surnamed Huang, initially became acquainted with the couple simply because of their shared interest in jewelry and antiques. It is also known that they signed an agreement to enter into a polygamous relationship on April 30 last year saying the three of them would live in one household as a family attending to their individual responsibilities, and that if any issues should arise they would be peacefully resolved between them and not through the courts.
On July 20 that same year, the husband had slept with the woman in her part of the house. After his wife found out, she suffered as a result and became increasingly depressed, until she finally demanded that the woman pay her NT$200 million in emotional compensation. The woman brought up the agreement as part of her defense, believing the wife had no right to insist she pay any sort of compensation.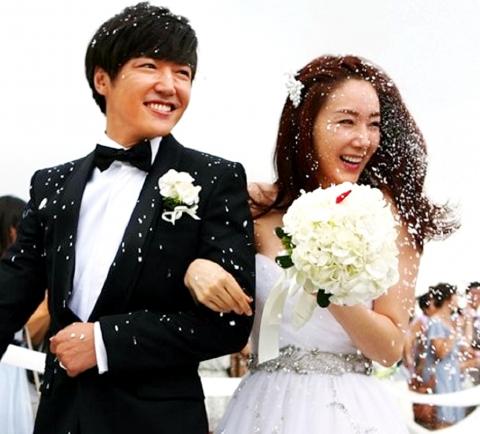 Korean actress Choi Ji-woo acts out a wedding scene with Korean actor Yoon Sang-Hyun in the Korean drama Can't Live With Losing. 韓國女星崔智友在韓劇「絕不認輸」中與尹尚賢有場浪漫婚禮。
Photo: Cheng Yi-hsun, Liberty Times
照片:自由時報記者鄭宜熏
During his investigation, the presiding judge found that the husband had had sexual relations with the woman, but that the wife's worsening depression had nothing to do with the case. After carefully considering that the wife had actually signed a written agreement for a polygamous arrangement with her husband, the judge showed the mistress some clemency.
(LIBERTY TIMES, TRANSLATED BY KYLE JEFFCOAT)
高市婦人同意丈夫將「小三」帶進門共組家庭,後來反悔打官司求償,高雄地院審酌丈夫與情婦僅發生一次性行為,老婆並曾簽立協議書同意共組家庭,僅判決女賠償五萬元,小三拒絕回應此事。
據了解,黃女與夫婦因鑑賞珠寶、骨董興趣而相識,並在去年四月三十日共同簽立一夫多妻的同意書,內容記載「由三人共組家庭,同住一屋,共同為家庭和樂各司其職,若有不悅或誤會應三人當面說明和平解決,絕不提出任何訴訟」。
同年七月十二日,先生在小三住處和她發生性關係,婦知道後因飽受煎熬,甚至罹患憂鬱症並惡化,要求黃女賠償兩百萬元精神慰撫金。她則搬出同意書自保,認為老婆無權主張求償。
承辦法官開庭調查認定先生與情婦發生親密關係,但婦憂鬱症惡化則與此案無關,並審酌老婆確曾簽署「一夫二妻同住」的協議書,乃對小三從輕發落。
(自由時報記者鮑建信)
Publication Notes
TODAY'S WORDS 今日單字
1. polygamous adj.
一夫多妻的 (yi1 fu1 duo1 qi1 de5)
例: Polygamous marriage is allowed in many of the world's religions.
(世界許多宗教允許一夫多妻的婚姻。)
2. suffer v.
煎熬;心煩意亂 (jian1 ao2; xin1 fan2 yi4 luan4)
例: Why do such trivialities cause you to suffer so much?
(這種雞毛蒜皮的小事怎麼會使你飽受煎熬。)
3. depressed adj.
憂鬱的 (you1 yu4 de5)
例: She became so depressed after her mother passed away that she eventually had to be hospitalized.
(她在母親過世後變得憂鬱,最後還得住院。)
Comments will be moderated. Keep comments relevant to the article. Remarks containing abusive and obscene language, personal attacks of any kind or promotion will be removed and the user banned. Final decision will be at the discretion of the Taipei Times.