Madrid makes way for herds of cattle 牛羊踩街馬德里 延續中世紀遷徙路線
Just as in the Middle Ages, flocks of sheep and herds of cows made their way through Madrid city center last Sunday, marking the centuries-old annual tradition of transhumance, in which cattle migrate from summer to winter pastures.
Thousands of bleating sheep that had left the mountains of the north or the hot plains of the south, found their way through the city streets no differently than they would a rural hamlet.
"Transhumance is still practiced by herds coming down from the north heading towards the fields of Castile," cattle farmer Vanesa Sanchez said as she accompanied her cows.
People watch as hundreds of sheep are herded through the center of Madrid last Sunday. 民眾上週日在馬德里觀看數百頭被驅趕經過馬德里市中心的放牧羊群。
Photo: Reuters
照片:路透
Sunday's festival is "a reminder that Madrid was and still is on a transhumance pathway," she said as shepherds whistled around her, directing their livestock down Madrid's historic avenues.
"These ones come from Colmenar Viejo, about 20km north of Madrid," explained farmer Geronimo Garcia, pointing to a few beasts as they left the Puerta del Sol, the capital city's most famous square.
Another herd came all the way from La Rioja, hundreds of kilometers away, "using only the old transhumance routes," Garcia said.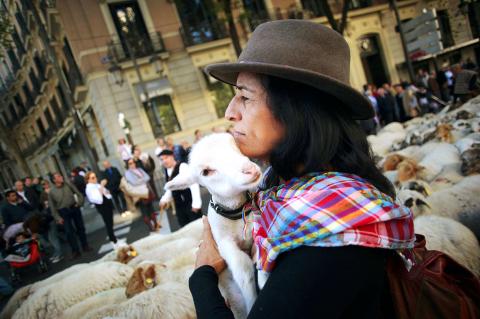 A female shepherd carries a baby sheep as hundreds of sheep are herded through the center of Madrid last Sunday. 一位女牧羊人上週日在數百頭放牧羊群行經馬德里時,抱著一頭幼小綿羊。
Photo: Reuters
照片:路透
Several of these routes still exist in Spain, criss-crossing the country over more than 120,000km, though few of them still serve their traditional purpose.
Every year for centuries, three to five million sheep transited through these transhumance trails, often paying tolls to cross towns and mountain passages.
In memory of these ancient levies, a shepherd last Sunday paid a Madrid official 160 maravedies, a medieval currency.
A group of shepherds whistling after three dogs opened the parade that attracted crowds of locals and tourists.
To organizers from the association of Transhumance and Nature, the goal of the day is to help preserve the ancient routes and pass on a tradition to the younger generation.
(AFP)
上週日上演羊群與牛群穿越馬德里市中心,以慶祝自古流傳至今畜牧群季節性移動,牛隻從夏季放牧地遷移到冬季放牧地的傳統,場面好比置身中世紀。
上千頭已離開北方山脈或是南部炎熱平原的咩咩叫綿羊,與行經鄉下村落沒兩樣,就這麼大剌剌地在城市街道踩街。
養牛農夫凡妮莎‧桑切斯在其牛隻伴隨下表示:「將畜牧群從北方高原趕往卡斯提爾牧場的畜牧群季節性移動,仍流傳至今。」
就在幾位牧羊人在桑切斯周圍吹著口哨,引領各自家畜前往馬德里歷史上著名的街道時,她表示,週日的慶典目的是要「保留馬德里曾經且至今仍舊是個畜牧季節性移動中繼站的傳統,不被遺忘。」
正當動物們離開該首都最著名的廣場太陽門時,農夫傑洛尼姆‧賈西亞指著一些體格壯碩的動物解釋道:「這些是從離馬德里北方二十公里的科梅納爾比艾霍來的。」
賈西亞表示,另外一批牧群,則是從數百公里遠的拉里奧哈來的,牠們「只走古代畜牧群季節性移動的行進路線。」
許多西班牙境內縱橫交錯超過十二萬公里的遊牧路線,至今猶存,但僅少數仍延續其原始傳統的用途。
自古以來年復一年,三百萬至五百萬頭羊穿過這些畜牧群季節性移動的路線,並且經常支付跨城與跨山路的通行費。
為回溯這項古代通行費的傳統,一位牧羊人上週日付給馬德里官員一百六十馬拉維迪幣,這是一種在中世紀使用的貨幣。
一群在三隻狗兒後吹著口哨的牧羊人,為這場吸引大批當地民眾與觀光客的游牧家畜街頭大遊行,揭開序幕。
對於策劃該活動的畜牧群季節移動與自然協會而言,該日活動的宗旨是要幫助保存古老游牧路線,以及將傳統傳承給年輕世代。
(法新社/翻譯:林亞蒂)
Publication Notes
TODAY'S WORDS
今日單字
1. migrate v.
遷移 (qian1 yi2)
例: The birds are migrating south for the winter.
(鳥兒正向南遷移以過冬。)
2. livestock n.
家畜 (jia1 chu4)
例: Most breeders hope to keep their livestock plump and productive.
(多數養殖場人員希望維持他們的家畜不僅肥嫩,還能有好的繁殖力。)
3. preserve v.
保存 (bao3 cun2)
例: How can we preserve these traditions in a modern society?
(我們如何在現代社會中保存這些傳統?)
Comments will be moderated. Keep comments relevant to the article. Remarks containing abusive and obscene language, personal attacks of any kind or promotion will be removed and the user banned. Final decision will be at the discretion of the Taipei Times.