Romantic proposal sets off illegal sparks 浪漫求婚放煙火 夜深擾鄰 挨罰三萬
One weekend at the end of last month a group of close friends put on a fireworks display to help their friend propose to his girlfriend at Shalun Beach in Tamsui District. The blazing sparks illuminated the dark skies and the lovers' faces, moving his girlfriend to tears. However, firefighters showed up on the scene just as everyone had started cheering her on to marry him after local residents had called the police to complain about the fireworks disturbing the peace. As soon as they saw them coming, everyone except the person igniting the fireworks was able to successfully evade the firefighters. He was given a fine of NT$30,000.
An official from Tamsui District's fire department said they received a complaint at 11:36pm that night from someone that fireworks were being set off at Shalun Beach, and that the sound woke them up. The firefighters arrived at the beach and saw the sparks lighting up the sky. They immediately recorded it on video as evidence. The video is seven and a half minutes long.
The firefighters found a dozen people at the scene having fun around the sparks, and they had even put candles on the ground in the shape of a heart. The firefighters gradually got closer to them as they were filming. When they finally saw the firefighters filming them, they ran away. The firefighters called on them to stop, but they were only able to seize Wang, the person who was lighting the fireworks.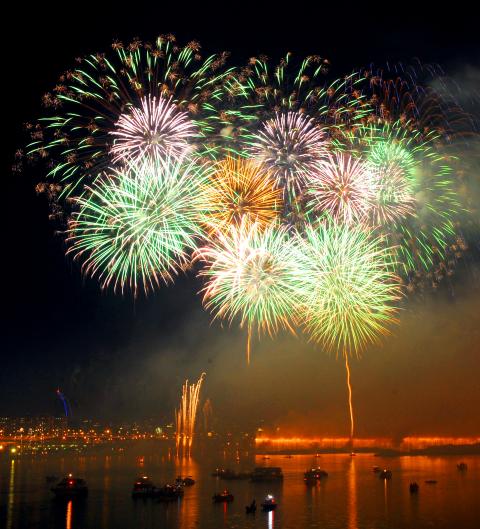 Fireworks illuminate the skies of Taipei during the evening of the ROC National Day on Oct. 10. 煙火於十月十日的國慶日照亮台北大稻埕的夜空。
Photo: Lo Pei-der, Taipei Times
照片:自由時報記者羅沛德
Wang told the authorities that his buddy wanted to propose to his girlfriend. A group of friends decided to help him, so they bought copious amounts of fireworks and went to New Taipei City's Shalun Beach to set them off. He stressed that they did not know that they were violating any regulations and were only trying to have fun.
Regulations stipulate that a violation is subject to a fine from anywhere between NT$3,000 and NT$150,000, and the regulations in New Taipei City forbid people from setting off firecrackers between 10pm and 6am that fly, soar in the air or explode when thrown to the ground. The fire department will fine violators unless they have applied with the proper authorities ahead of time.
(LIBERTY TIMES, TRANSLATED BY TAIJING WU)
一群朋友利用週末,上個月底於新北市淡水沙崙海邊,幫友人辦一場 「高空煙火求婚秀」。火樹銀花照亮了漆黑的夜空,光影映照戀人臉龐,女主角不禁感動落淚。正當大家起鬨「點頭吧,嫁了吧。」卻因施放煙火而遭居民檢舉妨害安寧,大夥一見消防員到場取締,男女主角隨眾人一哄而散,成功躲避消防人員,只有點煙火者來不及跑被抓,被開新台幣三萬元罰單。
淡水消防分隊官員表示,那天深夜十一時三十六分接獲居民報案,沙崙海邊有人施放煙火,巨大聲響將他們吵醒。消防人員抵達,目睹漆黑夜空被煙火照亮,立刻錄影蒐證,影片長達七分三十秒。
消防人員發現,現場十多人對著火花嬉鬧,地上還用蠟燭排出愛心圖案,消防員邊蒐證邊慢慢靠近,慶祝的人見消防人員正錄影蒐證,一哄而散。隊員高喊:「不要動!」並將點火的王姓男子攔下帶回。
王男說,朋友想向女友求婚,一群好友決定力挺,才買來大量高空煙火,從台北市跑到新北市沙崙海邊施放,強調「大家只是想歡樂一下,不知違反規定!」
根據相關規定,可罰新台幣三到十五萬元罰鍰,且新北市規定,除非有向相關單位報備申請,晚間十點到隔天清晨六點間,不可燃放飛行類、升空類、摔炮類之一般爆竹煙火,否則消防單位可以依規定開罰。
(自由時報記者吳柏軒、吳仁捷)
Comments will be moderated. Keep comments relevant to the article. Remarks containing abusive and obscene language, personal attacks of any kind or promotion will be removed and the user banned. Final decision will be at the discretion of the Taipei Times.