High schooler alerts police after light corporal punishment 老師打手心 警車開進學校處理
On Sept. 20, a junior high school student in Hsinchu County surnamed Lin dialed 110 on his mobile phone to notify the police because he was upset about a teacher punishing him by hitting his palm with a paddle. When the police arrived at the school, they found no bruise marks on the child's hand, and therefore had the school contact the student's parents to have them come to school. The student's parents apologized to the teacher as soon as they were made aware of the fact that their child was punished for not bringing his notebook to class and for having a bad attitude.
According to the Hsinchu County government's investigation, three second grade students including Lin forgot to bring their notebooks to geography class four weeks in a row, which was why the teacher, surnamed Hsu, decided to punish them with a paddle. After class was dismissed, they became increasingly upset the more they thought about it, and finally designated Lin to call the police during lunchtime.
The teachers and students were stunned to see a police car driving onto the campus as they were about to have lunch. The headmaster soon contacted the parents to have them come to the school to deal with the matter. Lin's parents acknowledged that their child was wrong when they finally understood the situation. They immediately apologized to the headmaster and the teacher, and promised to have a good talk with their child.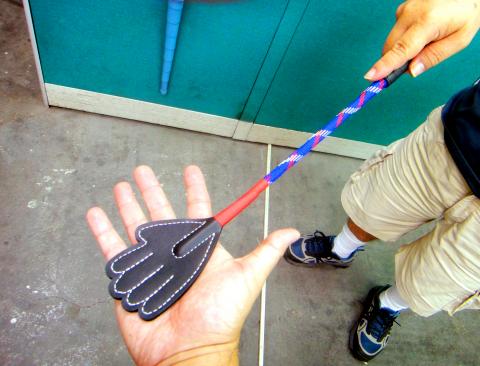 A man demonstrates how a paddle is used for punishment in Hsinchu County on Sept. 20. 一位男子九月二十日於新竹縣示範如何使用「愛的小手」。
Photo: Tsai Meng-shang, Taipei Times
照片:自由時報記者蔡孟尚
A county government official said elementary and junior high school students have the right to file complaints with the school counselor if they think they are the victim of corporal punishment or inappropriate discipline, adding that when the children return home they can ask their parents to talk to their teacher, or report it to their local educational agency. The official said that although the teacher hit the students very lightly with the paddle, the Ministry of Education's policy clearly states that absolutely no corporal punishment is allowed in public schools. He also said he would ask the school authorities to talk to the teacher about the issue.
(LIBERTY TIMES, TRANSLATED BY TAIJING WU)
新竹縣國中林姓學生九月二十日中午不滿老師用「愛的小手」打手心處罰,用行動電話撥打一一○報警。警員趕抵學校時,發現孩子身上並沒有傷痕,於是請校方聯繫家長到校。家長得知孩子沒帶筆記本且態度不佳才受罰,當場向老師道歉。
根據新竹縣有關單位調查,包括林同學在內的三名國二學生那天上午的地理課連續四週沒帶筆記本,許姓老師才以「愛的小手」打手心處罰。他們下課後越想越氣,在等營養午餐時推派林生為代表報警。
警車開進校園時,等著吃午餐的師生看到相當錯愕,校長隨即聯繫家長到校處理。林生家長下午到校瞭解事情經過後,坦承是他的孩子不對,當場向校長和許姓老師道歉,並承諾會好好和孩子溝通、導正觀念。
縣府官員說,國中、小學生如果認為遭受體罰或不當管教,在校內可向輔導室申訴,回家可告訴家長和老師溝通,甚至可以直接向各地教育單位反映。官員說,雖然許姓老師用「愛的小手」打學生力道很輕,但教育部的管教政策是「零體罰」,會請校方再和老師溝通。
(自由時報記者蔡孟尚)
Publication Notes
TODAY'S WORDS 今日單字
1. upset adj.
苦惱的 (ku2 nao3 de5)
例: The old man became very upset when the little boy started to cry.
(當小男孩開始哭的時候,那個老先生變得非常苦惱。)
2. attitude n.
態度 (tai4 du4)
例: It's great that you are able to keep such a positive attitude after going through so much.
(你經過這麼多事情還能保持這麼正面的態度真好。)
3. inappropriate adj.
不當 (bu4 dang4)
例: Michelle thought the woman's behavior was
completely inappropriate.
(蜜雪兒認為那位女性的態度完全不當。)
Comments will be moderated. Keep comments relevant to the article. Remarks containing abusive and obscene language, personal attacks of any kind or promotion will be removed and the user banned. Final decision will be at the discretion of the Taipei Times.