Hungarian police raids gun stockpile ... from Brad Pitt film 小布新片劇組槍械 遭匈牙利查扣
Hungarian police announced Monday they had seized a shipment of weapons stored in a warehouse near Budapest airport, only for a film producer to reveal they were props for a new Brad Pitt movie.
Police told a press conference they had found and confiscated the arsenal — which included machine guns, handguns and sniper guns but no ammunition — at a customs-free area near the airport during a raid at dawn on Monday.
"The military guns arrived from London on Saturday at Liszt Ferenc International Airport," Janos Hajdu, director of the police's Counterterrorism Centre, was cited by Hungarian newswire MTI, adding that the aircraft transporting the weapons left the airport right after unloading.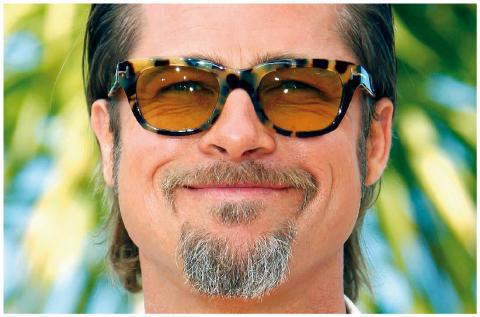 US actor Brad Pitt poses during the photocall for The Tree of Life at the 64th Cannes Film Festival in Cannes, France, on May 16. 美國演員布萊德‧彼特五月十六日在法國為電影《永生樹》出席第六十四屆坎城影展時,接受媒體拍照。
Photo: EPA
照片:歐新社
The Hungarian police had contacted its counterparts in Britain for more information, he also said.
As it turns out, the weapons were actually meant as props for a new zombie movie featuring Hollywood star Brad Pitt, World War Z, a film producer told local television RTL Klub.
Shooting in Hungary for the film was to begin Monday evening in an industrial district of Budapest, according to RTL Klub.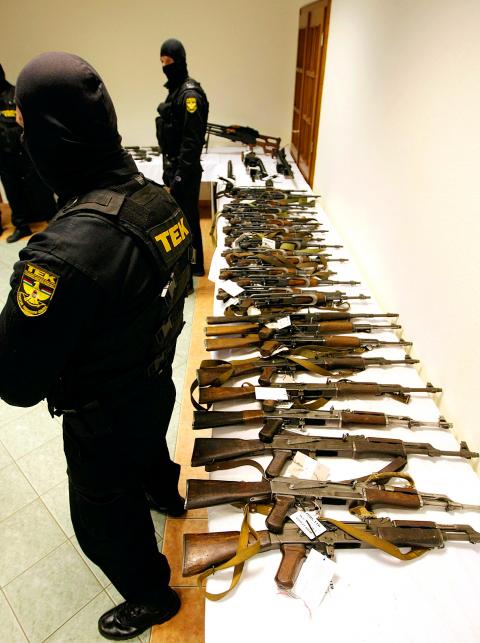 Nearly 100 machine guns, handguns, and other military firearms are displayed in a warehouse in Budapest, Hungary on Monday. 近百件機槍、手槍與其他軍事武器週一陳列在匈牙利布達佩斯的一個倉庫內。
Photo: EPA
照片:歐新社
It was not delayed by the police action, the producer said.
(AFP)
匈牙利警方週一宣布,他們在布達佩斯機場附近倉庫查獲一批武器,一名電影製片隨後透露,這批武器是布萊德‧彼特新電影的道具。
警方在記者會上表示,他們週一清晨在機場附近海關免稅區的一場突襲中,查獲並沒收這批軍械,種類涵蓋機槍、手槍與狙擊步槍,但無任何彈藥。
匈牙利通訊社MTI引用警察反恐中心指揮官亞諾許‧海度的話說:「這批軍用槍枝週六從倫敦運到Liszt Ferenc國際機場。」並補充說運送武器的飛機在卸貨後旋即飛離。
匈牙利警方已聯繫英國警方,取得更多資訊。
最後結果顯示,該電影製片告訴當地RTL Klub電視台說,這批武器其實是用來拍攝一部由好萊塢影星布萊德‧彼特主演殭屍電影《殭屍世界大戰》,所使用的道具。
根據RTL Klub電視台,該電影在匈牙利的場景,原定週一傍晚在布達佩斯的一處工業區開拍。
製片表示,拍片進度並未因為警方查緝而延後。
(法新社/翻譯:林亞蒂)
Publication Notes
TODAY'S WORDS 今日單字
1. prop n.
道具 (dao4 ju4)
例: There were barely any props on stage for the play.
(該劇在台上幾乎沒有任何道具。)
2. confiscate v.
沒收 (mo4 shou1)
例: The police confiscated several fake IDs
from the students.
(警方沒收該群學生的許多假證件。)
3. unload v.
卸貨 (xie4 huo4)
例: Can you help me unload the truck?
(你可以幫我卸下卡車上的貨品嗎?)
Comments will be moderated. Keep comments relevant to the article. Remarks containing abusive and obscene language, personal attacks of any kind or promotion will be removed and the user banned. Final decision will be at the discretion of the Taipei Times.